From basic essentials to safety gear, proper outfitting is the key to a safe, enjoyable day on the water. Here's the lowdown on what every new boat needs.
Oh boy! You've purchased your first boat and are eager to hit the water and begin enjoying all the benefits of new boat ownership — fishing, wakeboarding, and those tropical drinks with the little umbrellas in them that the broker told you about. Not so fast! You may be ready, but is your boat?
Required Safety Equipment
While your outfitting list will vary based on the type of boat and activities planned, a great place to start is with required safety equipment. Safety equipment is based on a number of factors, from vessel length to the number of people onboard. You'll want to verify the requirements for your particular vessel and situation, but here are the basics. Visit BoatUS.com/Expert-Advice for more in-depth stories and how-to videos on all these subjects.
Life Jackets
All recreational boats must carry a Coast Guard-approved, wearable life jacket (Type I, II, III, or V) for each person on board. Life jackets must be in good, serviceable condition, of the appropriate size for the intended wearer, and readily accessible for use (not stowed in a locked compartment belowdecks or beneath a ton of gear in the cockpit locker).
Life Jacket Performance Types
Type I
Has the greatest required inherent buoyancy and turns most unconscious persons in the water from a face-down position to a vertical and slightly backward position, greatly increasing one's chance of survival. Best for open, rough, or remote water where rescue may be slow to arrive. Will turn most unconscious wearers face-up in water.
Type II
Intended to turn some unconscious persons from a face-down position in the water to a position where the wearer's respiration is not impeded. Good for protected, inland water near shore where chances of immediate rescue is good. Not suitable for extended survival in rough water. Manual and automatic inflatable options available.
Type III
Intended to support a conscious person in the water in an upright position. This type of device is not required to turn an unconscious person in the water from a face-down position to a position where the wearer's respiration is not impeded. Good for protected, inland water near shore where chance of immediate rescue is good. Manual inflated options available.
Type IV
Designed to be thrown to an overboard victim or to supplement the buoyancy of a person overboard. Can be a square-style cushion, or a ring buoy or horseshoe buoy mounted on deck. Not for unconscious persons, nonswimmers, or children. These devices must be immediately available for use; you must have one at arm's length to throw over the side in an emergency.
Type V
Approved for restricted uses or activities such as boardsailing or commercial whitewater rafting. May not be suitable for other boating activities. The label indicates whether a particular design of Type V can be used in specific application, what restrictions or limitations apply, and its performance type.
Sources: U.S. Coast Guard Auxiliary, BoatUS.org
As a marine surveyor, I see a lot of life jackets still in the plastic shipping bags (an effort by boat owners to keep them clean). These bags must be removed as well, otherwise they're not considered to be readily accessible.
When purchasing life jackets, one big consideration is wearability. A life jacket provides no benefit if it isn't used, so choose some that are comfortable enough that they will actually be worn. Inflatable life jackets are a popular choice due to their light weight and low profile. Available in vest or belt-worn styles, each unit contains a CO2 canister, which inflates a rubber bladder to provide flotation when a wearer enters the water. If you choose this style, be aware that they have additional maintenance requirements compared to standard life jackets and must be maintained per the manufacturer's recommendations.
Portable Fire Extinguishers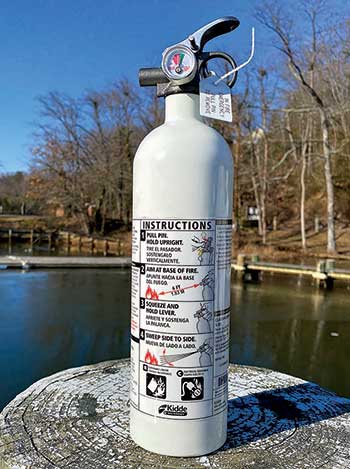 Photo: Ted Sensenbrenner
The number of portable fire extinguishers your boat requires is based on factors such as boat length, whether it has an enclosed engine compartment, and if there is a fixed or permanent extinguishing system installed. The three primary classes of fire are Class A (combustible solids like wood), Class B (flammable liquids like gasoline or oil), and Class C (electrical fires).
New regulations (2022) call for extinguishers that use UL (Underwriters Laboratories) designations, a number/letter combination that indicate the square footage of the fire the extinguisher can put out, and the type of fire it is effective against. For example, a 5-B extinguisher indicates an extinguisher capable of putting out a Class B fire up to 5 square feet in size.
Vessels less than 26 feet are required to carry at least one 5-B portable fire extinguisher. Vessels 26 feet or more, but less than 40 feet, must carry two 5-B units (or one 5-B unit if a fixed fire extinguisher is installed in the engine compartment). Those 40 feet or more, but not more than 65 feet, are required to carry three 5-B units (two if a fixed extinguisher is installed). A single 20-B portable fire extinguisher can be substituted for two 5-B units.
Note that these are the minimum requirements and there are exceptions. For example, a vessel less than 26 feet in length, propelled by an outboard motor, is not required to carry a portable fire extinguisher if the construction of the vessel will not permit the entrapment of explosive or flammable gases or vapors.
My personal view is that no one has ever died from having too many fire extinguishers (always carry more than the minimum), and every boat powered by a combustion engine should have at least one onboard.
Visual Distress Signaling Devices
Boats smaller than 16 feet are required to carry nighttime distress signaling devices when operating between sunset and sunrise, while boats 16 feet and larger must carry visual signals for both day and nighttime use.
Approved visual distress signals fall into two categories: pyrotechnic and nonpyrotechnic devices. Pyrotechnic devices include red flares (hand-held or aerial), orange smoke (hand-held or floating), and launchers for aerial red meteors or parachute flares. Nonpyrotechnic would include any other type of visual distress signal, such as a distress flag or electronic distress light (which flashes the Morse code for SOS).
Flares are relatively inexpensive and a popular choice with boaters who typically meet minimum Coast Guard requirements via a combination of red handheld or aerial flares suitable for day and night use. Flares have to be Coast Guard or SOLAS (Safety of Life at Sea) approved.
The following are examples of the variety and combination of devices that can be carried in order to meet the minimal requirements:
Three hand-held red flares (day and night)
Three hand-held or floating orange smoke signals and one electric distress light
Three combination day/night red flares: hand-held, meteor, or parachute type
One hand-held red flare and two parachute flares (day and night)
One distress flag (day) and one electric distress light (night only)
Meeting the minimum number required by law doesn't mean you're carrying all the signaling devices you'll want onboard during an emergency. When needed, flares and other signaling devices are like winning lottery numbers — you can't have too many of them. In my opinion, every vessel should carry at least double what's required by law, more when coastal or offshore cruising.
Sound-Signaling Device
Most every vessel is required to carry some form of sound-producing device for use in an emergency or during restricted visibility, and even those that are not would do well to have one on board. A vessel of less than 12 meters in length is not obliged to carry the sound signaling appliances prescribed in Rule 33(a) of the Navigation Rules, but if not, she must carry some other means of making an efficient signal. A vessel of 12 meters or more in length must carry a whistle, while a vessel of 20 meters or more in length must carry both a whistle and bell. The minimum audibility range for a whistle or horn (both terms can be used interchangeably) required for a vessel 20 meters (65.6 feet) but less than 75 meters (246 feet) in length is 1 nautical mile. The minimum range for a vessel 12 meters (39.4 feet), but less than 20 meters is .5 nautical miles.
Equipment And Systems Checklist For Used Boats
In addition to all the items you need to have on a brand-new boat, you'll also want to check the following on a "new-to-you" used boat to ensure the boat is properly equipped and that its systems are up to date.
Flares (expire 42 months from date of manufacture)
Life raft inspection due date
EPIRB and PLB battery expiration dates and presence of a NOAA registration sticker
Fire extinguisher condition, age, quantity
Fixed fire extinguisher system inspection date
Life jackets — replace damaged jackets and Kapok-style units (regardless of condition)
Anchor chain and rode (pull, inspect, and verify lengths and attachment of the bitter end)
Safety lanyard/emergency engine cutoff feature
Conduct a leak-down test of the LPG system to verify there are no leaks
Locate all seacocks below the waterline. Exercise (operate) each to make sure they work, and check all seacock hoses for deterioration and hose clamps (installation and condition)
Inspect the shaft log hose for deterioration and hose clamps
Inspect the stuffing box for excessive leaks or corrosion. If outfitted with a dripless shaft seal, verify that all required maintenance has been conducted (such as removal for inspection)
Inspect exhaust manifolds and risers for leaks and corrosion. Verify age and when they were last removed and inspected or replaced
Verify operation of all bilge pumps and the high-water bilge alarm
Test the engine and generator alarms
Operational Outfitting
Now that you have the required safety equipment, let's take a look at outfitting required for proper operation of your new boat.
VHF Radio
Cellphones have their uses, but if you want to communicate on the water directly to other boats or marine rescue organizations, a VHF radio is a necessity. A VHF with a properly registered Maritime Mobile Service Identity (MMSI) number is invaluable in the event of an emergency, making it easier for rescue agencies (such as the Coast Guard) or tow services to locate you. A fixed-mount, 25-watt VHF provides greater operational distance, but even a 5-watt handheld VHF can be a lifesaver.
Anchor And Rode
Every boat should have some means of anchoring, be it for fishing, swimming, or maintaining position in the event of an emergency. Anchor selection is based on a number of considerations, from the size and style of watercraft you own to the type of bottom you'll be anchoring in (mud, grass, sand, rock), as well as water depth, wind, and water conditions you expect to encounter.
Your anchor and rode should be sized to match your vessel, and most anchor manufacturers will provide a table for matching boats to their product. As an example, a typical setup for a midsized power boat (approximately 25 feet) would be a 13-pound anchor, 15 feet of 1/4-inch anchor chain, and 200 feet of 7/16-inch diameter three-strand nylon anchor rode.
Docklines And Fenders
Two more must-have items — how else can you secure and protect your boat while docking at the yacht club Tiki bar for the all-you-can-eat wing special? Each boat should carry a minimum of three lines for tying alongside a dock: a bow line, stern line, and spring line. Dockline sizes and lengths are based on the size of your boat. A good rule of thumb is 1/8-inch of line diameter for every 8 feet of boat length. Bow and stern lines should measure at least two-thirds of your boat's length, while the spring line should be equal to boat length.
You should also have a minimum of two fenders to protect your boat when docked. More is better, and larger diameters will provide greater protection. Don't forget that you'll also need lines to hang the fenders in place.
Other Good Items To Have Aboard
Sunblock (reef-friendly, if available)
Bailer or bucket to remove water
Waterproof flashlight (handheld and/or headlamp-style)
A basic tool box with any special tools required for your boat
A 2.5-gallon fire bucket with a lanyard of suitable size and length for drawing water from over the vessel's side. In addition to their primary purpose, a fire bucket is versatile piece of equipment that can serve many functions, such as a bailer or even an emergency toilet.