Expert Advice Topics
Boating tips, reviews, maintenance and more from the editors of BoatUS Magazine
Explore Our Video Library
Step-by-step instructions on how-to change your marine diesel fuel filter, check your steering system, replace a hose, remove and install boat graphics, outboard maintenance and so much more!
See All Videos
BoatUS Magazine
The BoatUS Magazine print edition is available
exclusively to BoatUS Members—join today!
Get six issues each year full of:
Regional boating news

Boat reviews

Step-by-step repair projects

Boat handling tips

Fishing advice

& more!
Become a Member
Renew Membership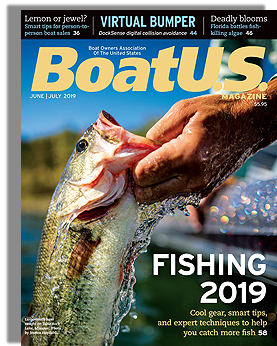 June | July 2019 Features
Fishing 2019
Lemon Or Jewel | Docksense Virtual Bumper | Deadly Algae Blooms | Cool Gear | Catch More Fish | and more!