Political priorities and faces have changed, but one thing remains the same: We're still fighting for you on the big stage of Washington, D.C.
Responsible boaters know the rules of the road as well as the laws and regulations that directly affect them on their home waters. But do you know who is responsible for those rules in our Federal government? Here's a road map of who's who in President Joe Biden's new administration and a reminder of how BoatUS is looking out for you in 2021 and beyond. Here are our top priorities.
Reauthorization Of The Sport Fish Restoration And Boating Trust Funds
When you buy most fishing gear and tackle, imported boats, or gasoline, taxes on those products go into the Sport Fish Restoration and Boating Trust Fund — not the federal government's deep and wide general fund. The Trust Fund (about $600 million last year) pays for real improvements for boaters and anglers — building boat ramps and updating municipal marinas, managing hatcheries and stocking fish, wetlands restoration, and funding aquatic education to teach kids about the outdoors. Some of the money also goes to the U.S. Coast Guard Boating Safety Division for recreational boating safety and grant programs, and is also distributed to state boating agencies for safety education, search and rescue, and law enforcement.
"Last year, Congress extended the Trust Fund legislation to September 30," says David Kennedy, manager of BoatUS Government Affairs. "We're fighting for it to be included in a much larger infrastructure bill, which will give it long-term stability."
Protecting GPS Integrity
As we've reported in past issues of BoatUS Magazine, a year ago the Federal Communications Commission (FCC) said it would grant a license modification to Ligado Networks to allow it to operate a terrestrial-based mobile data network in the middle of a critical satellite navigation and communications spectrum. The problem with using radio signals so close is that spillover can cause interference with the very faint radio signals received from GPS satellites. Simply put, while we all want better cellphone service, it can't come at the expense of GPS.
"BoatUS firmly supports an accurate navigation signal and will push the new administration to maintain the critical GPS accuracy boaters need more than ever," says Kennedy. "We want FCC to cancel the approval and assure GPS users this spectrum will be protected. With Loran discontinued, we're also supporting the development of a backup position, timing, and navigation system."
Keeping E15 At Bay
It's well-documented that gasoline with 15% corn-based ethanol damages boat engines. "We don't oppose renewable fuels or E15 but want a policy that ensures there's fuel that's safe for boats and protects consumers from fuel that damages their boats," says Kennedy. He's alarmed by an Environmental Protection Agency (EPA) policy proposal from January 2021 that would remove the bright orange E15 warning label off roadside gas pumps, which could set trailer boaters up for a big repair bill.
The original law, the Energy Independence and Security Act of 2007, which created the ethanol mandate, runs through 2022, so it will be up for debate leading up to then. The supply of ethanol-free fuel is another problem. The law forces refineries to blend ethanol or pay for credits, and the volume doesn't make economic sense. This means ethanol-free fuel is about $1 more per gallon, if you can find it. Another boat-friendly fuel additive, Isobutanol, remains viable, and BoatUS will continue lobbying to make it easier to get to market.
Maintain And Increase Boating Access
Sen. Tom Udall (D-N.M.), along with numerous environmental advocacy groups, is pushing an initiative to conserve at least 30% of land and ocean in the United States by 2030 to help confront the threats of climate change and biodiversity loss. "BoatUS agrees with many of the goals of the "30 by 30" effort," says Kennedy. "We just want to ensure boaters have appropriate access to those waters."
The initiative is a long way from legislative action, although the Biden administration has issued an executive order directing federal agencies to consider ways to meet this objective. Kennedy expects it to be "a hot button issue" in the years ahead. Marine sanctuaries, waters in national parks and other marine-protected areas — specifically boater access to them — is an ongoing issue.
BoatUS applauds the National Oceanic and Atmospheric Administration (NOAA) proposal to expand the Flower Garden Banks National Marine Sanctuary located 70 to 115 miles off the coast of Texas and Louisiana. The expansion would grow from 56 square miles to 160 square miles, adding 14 reefs and banks that provide critical habitat for recreationally and commercially important fish and other marine life.
Keeping Our Waterways Navigable
The U.S. Army Corps of Engineers (USACE) struggles to keep up with dredging as nature relentlessly fills waterways with silt and soil. BoatUS has and will continue to advocate for "set-asides," government speak for dedicated funding, in this case targeting recreational boating needs such as improved access or navigation for smaller harbors. On the Atlantic Intracoastal Waterway, an important snowbird route, BoatUS worked with the Atlantic Intracoastal Waterway Association, Congress, and USACE to increase funds for shallow-draft channels. Beyond the federal level, numerous state projects in the Great Lakes, Puget Sound, Chesapeake Bay, Georgia, and New Jersey most prominently still need federal funding to maintain navigable depths.
Who's Who In Washington
Environmental Protection Agency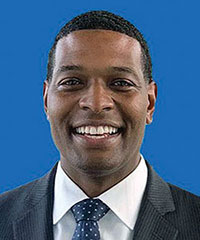 Michael Regan
Responsible for the protection of human health and the environment, EPA provides technical assistance and support for the planning of public infrastructure, such as wastewater treatment plants. It also provides technical assistance for long-term cleanup to minimize public health threats, including environmental sampling and monitoring, site assessment, decontamination and disposal, as well as environmental surveillance.
New EPA secretary Michael Regan served as the head of North Carolina's Department of Environmental Quality where he oversaw the major cleanup of coal ash ponds, which can contaminate air and water. One of his best-known accomplishments was holding a regional energy company responsible for contaminating source water in North Carolina. Regan also has a strong record on an issue likely to be high on President Biden's priority list: per- and polyfluoroalkyl substance (PFAS) contamination. "He is credited ... for ordering the chemical company Chemours, a former DuPont subsidy, to take fresh steps to clean up toxic substances known as PFAS from the Cape Fear River," according to The New York Times. "Such contaminants have been called 'forever chemicals' because they do not break down in the environment and can build up in human bodies." Before leading his state EPA, Regan worked for the nonprofit Environmental Defense Fund, and in the EPA under presidents Bill Clinton and George W. Bush.
BoatUS Outlook: Protecting boaters from misfueling with E15 is our immediate priority. We're also pushing for better measurements for the impact of antifouling coatings, making sure boaters have effective options that also protect the environment.
Department Of Commerce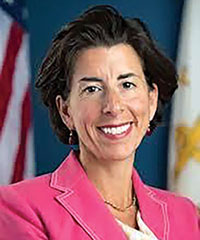 Gina Raimondo
Promoting economic growth through job creation, DOC encourages sustainable development and blocks harmful trade practices of other nations. DOC oversees NOAA, including the National Weather Service, National Marine Fisheries Service, National Ocean Service, and federal marine sanctuaries.
Before leading DOC, former Rhode Island Gov. Gina Raimondo served as state general treasurer, and had a career in venture capital and economics before her years in politics. Rhode Island is an international recreational boating mecca with a thriving boatbuilding and marine industry, 400 miles of coast, and 300 harbors. Leading that state through almost two terms should inform and influence Secretary Raimondo over the next four years.
BoatUS Outlook: We'll focus on ensuring that boaters can continue to count on the many vital services DOC provides. Agencies such as the National Weather Service and Coast Survey must compete for discretionary funding, making support from groups like BoatUS essential.
Department Of Homeland Security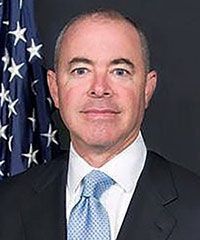 Alejandro Mayorkas
The U.S. Coast Guard falls under DHS, which is responsible for public security, customs, border and immigration enforcement, emergency response to disasters, antiterrorism work, and cybersecurity. Last year, a two-year, $50 billion Homeland Security funding bill was approved, including $12.8 billion for the Coast Guard, $711 million more than the service's budget request, including additional money to upgrade aging technology and communications systems described by Coast Guard Commandant Adm. Karl Schultz as "1990s-era hardware, software and analytics."
Cuban-born immigrant Alejandro Mayorkas, new DHS secretary, previously served as deputy secretary of Homeland Security, U.S. Customs and Immigration Service director during the Obama administration, and U.S. attorney for the Central District of California until April 2001.
BoatUS Outlook: We'll continue to push legislators to support boating safety funding, a Coast Guard Reauthorization in 2023, and continued support for programs such as aids to navigation and search and rescue. Helping the administration understand how the Coast Guard fits into the varied missions of DHS will be a BoatUS priority.
Department Of Interior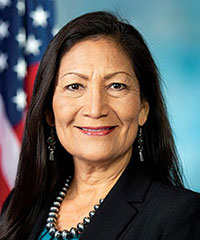 Deb Haaland
Responsible for the management and conservation of most federal land and natural resources, DOI leads such agencies as the National Park Service, Bureau of Land Management, and the U.S. Geological Survey.
Former Rep. Deb Haaland (D-NM), our country's first Native American cabinet secretary and a former small-business owner, was first elected to the U.S. House in 2018 and reelected in November 2020. Previously, she served as chairwoman of the Laguna Development Corporation Board of Directors, overseeing business operations of the second largest tribal gaming enterprise in New Mexico.
BoatUS Outlook: We're focused on access for boaters and lobbying for passage of the Great American Outdoors Act, which will use royalties from offshore oil and natural gas to permanently fund the Land and Water Conservation Fund investing in conservation and recreation opportunities across the country. Other points of focus include keeping public lands and waters open and helping to stop the spread of aquatic invasives.
Department of Defense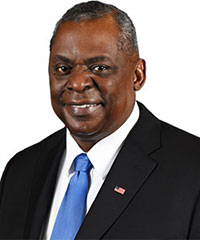 Lloyd Austin
DOD coordinates and supervises all agencies and government functions related to national security and the U.S. Armed Forces. U.S. Army Corps of Engineers (USACE) falls within its jurisdiction although many of the programs boaters rely on are funded separately. From dredging in the Pacific Northwest to restoring the Florida Everglades with numerous inland reservoirs in between, the corps touches many of the waters BoatUS Members enjoy.
Gen. Lloyd Austin retired in 2016 after more than four decades in the service. He's the first Black Secretary of Defense in our nation's history and the third career military official to serve in the traditionally civilian-held position.
BoatUS Outlook: With infrastructure being one of the few policy areas with widespread support in Washington, we're optimistic that USACE civilian programs will receive additional funding. Keeping funding for shallow-draft channels and small harbors along with supporting USACE ecosystem restoration missions will be our focus with the new administration.
— R.A. and John Lee