Most people get the boat of their dreams through hard work, scrimping and saving, negotiating with a spouse, and pleading their case to a lender. A few just see a boat and take it.
Recently, Seaworthy undertook an analysis of our insurance files to determine the top 10 claims. Boat thefts came in at No. 9. However, while thefts only rank 16th in number of claims, they leap to the top in average payout. This makes sense. Our claims statistics show that only one stolen boat in 10 is ever recovered. The rest are total losses; even those that are recovered are rarely worth much. Knowing how much heartache a stolen boat can cause for an owner, we dug further into our theft claims to identify which boats are most commonly taken, and from where. Plus, we offer lots of good advice this month so your boat will not be a target.
Which Boats Get Targeted?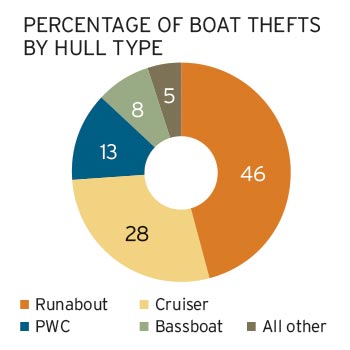 Source: BoatUS Marine Insurance Claim Files
Our analysis spanning five years of boat thefts showed that 75 percent of stolen boats are less than 26 feet. Boats under 20 feet (excluding personal watercraft, or PWCs) make up just over a quarter of thefts. Larger boats aren't stolen nearly as much. Only 10 percent of thefts are boats 30 feet and more.
As you can see from the diagram above, 46 percent of stolen boats are runabouts, followed by cruisers at 28 percent, and PWCs at 13 percent. Sailboats and trawlers (3 percent) are the least stolen for obvious reasons: It takes a lot of nerve to try to escape at 6 or 7 knots. See the chart below to see which runabout brands are most commonly stolen.
If we had to build the typical boat that's most commonly stolen, it would look like this:
Trailer boats, commonly parked in driveways or backyards, are prime targets for criminals, as they're often shielded from view and come complete with wheels for a fast getaway.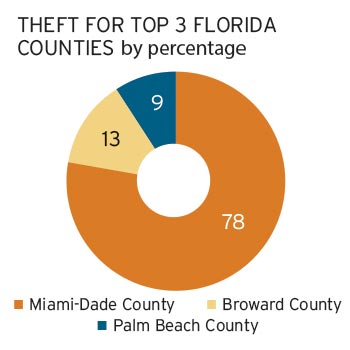 Source: BoatUS Marine Insurance Claim Files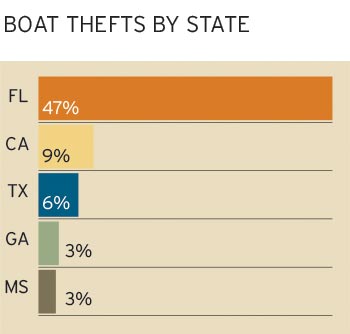 Source: BoatUS Marine Insurance Claim Files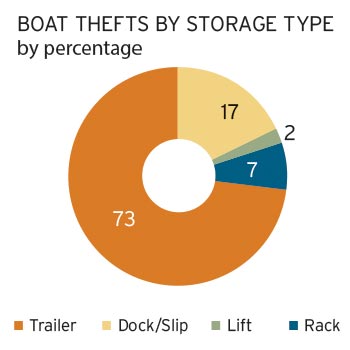 Source: BoatUS Marine Insurance Claim Files
Where Are They Stolen From?
There are two ways to answer this question: the part of the country where they're located, and the kind of facility in which they're stored. The answer to the first question is no surprise to theft investigators. Florida is the hands-down capital of boat thefts with almost half (47 percent) of the theft claims occurring in the Sunshine State. Miami-Dade had the vast majority of thefts in Florida, followed by Broward and Palm Beach counties.
Want to guess the No. 2 state? If you said California, you're right. Texas comes in as No. 3. It might surprise you to see Georgia at No. 4, but the state is one of the few that don't require titles, which means a thief can steal a boat there, take it to nearby South Carolina and get a title, then sell it somewhere else. Ditto No. 5, Mississippi.
Now check out the Boat Thefts by Storage Type chart, below. The vast majority (73 percent) of boats are stolen while they're on their trailers. In many cases, they're taken from the owner's yard, often at night. Frequently, owners reported that their boat was stored at a shop, a friend's house, or a parking lot when they discovered it was missing. The common thread here is wheels. The wonderful portability of trailer boats is unfortunately the same thing that makes them easy to steal. Boats are far less likely to be stolen from a marina, with the study showing only 17 percent were taken from there. PWCs are rarely left in a slip, so nearly all those stolen were taken while on their trailers. Anyone with a hitch can hook up a trailer. Only 2 percent of all boats were taken from a lift.
Surprisingly, only about 15 percent of owners whose boats were stolen said their boat had any kind of lock installed. Many said they didn't think they needed locks because where they kept their boats seemed safe. One more disturbing fact: As many as one in 10 thefts involve some kind of fraud in which the owners played some part. (Read about the BoatUS Special Investigative Unit.)
When Are Boats Stolen?
Our claims data shows that boats are stolen throughout the year, with the biggest lull in February. As the weather gets better, the bad guys get busier. By September, they're in full swing, and your boat is the most vulnerable. There's a sharp bump at the end of the year; evidently, thieves have quotas, too.
Top 10 Outboard And Sterndrive Thefts By Brand
Sea Ray
Bayliner
Wellcraft
Boston Whaler
Sea Fox
Tracker
Mako Marine
Contender
Pro-Line
Chaparral
Why Are Boats Stolen?
Typically, boats are stolen, stripped of everything valuable, and left in a vacant lot or by the side of a lonely road. Sometimes the empty hulls are lit on fire to make them harder to identify. The engines, electronics, anchors, biminis — in fact, almost everything that's removable — are taken. One of our investigators says that if the thieves could take the gelcoat, they would.
The stripped parts are then resold to unsuspecting (or sometimes suspecting) shops and boaters, often through eBay or Craigslist. Other stolen boats have their hull identification numbers and paperwork altered, then they're sold to new owners. This is especially easy to do for boats stolen in non-title states because of the ease in getting new paperwork.
In Florida, fast triple- or quadruple-engine boats are sometimes stolen to be put in service for smuggling drugs or people. Some of these boats also find their way via shipping containers to other parts of the world, where identifying them is much harder or of less concern.
The good news is that now that you know that thieves are lazy, you can use that against them. As you'll see in "How To Prevent Your Boat From Being Stolen", anything you can do to make it tougher for a thief to steal your boat will often make a thief look for an easier target.