This summer marks the centennial anniversary of the birth of modern watersports.
Way back in 1922, Ralph Samuelson, an athletic 18-year-old Minnesotan, was the first person to get up on water skis. With natural ability combined with ingenuity (and some degree of bravery), he accomplished the feat, skiing upright on Lake Pepin, a picturesque 30-mile segment of the Mississippi River.
Young Samuelson was already comfortable with his feet strapped to a couple of wooden barrel staves to snow ski down the bluffs that lined Lake Pepin and envisioned doing the same on water. A few years earlier, a sport known as "aquaplaning" had taken the new and burgeoning recreational boating world by storm. A common component of early boat shows, aquaplaning featured a 5- by 2-foot plank of wood with a line from the boat attached directly to the board, similar to towing a tube. Riders would stand on the board and do tricks while being towed around a large pool.
For Samuelson, the combined skills required for both snow skiing and aquaplaning provided the foundation for his idea for water skiing. But the early 20th century was a different world; Samuelson had to design, then build, his own gear. Barrel staves didn't work, and neither did 7-foot snow skis. He needed skis built for the water, so he purchased two 8-foot by 9-inch pine planks and shaped the front tips to have an upward curve. Crude leather straps to secure his feet were the first rudimentary bindings.
On June 28, 1922, Samuelson was ready to make his next attempt on his custom water skis with his brother, Ben, driving a 24-foot workboat powered with a 6-cylinder 24-hp inboard engine that topped out at 16 mph. They used a 100-foot sash cord as a towline. A single 4-inch iron ring cushioned with tape served as a crude handle. On that day, Samuelson got up one time for several hundred yards. Four days later, he decided to roll farther back in the water so that the ski tips were higher during the start. This worked, and the large surface of the skis helped him get up with the boat's limited power. On July 2, a day before his 19th birthday, Ralph got up consistently and skied multiple times. He'd given birth to a new sport.
Fleeting Fame
From 1922 to 1937, Samuelson performed the world's first one-man waterski show, skiing in Minnesota, Michigan, and Palm Beach, Florida. He skied over a 16-foot ramp (4 feet high) in Lake City to become the first water-ski jumper, then skied behind a World War I-era Curtiss Model F flying boat powered by a 220-hp engine at 80 mph, becoming the first speed-skier. But his whirlwind celebrity ride came to an abrupt end when a construction injury ended Samuelson's water-ski career. In that much slower-moving world, news of his accomplishment generally received only local publicity.
The question of Samuelson being "the first" had been forgotten for decades. For a long time, Fred Waller of Long Island, New York, took credit for inventing water skiing in 1924. There were also accounts of water skiing being done on the French Riviera in the late 1920s.
It wasn't until 1963, when Margaret Crimmins, a vacationing reporter from the St. Paul Pioneer Press, came across Samuelson's skis on display in Lake City, Minnesota's, municipal boathouse. Her journalistic curiosity prompted her to investigate the story. Her articles brought Samuelson's accomplishment to the attention of the American Water Ski Association, the official organization representing the sport, leading to Samuelson officially receiving credit as the originator of water skiing, and to Lake City for being the birthplace of the sport. In 1982, the Water Ski Hall of Fame inducted Samuelson as the "Father of Water Skiing."
Centennial Eevents Calendar
Legacy Of Fun
Throughout the past century, the sport of water skiing has developed into multiple ways of enjoying towsports, including slalom skiing, trick skiing, jumping, show skiing, barefooting, wakeboarding, kneeboarding, and wakesurfing. The equipment, boats, and performances have progressed exponentially during the past 100 years. The sport has spread to six continents, and there are governing federations for water skiing in almost 100 countries. Today these sports are done behind all kinds of boats, and water skiing remains an excellent mind/body workout and a great family sport.
No matter what boat you have or which watersport you enjoy, we should all be grateful for young Ralph Samuelson's accomplishment on Lake Pepin 100 summers ago. He opened up a new way to have fun on the water we all love.
Timeline
1925
Fred Waller of Huntington, New York, receives the first patent for water skis. Waller markets his water skis as "Dolphin Akwa-Skees."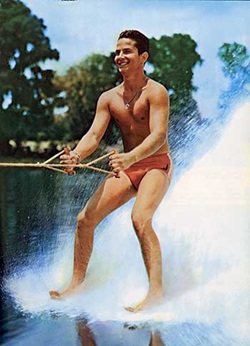 Dick Pope Jr. (Photo: USA Water Ski & Wake
Sports Foundation)
1939
The first USA Water Ski Nationals are held in Jones Beach, New York. That year, the American Water Ski Association is formed, becoming the U.S. governing body for water skiing.
1947
A.G. Hancock becomes the first to water ski on his bare feet, going a few hundred feet. On March 6, Dick Pope Jr. is the first to barefoot consistently. Cypress Gardens begins doing daily water ski shows.
1949
The first water ski world championship takes place in Juan-les-Pins, France.
1953
MGM films "Easy to Love" at Cypress Gardens. The Hollywood motion picture features Esther Williams, Van Johnson, and Tony Martin. A spectacular lengthy scene in the movie features water skiing and boats in action.
1955
Elvis Presley learns to water ski and loves it. In the 1960s, Elvis purchases several boats for water skiing, including a 16-foot Glastron. Elvis also water skied in three movies, including "Clambake," "Viva Las Vegas," and "Girl Happy."
1959
Leo Bentz, a water ski school operator and coach, and his wife, Mary, build the first-ever fiberglass boat made specifically for towing water skiers — the Ski Nautique. Also, Randy Rabe becomes the first to barefoot backward.
1964
The day after The Beatles appeared on the "Ed Sullivan Show" for the second time, they went boating and learned to water ski in Miami. The second Beatles appearance on the "Ed Sullivan Show" was broadcast from Miami Beach.
Johnny Carson Discovers Cypress Gardens.
(Photo: USA Water Ski & Wake Sports
Foundation)
1967
14-year-old water-skiing superstar Ricky McCormick is featured on the "Ed Sullivan Show." The January 15 show also included the Rolling Stones who perform "Let's Spend Some Time Together."
1968
"Johnny Carson Discovers Cypress Gardens" airs in color on NBC. The special features Johnny Carson water skiing along with the water skiing stars of Cypress Gardens.
1972
Competitive water skiing consisting of slalom, tricks, and jump events is featured as an exhibition sport in the Munich Olympic Summer Games.
1977
Fonzie jumps the shark on an ABC TV episode of "Happy Days."
1978
Water ski world champion Wayne Grimditch beats the top athletes of various popular sports like football and tennis competing in a variety of sports in ABC TV Superstars. It also marked the first year of the US Barefoot Water Ski National Championship and the first World Barefoot Championship.
1985
Banana George Blair water skis and barefoots in the Antarctic to be the first to do so on all seven continents. His feat of barefooting in the frigid 28-degree waters was shown on NBC's "Today Show."
1986
MasterCraft tows the first five-high water-ski pyramid at Cypress Gardens.
1995
Centurion Boats introduces The Wave, a boat that throws a big wake for wakeboarding and wakesurfing.
1997
CorrectCraft unveils the Air Nautique: the first boat made specifically for wakeboarding that features a wakeboard tower, built-in ballast tanks, and speed control.
2003
Wakesurfing takes off when Hyperlite unveils its first wakesurf board, the Landlock. This is the first board made by a manufacturer with both national and international distribution.
2004
Centurion unveils the Enzo, a V-drive-powered boat made specifically to throw a long and tall wave. The Enzo revolutionizes the sport of wakesurfing.
2012
Malibu revolutionizes wakesurfing with Surf Gate. With a flip of the switch on the dash, the driver can adjust and fine tune the wave. Now you don't have to weight the boat on one side. Switching on the fly allows the wakesurfer to transfer to the other side of the boat's wake without stopping the boat.
2015
Volvo Penta introduces its Forward Drive sterndrive, which puts the twin spinning props under the boat's stern, allowing more boaters to enjoy wakesurfing. Manufacturers such as Cobalt, Chaparral, Regal, Four Winns, and Monterey implement the Forward Drive along with transom tabs to shape the wake.
2018
Triple 300-hp Mercury racing outboard sets a world record by towing an 80-person water-ski pyramid in Janesville, Wisconsin. Members of the Rock Aqua Jays water-ski show club along with members of two other show clubs, the Aquanuts and Webfooters, joined forces to accomplish the record.
2021
Australian water skier Jacinta Carroll breaks the 200-foot jump mark by setting a world record for women of 201 feet (61.3 m). Canadian Ryan Dodd set the world jump record for men at 254 feet (77.4 m) in 2017.