The BoatUS Foundation cast a wide net looking for fresh designs to jumpstart an effective, sustainable method to keep old lines and soft bait out of the trash cycle.
You've seen it many times — the tangled array of knotted fishing line floating near the shoreline or stuffed into a state park trash can — and probably thought there's got to be a better solution than litter. We know derelict fishing line is dangerous to marine life because it's invisible, creates deadly traps, and takes hundreds of years to degrade. And those improperly discarded soft baits aren't decaying any time soon either.
The BoatUS Foundation for Boating Safety and Clean Water shares your frustration and partnered with Berkley Fishing to crowdsource ideas from our members with the Berkley Recast & Recycle Contest. The idea? Seek out new ideas for recycling or repurposing used fishing line and a way to increase the volume of recycled line and soft baits. At stake for contestants was a total of $30,000 in prize money for any boater, angler, armchair technologist, team, student, or anyone willing to submit a contest entry. The contest ended May 2021.
"Today's fishing line and soft bait recycling remains labor-intensive and costly," says BoatUS Foundation director of outreach Alanna Keating. "We believe these winning entries, which range from a concept to prototype, have the ability to give nearly every angler the opportunity to easily recycle."
The Foundation was pleased with the quality and quantity of entries (129). Here are the top three, according to a panel of well-qualified judges. In the end, a recent college grad, an outdoorsman who's a 3D printing hobbyist, and a team of four college friends took home the prize money donated by the 501(c)(3) nonprofit Foundation.
1st Prize ($15,000)
Before she began designing her winning concept, recent Savannah College of Art and Design graduate (and competitive bass angler) Abigail Askew of Florida surveyed a collection of anglers on the reasons preventing them from recycling line and baits. A lack of convenient recycling locations and not knowing recycling was an option were the most mentioned. She then addressed those concerns with her contest concept — a miniature recycling center that takes Berkley's current cardboard recycling bin to the next level. Resembling one of those Redbox DVD movie rental machines you see at supermarkets, Askew's "Berkley Recycling Machine" would melt down and remold used baits into new ones. "This is a great way to draw attention to conservation in the fishing industry rather than hiding the old bins behind counters," she says of her idea. Incorporating fun into the motivation, recyclers would be able to watch the injection-molding process through a window on the machine. "This Berkley-themed recycling machine will be a fun novelty for everyone, and draw the attention of future recyclers," she says.
2nd Prize ($10,000)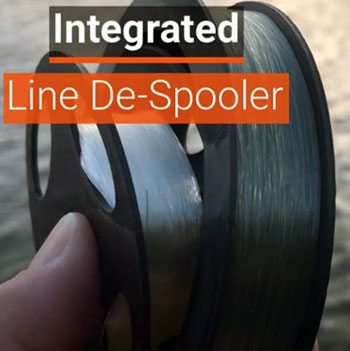 Among the 129 entries in the Berkley Recast & Recycle Contest
was this integrated line despooler.
Eric Vaughn of Nebraska kept his idea simple and low-tech. If you have an electric drill, then you're ready for the Integrated Line De-Spooler. "My idea removes the old line from the fishing reel quickly and easily, locks away the old line so it can be disposed of safely or recycled cleanly, and it does all of this while using the same packaging that fishing line manufacturers sell today," Vaughn explains. A hunter and angler, his idea involves using the empty space that exists on the inside of every new fishing line spool.
Vaughn's 3D printing hobby turned the concept into a prototype. His innovative engineering solution inserts a new smaller spool used to take up old line (that's had hooks removed), into a standard line spool, essentially "nesting" the spools in the existing empty space found inside standard spools, where it will be kept safe from animals becoming entangled, until the consumer recycles it. The inner spool can be marked for the line type (mono or braided), and the condition of the line.
3rd Prize ($5,000)
A team of college students from Western Michigan University — Laura Nicholas, Anna Hurst, Maxwell Downey, and Ross Malachowski — took third prize with their "Hook Bait" app that encourages the use of sustainable alternatives by offering them as incentives for recycling. By scanning a QR code at recycling centers, the app records what you recycle and gives rewards — eco-friendly fishing supplies based on the individual fishing style — for reaching milestones. These incentives could include hip waders or water shoes made from the recycled fishing materials. The app also offers the ability to track your recycling progress, includes a map to see what friends are catching, offers a journal to save photos of fish caught and important fishing information such as lures and location, and makes it easy to post on social media.
The Next Step
"Our goal was to raise awareness of an issue that needs addressing and to brainstorm some innovative designs that can be developed into real-world solutions," says Chris Edmonston, president of BoatUS Foundation. A video of the winning entries and more can be found at BoatUS.org/Contest, the Recast and Recycle website.
How Are Line And Baits Recycled?
Until recently, the only recyclable fishing line was a nylon, single-filament product — either a monofilament or fluorocarbon. Berkley now also recycles braided line. There is no nationwide program for recycling soft baits. Some organizations accept them at the local level to melt down and recast into new lures, but economically viable solutions are needed.
Getting line prepped for recycling is tedious work beginning with collecting it in bins through programs like the BoatUS Foundation's Reel In and Recycle program. Various retail stores, volunteer groups, nonprofit organizations, and municipalities maintain used fishing line disposal containers strategically placed near angling hot spots — bait and tackle shops, boat ramps, piers, and fishing access points.
Teams of volunteers typically collect the line, remove trash, hooks, plant material, and any other debris, and then box up the line and send it to Berkley's facility in Iowa. At the recycling facility, the line is washed, once again checked for debris, and evaluated to determine if it is acceptable for recycling. Contaminated line can't be recycled.
The line is melted down into plastic pellets and then sold as raw material that can be remanufactured into products such as spools for line, plastic benches, and toys. It's a long turnaround from when the angler disposes of the line before it takes on a new use, but since 2007, the BoatUS Foundation's Reel In and Recycle Program has enabled anglers to properly dispose of more than 20,000 miles (and counting) of fishing line.
— Alana Keating