Are you or someone you know searching for the right career? The boating industry needs skilled technicians, and they'll pay to train you!
Drew Pope, 32, is a man in motion at the Nautique watersports boat manufacturing facility in Orlando, Florida. As the materials and supply chain manager for all 12 boat models his company builds, his job is to make sure the right pieces are in the right place at the right time. That responsibility has him continually thinking strategically while working on supply chain materials to support production of every single boat.
Pope grew up in a boating family. "We fished and waterskied. Being on the water has always been a part of my life."
While working toward a degree in industrial engineering at University of Central Florida (UCF), Pope sent his résumé to marine manufacturers in central Florida to say he was looking for experience. Nautique responded. The company didn't have a formal internship program but was planning ahead. He became its first paid intern in 2012. Since then, more than 40 have graduated from the paid internship program, and Nautique now has a formal partnership with UCF to give students real training to enter the recreational marine industry.
Chronic Need
For years, the recreational marine industry has struggled with a shortage of skilled professionals — especially mechanical and electrical technicians — exacerbated by the seasonality of boating, an aging and shrinking workforce, and the full-throttle advancement of new technologies.
"Before COVID, the recreational marine industry had 20,000 empty service tech jobs in the U.S.," says Margaret Podlich, executive director of the American Boat and Yacht Council Foundation, where she's focused on providing resources that create educational and career opportunities to current and aspiring marine service technicians. "During COVID, we have an unprecedented surge in boat sales, creating an even greater demand."
Unlike the much larger motor vehicle industry, which committed long ago to investing in developing its workers, the marine industry has lagged in proactive training, resulting in this vacuum. That's starting to change, with manufacturers and boat shops increasingly partnering with tech schools and marine trades associations to shepherd new talent toward the training they need.
"We want the public to know the recreational marine industry has good paying jobs available for trained technicians," says Nick Vannocker, training technology manager at Mercury University, a program created by the outboard giant to form partnerships with tech colleges across the country. "We supply the product, training, and curriculum for the college programs, then match graduates with job opportunities, and often coach them."
MarineMax, the largest recreational marine dealership chain in the country, is a prime landing spot for many Merc U grads. And it's not just Mercury — Honda, Suzuki, Volvo, and Yamaha also have partnered with Universal Technical Institute, the nation's leading provider of tech training with 13 campuses coast to coast, to offer marine technician specialist training in outboard maintenance and repair.
Once in the employment pipeline, the training never ends. "Every time a manufacturer puts out a new product, they immediately put out training for it. That's how you stay ahead of the curve," says Chris Butts, technical training center manager at MarineMax. "Bottom line, the better our technicians are, the happier our customers are."
How To Find Your Way In The Door
The number of high schools offering marine-tech training continue to increase every year. Traditional trade schools and marine-specific trade schools nationwide increasingly offer courses that run six months to two years. Here's a sampling:
Brave New World
Survey after survey reveal that young people are reassessing career options, while displaced seasoned workers are reevaluating their careers during the pandemic. There is also an ongoing cultural shift away from "everyone should get a college degree" to a re-embracing of nontraditional tech-school education and the return of more technically focused "shop classes" at the high school level.
The mean national pay for marine mechanics and service technicians is $20.83/hour, or $43,320 annually, according to the U.S. Department of Labor, but pay varies widely depending on job location and skill level. For example, the mean wage in certain areas of Texas is more than $63,000 a year; in Rhode Island, it's around $53,000; in California or Florida, it's around $50,000. In nonmetropolitan areas, the mean wage can range from $30,000 to the low $40,000s. Opportunities for advancement are plentiful, and paid apprenticeships and training are multiplying.
Still, there's no one-stop process to enter the marine tech industry, even as it steps up training efforts to attract the next generation of employees. No recruiters are out there looking to find you. It's up to you to take the helm of your career path.
"Take chances. Put yourself out there. Follow your passions," Pope says. "I don't feel like I'm coming to work every morning. I love what I'm doing." To get an idea of how others have made inroads into their marine tech careers, let's meet some marine professionals who tell us how they got their start and learned their trades:
Andy Novak, Marine Mechanic, NW Explorations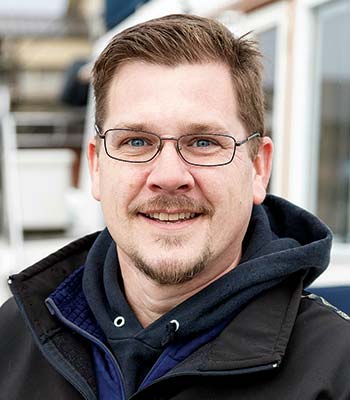 Andy Novak
While working as a trainer in a call center for a home-security company in Denver, Colorado, Novak and his wife took a leap of faith and moved back to her home state of Washington, without either having secured a job. "I was 40 and figured if I was ever going to get a dream job," he says, "that was the time to start figuring that out."
Novak had minimal boating experience but was a passionate angler. "I developed a 10-year plan to learn how to fix and drive boats, so boats would get me to the fish!" he says. He enrolled in Skagit Valley Community College's renowned marine tech program in Anacortes. After a year, he earned an ABYC Master Certification and became a paid tech apprentice at a local boatyard for two years, subsequently moving to another shop as systems rigger, then another as a mechanic.
Three years ago, a friend from Skagit offered him a job at NW Explorations in Bellingham, which offers charters, boat sales, and repairs. On his first day as an onboard marine mechanic, he set off on a seven-day charter through the San Juan Islands. "That's when I fell in love with being on the water while making a buck," he says. Novak is the fixer of everything on the charters, then works on boats in the yard full-time during the off-season.
"In this industry, you have to know engines and all the systems, water pumps, electrical, heads, you have to know your way around the boat. These are half-million, million-dollar yachts, so you have to learn to do it right," he says. "As a mechanic, I'll always have a job."
Little to no experience? Start by looking at the curriculum of tech schools in your area, then the Marine Mechanics Institute or a similar marine-centric school. Look into local community colleges and vocational schools. Call marinas and communicate your ambitions and graduation time. Try to line up a hiring commitment as soon as possible, even if it means working weekends while you're going to school.
Chip Henderson, Parts Consultant, MarineMax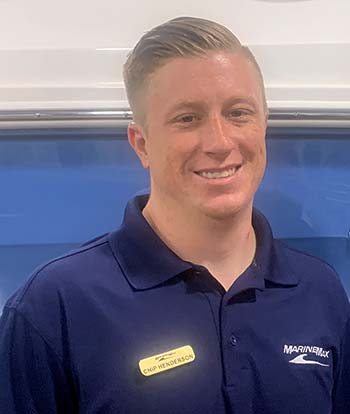 Chris Henderson
Now 30, Henderson dropped out of college after two years, worked for an audio/video company, then a computer company. He'd always loved the water and boats, growing up on his grandfather's 1980s Sea Ray off the New Jersey shore.
"In 2018, my dad bought a Sea Ray Sundancer from MarineMax Baltimore," Henderson explains. "One day the mobile tech came out to the boat and told me how much he loved his job, and that he'd been with MarineMax for 20 years. That inspired me."
His research let him to Chris Butts, head of MarineMax University, launched in 2016 to address the growing tech shortage at the company's 77 locations. Henderson enrolled in the one-year Marine Mechanics Institute (MMI) in Orlando, Florida, and graduated in 2019 certified as an entry-level technician, ready for more intensive training at MarineMax University.
"What I liked about my time there was for the first three days of the week, you're in a classroom getting online training from Mercury, Seakeeper, Yamaha, and Volvo techs," he says. "On Thursdays and Fridays, all students go down into the shop and are paired with a technician."
Henderson became a Mercury-certified technician. He was then hired as a full-time rigging technician (responsible for the repairs and rigging of boats and trailers) at the Clearwater store — despite having no training — because MarineMax was willing to pay his salary while training him how to install any add-ons the customer wanted, such as GPS, radars, underwater lights, and stereo upgrades. He then took a job in the parts department, where he was qualified because he was trained as both an engine and rigging tech. Growing your skill set is what companies want, and they're willing to help you get there.
Josh Hanna, Marine Technician, Irish Boat Shop
Hanna, 25, graduated from Northern Michigan University with an automotive technician associate's degree, because he knew there would be job openings. While working on vehicles, he came across an ad for a tech apprenticeship program with the nearby Irish Boat Shop.
"My dad got his first boat when I was 7. That's when my love of boating started." Two years later, Hanna is the first graduate of the Michigan boat shop's paid two-year apprenticeship program, was hired as a full-time marine tech, and is now learning engine maintenance from Mercury Marine technicians.
"The need for the program grew out of the skills gap plaguing all trades," says Laura Kohler, Irish Boat Shop's human resources director, "and the fact that our experienced marine technicians are retiring after 20 to 30 years. We recruit apprentices who may or may not have any experience in the marine industry, and our technicians teach them the skills they need to be successful. Our goal is to produce well-rounded marine techs who stay for a career with Irish Boat Shop once they complete the two-year program."
Erena Fridman, Project Manager Apprentice, Derecktor Shipyard
Fridman, 38, came to the U.S. as a refugee from the former Soviet Union when she was 10. Her boating background involved only paddlecraft, but "as long as I can remember, I've loved everything about the ocean — the smells, vibe, people, and of course the boats." Her bachelor's degree in business from University of Minnesota led to eight years in e-commerce. But after her son was born, she could no longer handle the international travel required. She quit, earned an education degree, and became a teacher. Three years later, she moved with her son to South Florida to enroll in a marine engineering school while working gig jobs to pay the bills.
"Back home, my father owned a forklift company, and I was so interested in the mechanics of forklifts and cars," she says. "Eventually, I began concentrating on what would make me happy — combining my passion for machines, mechanics, boat life, and the ocean. Marine engineering seemed like a natural career progression." Two days after graduation, Derecktor Shipyard in Dania Beach hired her, and she rotated through departments to learn varied industry skills. Derecktor sponsored her to attend the Marine Industry of South Florida's Yacht Service Technician Apprenticeship Program one night a week. When she graduates in December, she'll become Derecktor project manager.
"I have no regrets and look forward to coming to work every morning."
Gabriel Andrews, Quality Control and Assurance Manager, DeAngelo Marine Exhaust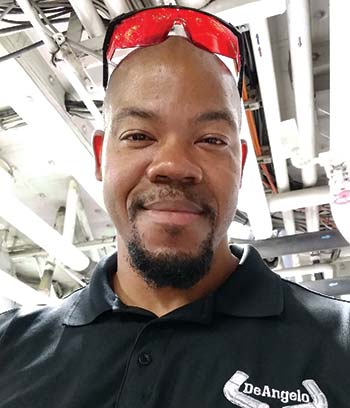 Gabriel Andrews
Andrews, 42, began as a high school teacher in Fort Lauderdale, where he came in contact with the Marine Industry Association of South Florida, which works with local schools to raise awareness of the industry. While shepherding his students through marine industry field trips and summer camps, Andrews himself became interested in opportunities within the industry.
"I grew up next to the water in St. Petersburg, Florida. The Gulf waters were a 10-minute bike ride, and we'd fish off a seawall at Bay Vista Park. We used hotdogs for bait because we couldn't afford shrimp," he recalls.
The closest he got to boating was watching them from the shore.
But a high school class trip to the Florida Keys that included snorkeling from a boat drew him in. "It was the most beautiful crystal-clear water I'd ever seen." While he considers teaching "one of the most fulfilling experiences" of his life, after getting married and having a child, he decided he "needed to grow technically, professionally, and personally to support a growing family."
In college, he'd taken engineering and design courses. "I was open to new opportunities when I got a call for an engineering position at DeAngelo Marine Exhaust."
He says the most interesting part about his job is the challenge of continually improving processes to yield higher quality products. "I'm not one to run from challenges. I enjoy them."
I can't stress this enough — most employers are looking for people to show up every day on time and work hard. They will take care of training you if you have those disciplines. And most expect you to have your own tool box.
Ethan Love, Technician, Dry Dock Marine Center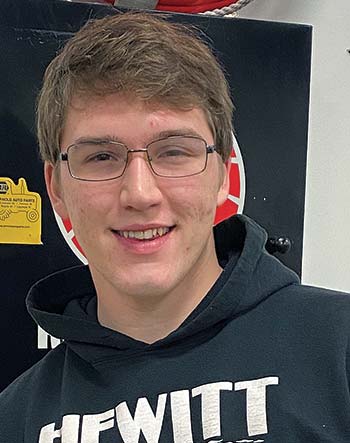 Ethan Love
Ethan Love grew up surrounded by a recreational boating culture in northeast Indiana. There are 105 lakes in Steuben County, so the region is flush with marinas and boat dealerships. He embraced boating, waterskiing, and riding personal watercraft on Lake James. "There's marinas everywhere and just about everyone owns boats. It's a big part of the community and it piqued my interest," the 20-year-old explains.
Love has always been mechanically inclined, winning the competitive Indiana SkillsUSA Marine Service competition, and placing fourth in the nation in 2019. "I've always liked wrenching around on my own stuff, which got me thinking that maybe I can leverage this as a career."
Geography was on his side as Impact Institute was close to home. The technical training center partners with local high schools and recreational boating businesses to train the next generation of technicians. He took advantage of the paid internship program his junior and senior years to attend classes, which expanded to include working three days per week at nearby Dry Dock Marine Center. Upon graduation in 2019, he had a full-time job waiting at Dry Dock. "I knew this was what I wanted to do, so there wasn't any use in wasting time," he says.
After initially learning from the seasoned techs, Dry Dock paid for his certification training at Nautique in Florida and Yamaha in Georgia. He's now a certified technician for Nautique and PCM engines, and Yamaha Waverunners.
"You know how people say, 'If you love what you do you'll never work a day in your life?' I was always taught to work hard, I'm mechanically inclined, and I just enjoy the work," he says, noting the marine industry needs techs, but it also needs staff in service, parts, sales, and office work. "I prefer the service side of things, but I also like working with customers, so I might work my way toward service management," he says. "If this is something you really want, you've just got to go for it."
Riley Smith, Technician, Scott's Marine
Smith, 19, grew up in Foley, Alabama, loving two things: cars and boats. When it came to choosing a career path, he could have gone either way, but he picked boats. "I've been on the water almost all my life, so I thought it'd be a good idea to work on boats," says Smith, who graduated high school last year.
He then found his next career step while searching online. George Stone Technical College in nearby Pensacola, Florida, offers an intensive Marine Services Technologies Course, which is partnered with Mercury and Yamaha. The 1,350-hour program incorporates technician training for outboards, outboard diagnostics, inboard gas, drive train, and inboard diesel. The cost is about $4,500 for Florida residents and about $16,000 for nonresidents.
Smith has logged more than 730 hours by August, making him eligible to begin field work at Scott's Marine in Elberta, Alabama, which partners with both the school and engine manufacturers Mercury and Yamaha. When he finishes school (he's on track for December), he'll have a full-time job at Scott's waiting for him. "I've been learning how to do pre-delivery inspections of boats, some basic service work like water pumps and warranty work, which is what I'll be doing when I work full-time," he says. From there, Smith can take his new career in whatever direction it leads.
"I feel good about where I am. I feel great about the career path I've chosen," he says. "I just love learning how to do it right. My co-workers help me a lot, and I'm learning from their experiences."
New Resources For Teachers
"I'm working with many teachers at the local level — high schools, community colleges, tech schools," says ABYC's Margaret Podlich. "Their consensus? Some kids struggle in traditional classroom settings and learn better by doing."
ABYC is the essential source of tech info for the marine industry, setting performance standards for nearly every component on a recreational boat. In 2012, ABYC published Fundamentals of Marine Service Technology by Ed Sherman and Tim Murphy, the first textbook targeted squarely for secondary and post-secondary students. It assumes no prior knowledge of boats or marine systems. Step-by-step, it brings students into the world of boats and all their interacting parts.
This textbook is the foundation for the ABYC curriculum created for teachers interested in launching their own intro course on marine training. All curriculum is to ABYC standards.
ABYC hosts an annual Educator Training Conference in July, designed to "train the trainers," Podlich says, noting the conference features trainers from some of the largest recreational marine companies. "We see plans to create or expand programs at the local level across the country."