You may not think of yourself as a scientist, but as a boater, you're close to being one. Here's how recording your observations while out on the water can contribute to important research.
Did you know that a dolphin has been logged swimming 152 miles in one day? Or that it took a fish caught in the Florida Keys only two months to swim 1,500 miles north to Montauk, New York? We know about these feats because boaters like you logged sightings of those creatures, which were wearing numbered tags. Every day, researchers use field data submitted by boaters to be able to make more educated recommendations about how we can be better stewards of our natural resources.
Much of what we know about marine mammal migration and behavior is the result of keen observation by fishermen, citizen scientists, and researchers. Boaters, in our day-to-day enjoyment of the water, possess unique access to information scientists crave. All we need to do is communicate it to them, and they'll do the rest!
For instance, the Marine Debris Monitoring and Assessment Project asks citizen scientists to record the amount of trash found on coastal sites. People from across 20 U.S. states and nine countries have monitored more than 370 beaches. That data revealed that waste increased tenfold after the 2011 earthquake and tsunami in Japan. Without regular people reporting what they saw, we wouldn't know any of this, and that's just the beginning.
Depending on where you live and what kind of boating you enjoy, there's a project out there that may be perfect for you. Here's a sampling of options, though you can find many others by doing an online search.
All Boaters Welcome!
Report Nautical Chart Errors
National Oceanic and Atmospheric Administration (NOAA)
We all rely on nautical charts — digital and paper — to navigate safely and provide facts on everything from water depths to bridge heights and navigation markers. But what happens when storms and other natural conditions change bottoms and depths, or when buoys go missing? Our charts become inaccurate. That's where you come in! Help keep boaters safer, reduce the risk of accidents and groundings, and increase the accuracy of NOAA charting by submitting chart errors you find on your journey, such as depths different from those charted. These result in "Notices to Mariners," which we all use for the latest info.
What's Involved: Fill out a short survey with basic info such as name, email, location, and the error.
Perfect For: All boaters. nauticalcharts.noaa.gov/customer-service/assist
iFlood, Improving Flood Predictions
Woods Hole Oceanographic Institution
(Location: North Carolina Outer Banks)
Boaters in North Carolina's Outer Banks know how critical these beautiful barrier islands are to protecting the coast from major storms. Submit easy-to-fill-out reports, and help researchers improve flood predictions to better manage flooding hazards, which will help save lives and prevent property damage.
What's Involved: Download the iFlood app, mark a map location, snap a photo, answer optional survey questions, submit the report.
Perfect For: Boaters in North Carolina's Outer Banks. iflood.whoi.edu
Citizen Science Water Level Application
National Centers for Coastal Ocean Science
Help researchers widen their knowledge of flooding events, which will help weather forecasters better communicate impacts and risks for future storm events.
What's Involved: When you see elevated water levels or flooding, fill out the simple "Water Level Reporter" form.
Perfect For: All boaters. Accessible worldwide. coastalscience.noaa.gov/news/new-citizen-science-water-level-application-available-nationwide
Protecting Marine Life
Ocean Alert
Bureau of Ocean Energy Management, U.S. Department of Interior
Collected data will help BOEM plan offshore energy and mineral development in ways that lessen potential impacts to species such as sea turtles, sharks, and whales, and their habitats. Federal agencies can also disseminate information, such as wind turbine construction areas or speed restrictions for large whales, to the boating public in real time.
What's Involved: Use the app to upload images, sightings, and species information.
Perfect For: All boaters. boem.gov/boem-and-citizen-science
Report a Tag
Sportfish Center, Center for Sportfish Science & Conservation
Anglers, this one's for you! Tagging fish helps researchers learn more about how different marine species interact with the environment, which are being caught during certain seasons, and their coastal movement patterns. If you catch a tagged fish and report it, you're helping scientists understand which areas the fish prefer, how far they've traveled, their growth rate since tagging, and what changes in those patterns mean.
What's Involved: Fill out a simple online form with your name, phone number, species caught, location, fish length. You can also submit a photo.
Perfect For: Anglers and boaters. sportfishcenter.org/outreach/report-tag
Whale & Dolphin Tracker
Pacific Whale Foundation
Did you know that humpbacks travel as far as 16,000 miles each year, bowheads can live up to 200 years, and male humpbacks can sing complex 20-minute songs heard from miles away? Like humans, dolphins have large mental capacities and are able to recognize their own reflection in a mirror. They live in groups where they hunt, swim, and play together, and can communicate with each other through their own language. Play an important role in helping researchers collect invaluable scientific data about whales and dolphins in Hawaii.
What's Involved: Download the app, create an account, submit sightings. Log GPS location, group dynamics, observed behaviors, and other data in real time, uploaded instantly to the PWF database.
Perfect For: Boaters in Maui, Kaho'olawe, Lana'i, and Moloka'i. pacificwhale.org/research/hawaii-wdt-sightings-map
Have You Seen A Marine Animal?
Woods Hole Oceanographic Institution
Have you ever noticed a tag on a marine animal, often on its ear or tail? That means marine scientists are following and learning from its movements. For instance, volunteer reports revealed that in the early weeks of 2013, about 10% of the first 100 gray seal pups born on Muskeget Island off the coast of Rhode Island tested positive for influenza. Sampling efforts on these seals, which faced extinction in the early 1970s, were doubled to monitor the health of the pups. The colony is now thriving.
What's Involved: Volunteers report sightings of tagged animals (usually seals) by filling out a simple website form.
Perfect For: West and East coast boaters. main.whoi.edu
Sighting Report Form For Nonindigenous Aquatic Species
U.S. Geological Survey
Invasive species such as the zebra mussel, quagga mussel, round goby, and sea lamprey are a growing threat, especially in the Great Lakes and other inland areas, and officials are having a hard time fighting them. These nonindigenous species overwhelm marine ecosystems, radically upsetting or destroying the balance of native species.
What's Involved: Help researchers track these unwelcome species by filling out a simple online form to let them know where you've made sightings.
Perfect For: All boaters, especially in the inland and Great Lakes. nas.er.usgs.gov/SightingReport.aspx
Jelly Watch
Monterey Bay Aquarium Research Institute, Monterey Bay Aquarium
It's eye-opening to understand jellyfish, squid, and other unusual marine life. Next time you see any of these creatures, tell Jelly Watch about it. Marine biologists need your contributions for their long-term dataset about the animals you see or the conditions of the beach.
What's Involved: Submit a sighting on jellywatch.org or the "jelly watch" mobile app.
Perfect For: All boaters. User-friendly for kids. jellywatch.org
OK Coral
Coral Restoration Foundation
Coral reefs are lifesavers. Worldwide, they house and feed 4,000 fish species, millions of other species, and protect our coasts from 97% of the damage from waves, storms, and natural disasters. They support fishing and tourism, which promote job growth and business.
What's Involved:
Use this mobile app to provide invaluable data to help researchers answer important questions about coral reef health and its survival. You need a phone and snorkeling or diving gear, then download the user-friendly mobile app.
Perfect For: Recreational snorkelers and divers, particularly in the Florida Keys. coralrestoration.org/citizen-science-collaborations
Citizen Science Waterbird Monitoring
Audubon Texas, Texas Estuarine Resource Network
The 600-mile Texas coast offers wintering grounds and stopover sites for more than 98% of North America's long-distance migratory bird species. However, much of the coast is challenged by erosion, lack of freshwater inflows, and pollution. Become the eyes and ears of researchers trying to gather data that helps evaluate the health and function of bird habitats by reporting on bird behaviors. This can reveal new trends and identify when these habitats need special attention.
What's Involved: Volunteers get training in bird identification in order to submit data to Audubon biologists, conservation partners.
Perfect For: Gulf Coast boaters. tx.audubon.org/conservation/tern-citizen-science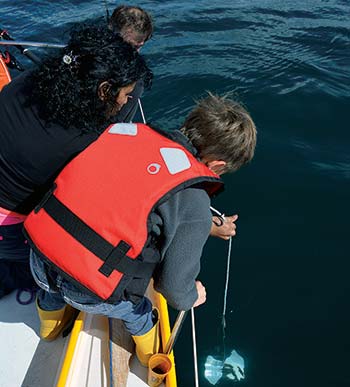 A family studies plankton aboard their sailboat. (Photo: G.
Manaerts/CC BY-SA 4.0)
iNaturalist
California Academy of Sciences and the National Geographic Society
Have you ever seen an animal out in the wild you'd never seen before and wished to learn more? iNaturalist may be for you. By downloading the free app, you can record your interactions with any organism you encounter, have the opportunity to take part in projects that interest you, connect with experts to identify what you've found, and explore and help others identify the organisms that they saw.
What's Involved: Download the free app and start recording your sightings.
Perfect For: All boaters, kid-friendly inaturalist.org
Improving Water Quality
The Marine Debris Monitoring & Assessment Project
National Oceanic and Atmospheric Administration
Boaters share a love for the water and the beach, wading in the shallows, walking barefoot in warm sand, and making sand castles with our kids. Is swimming on a beach strewn with trash appealing? How about having your engine intake clog from plastic bags? Help to clean up our coasts by providing valuable data about how much and where you find beach trash.
What's Involved: Register, then select a location that you can return to each month. Complete the survey, send to NOAA'S MDMP Database. That's it!
Perfect For: All boaters, educators, kids, seniors. marinedebris.noaa.gov/research/monitoring-toolbox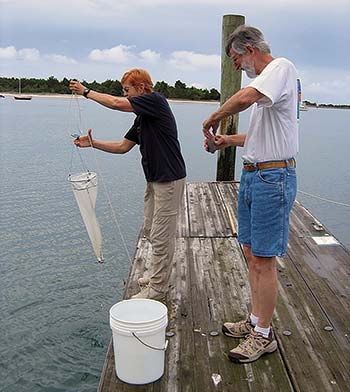 Photo: NOAA
Phytoplankton Monitoring Network
National Centers for Coastal Ocean Science, NOAA
If you've ever come into contact with rampant algal blooms in your local waterway or coast, seen fish kills from it, or had your engine suck up green slime from these toxic blooms, you know this problem is a growing one. Help scientists learn more about these harmful blooms so they can help eradicate this destructive byproduct.
What's Involved: After 1.5 to 3 hours of training, you'll receive the materials to sample the water at least once every two weeks for a year.
Perfect For: All boaters, anywhere in the U.S. coastalscience.noaa.gov/research/stressor-impacts-mitigation/pmn