Spring into summer with some new gear and innovative gadgets for your boat.
Be Seen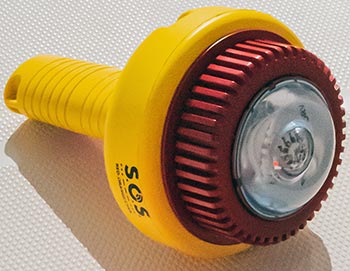 Carrying some sort of visual distress signal on board is a must. But pyrotechnics can be expensive and need to be replaced every 42 months. The C-1002 electronic visual distress signal device (eVDSD) from Sirius Signal could be a game changer. Featuring 12 high-power LEDs, the unit flashes the international SOS signal for up to eight hours once activated. The manufacturer claims that it is five times brighter than any approved eVDSD on the market. In addition, it's the world's first two-color light (orange-red/cyan) that is U.S. Coast Guard-approved for carriage, which helps it stand out better against scattered white background light. The unit also incorporates an infrared light that can be seen by search-and-rescue services equipped with night-vision technology. $299.99 | siriussignal.com
Clean Getaway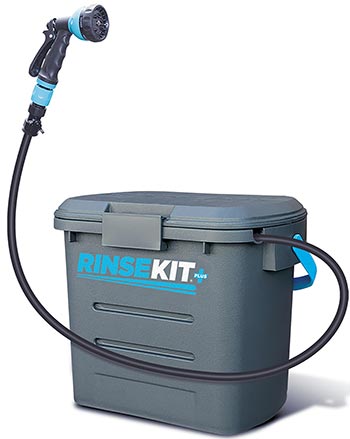 For boats without the luxury of a built-in shower, the RinseKit Plus is one solution for a quick washdown before climbing back aboard after a beach excursion. The size of a medium cooler, the shower has an insulated 2-gallon tank that is easily filled and pressurized from a dockside or hot water faucet before heading out. When filled, the unit weighs just 24 pounds, so it can be carried on even the smallest of craft.
One nifty feature is the detachable lid on the hard case that you can stand on while showering so your feet stay clean. When not in use, the hose and spray head fit neatly inside, and there's even a little room left over for a small towel. Optional equipment includes a heater rod powered from any onboard 12-volt cigarette lighter accessory socket. $129.95 | rinsekit.com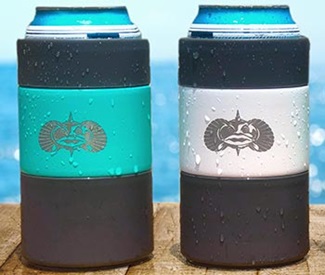 Get A Grip!
Simply place this no-spill koozie on any smooth, flat surface — such as fiberglass — and the suction base ensures that your drink stays put. To release, just lift straight up. Made from double-wall stainless steel with a plastic nonslip coating on the outer shell and a neoprene gasket around the lip to hold your beverage in place. Available in white or teal. $24 | toadfishoutfitters.com
Power Up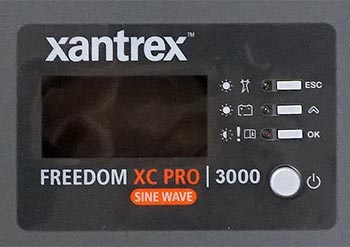 Want to run an AC appliance when you're away from the dock but don't have room for a generator? A Xantrex Freedom XC PRO battery inverter/charger could be the solution. Two new models have been tested for multiple environmental stresses, so they should stand up well to a life afloat.
The larger version offers a 3,000-watt inverter and 150-amp battery charger and weighs 18.5 pounds. The smaller model has a 2,000-watt inverter with 100-amp charging capacity. Both offer true sine-wave AC output and can surge to two times their rated power for 5 seconds to kick-start difficult loads like an air conditioner. An optional Bluetooth remote panel allows for system configuration and monitoring through an app. $1,250–$1,675 | xantrex.com
All-Day Comfort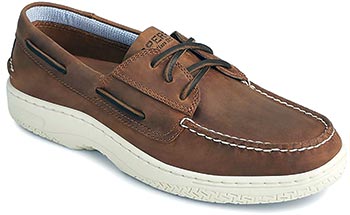 Need a bit more cushioning and support than what's offered by traditional boat footwear? Sperry's Billfish PLUSHWAVE men's boat shoe provides the ultimate in lightweight comfort and traction. The moccasin-style leather uppers feature rawhide laces and Sperry's 360° Lacing System for a custom fit. The sole's Razor-Cut Wave Siping ensures sure-footedness on deck. Available in three colors in sizes 7 to 14, in medium and wide widths. $109.95 | sperry.com
Stuck On You
In case you didn't know, BoatUS has its own in-house graphics department that can print just about any logo, boat name, or design onto self-adhesive films for adorning your boat. Need a custom logo? Check. Special boot stripe? Check. Boat name in fancy gold lettering? Check. The online design tool helps you bring your idea to life. If you can dream it, we can print it. Prices vary. Members save 10% | BoatUS.com/Graphics