Ball Bearing vs. Non-Ball Bearing Blocks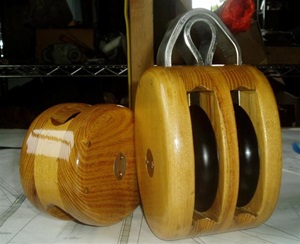 Blocks are used in purchase systems on sailboats so sailors can better control the high amounts of load created by wind and sails. The way to make this difficult task simpler is by designing blocks that run freely and reduce the friction caused by sheets and lines in purchase systems. So what is the difference between ball bearing blocks and non-ball bearing blocks?
Ball Bearing Block
Ball bearing blocks are best for any system on your boat that does not see "static loads," or low-movement applications. Examples of a few recommended ball bearing block applications are main, jib, and spinnaker sheeting systems, traveler cars, and controls, and running rigging backstay runner blocks. Compared to non-ball bearing blocks, ball bearing blocks run freely allowing for increased safety and ease of use. Whether cruising or racing-the sailor can only exert a limited amount of power, so ease of operation and ability to release a line and let it run free is very important and is optimized with ball bearing blocks.
Non-Ball Bearing Blocks
Non-ball bearing blocks are best fit for applications that hold high static loads and/or only change line direction, such as turning blocks, masts base blocks, deck organizers, halyard blocks, boom vangs, and reefing blocks. In these instances, a simpler, less expensive, non-ball bearing block makes the most sense.
Safe Working Load vs. Breaking Strength: What is the Difference?
Safe working load is the maximum load that a block can handle while still working properly. Breaking strength is the load at which a block will begin to yield and start to deform. When loaded to its breaking strength, the block can be damaged to the point beyond normal use and repair. As a rough rule of thumb, a block's safe working load can be determined by dividing its breaking strength in half.
It is important to know the amount of load your blocks will see in their specific application in order to choose the right block for the application. If you're unsure, consult a marine professional, such as your sailboat manufacturer, sailmaker, or sailboat hardware manufacturer.
Block Care and Maintenance
Ball bearing blocks are designed to reduce friction. When saltwater residue and dirt are introduced to the races of ball bearing blocks, friction increases, and ball bearings can wear. The largest enemy of any plastic ball bearing block is dirt and debris.
Knowing this, caring for your blocks is simple. Be sure to thoroughly wash and rinse your blocks with soap and freshwater as often as possible. If you sail in saltwater, it is best to flush out your blocks after every sail.
For increased performance, try spraying your blocks with a dry lubricant like Team McLube SailKote in the ball bearing races of your blocks. Dry lubricants like this repel water and contaminants that can harm ball bearing systems. In almost all cases, one application will last an entire season.