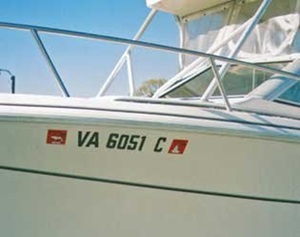 You've found the boat of your dreams, the price is right, and you've paid the seller. So the boat is yours free and clear — or is it? Well, it isn't until the seller signs over the title or provides other legal proof of ownership. In states that don't require titling, ask to see the seller's bill of sale from his seller. Other documents that help confirm ownership are insurance policies and boat registration cards. Crosscheck the boat's hull-Identification number (HIN) against the numbers listed on the seller's records to make sure it's the same boat. Search the boat's title and registration with the state in which the boat is registered. If the boat is federally documented (see below), call the U.S. Coast Guard's documentation division, 800-799-8362, to see if any liens have been recorded.
Most states require titling and all states have some form of registration for most boats. Federally documented boats don't get registered with the state, though most states still require some form of use decal and require sales tax to be paid.
Trailers
Most states require trailers to be titled and registered separately from boats — which usually means going to two different agencies. Some states may require safety inspections. Each state has it's own trailering laws too.
What Is Documentation?
Vessel documentation is a national form of titling. Your bank may require your new boat to be documented. If you plan to travel internationally, documentation typically makes customs entry and clearance easier in foreign ports; the document is treated as a form of national registration that clearly identifies the nationality of the vessel. To be documented, a boat must measure at least five net tons — most boats over 27 feet long will meet this criterion — and must be owned by a U.S. citizen. If the boat you want to buy is documented, ask the seller to complete a U.S. Coast Guard Bill of Sale (CG- 1340), a copy of which must be submitted with your application for Documentation (CG-1258). Information about documentation and copies of forms are available at the Coast Guard's website, uscgboating.org, or by calling 800-799-8362. Or let BoatUS help you with your documentation.