Lake Cumberland in rural Kentucky draws millions of visitors with its beauty, laid-back vibe, and many secluded anchorages.
In 1970, long before Google Maps, Harry Wells needed to find a spot halfway between Chicago, where he and his wife, Marsha, lived, and Florida, where Marsha's father was ready to deliver a boat he had sold the newlyweds. On a map of the United States, one long blue spot winding through southern Kentucky seemed promising due to its sheer size.
I knew it had to be a nice place given where it was located. I had no idea it was so beautiful.
"I knew nothing about Lake Cumberland," Wells recalls. "So I said, let's meet at the state park and put in there. It was just a fortuitous, wonderful serendipity. I knew it had to be a nice place given where it was located, but I had no idea it was so beautiful."
After that first visit to Lake Cumberland in 1970, the Chicagoans returned every summer. They invited friends John and Marsha Disher to join them on the lake, and a two family tradition was born: Every summer the two couples – and later their children and eventually grandchildren – met at Lake Cumberland.
"Fast forward 45 years later, and our families still get together every year at the lake, and now there are 26 of us," Harry Wells says. The Wells family keeps their 26-foot Sea Ray cabin cruiser on the mile-wide western end of the 101-mile-long lake, but over the course of four decades they have swam through the semi-submerged eastern end's tunnels that once channeled cars and trains through the Kentucky hills before the valley was flooded to create the reservoir, hidden away in the lake's many secluded coves, and explored the scenic parks and recreation areas that ring the massive lake.
A Taste Of Kentucky
You can't come to Kentucky and not seek out a little local flavor. Below is just a sampling of nearby events to savor.
Finger Lickin': There really was a Colonel Harland Sanders, and he ran the original Kentucky Fried Chicken restaurant just a few miles down the road from Lake Cumberland in Laurel County. So it's appropriate that the World Chicken Festival is held there every year in September. WCF celebrates everything poultry – including the world's largest skillet – the last full weekend in September.
Pickin' And Grinnin': Whether you're into Bluegrass music or just want to hear some master musicians, come on out to the Lake Cumberland Bluegrass Festival in Russell Springs. Held the third weekend in September, the festival features some of the top bluegrass musicians in the country.
Tale spinnin': Kentuckians love a good story. To hear some masterfully told tales, venture over to Cumberland Falls State Resort Park for the Storytelling Festival (while checking out Cumberland Falls, the Niagara Falls of the south). Got a fish story of your own? Spin it during the festival's liar's competition.
Shinin': Most people associate bourbon with Kentucky, but southern Kentucky's resistance to legalized alcohol led to the creation of more than a few master moonshine distillers. Today, moonshine distilling is a legal and rapidly growing industry, and you can check it out at Limestone Branch Distillery (featured on the Discovery Channel's show, Moonshiners) about an hour north of the lake.
— A.R.
The Birth Of A Great Lake
Lake Cumberland was relatively young when Harry Wells and his wife happened onto it. Created in 1952 by the U.S. Army Corps of Engineers (USACE) to control flooding on the Cumberland River, the lake was originally called Wolf Creek Reservoir after the 258-foot-tall dam that anchors it. The name was changed to Lake Cumberland in 1954.
With 65,000 surface acres at full pool, the reservoir is the largest east of the Mississippi River. The hilly terrain makes the lake deceptively deep – 200 feet near Wolf Creek Dam and an average depth of 90 feet. The rolling topography also provides Lake Cumberland its greatest asset: hundreds of coves and inlets, many with waterfalls that boaters can hide away in for a few hours or a few days.
Lake Cumberland boasts 1,255 miles of shoreline, thanks to its numerous inlets — more than mainland Florida. USACE restricts development on the reservoir's shores, so boaters can spend days on the lake without seeing any structure beyond the marinas.
"[USACE] regulates the shoreline really closely, which, economically probably isn't as good for property prices, but it does also keep it a nice, pristine lake," says J.D. Hamilton, who owns Lee's Ford Marina Resort near Somerset.
The larger tributaries and smaller inlets also keep the lake from feeling like one of the most visited areas in the country. Gina Saindon and her husband, James, live near Fishing Creek, a major tributary on Lake Cumberland, and put their runabout in at the nearby ramp at Pulaski Park.
"The lake is so big and so nice," Saindon says. "The size is appealing to a lot of people. When you're there, unless it's a holiday weekend, there's not a ton of boats on the main lake." When asked if she and her husband have checked out any of Kentucky's other lakes, Saindon laughs at the absurdity of the question. "I mean, come on," she says.
Lake Cumberland's extreme variations in depth make for great fishing. From late March to early May, the shallower coves and inlets are home to small and largemouth bass as they feed and eventually spawn. Crappie also spend much of the spring in the coves, around brush, fallen trees and other woody cover. The bass gradually move to the deeper water as the temperature rises. Walleye and striper hang out in the deep, rocky points, and channel catfish can be found in the deeper water as well.
Trout are abundant below the dam, thanks to the nearby Wolf Creek National Fish Hatchery. The hatchery disseminates approximately 1,000,000 rainbow, brown, and brook trout annually to 120 fishing waters, including the Cumberland River. Tours of the hatchery are available every day excepting Christmas.
Eleven commercial marinas operate on Lake Cumberland, including the marina at Lake Cumberland State Park, which is privately owned. The marinas have a combined total of approximately 5,000 slips. The 11th marina, the full-service Marina@Rowena, opened in spring 2019 on the western end of the lake, about 4 miles upstream from Wolf Creek Dam — the first new marina development on Lake Cumberland in nearly 60 years. While all provide the necessary provisions such as fuel, fishing licenses, bait, and snacks, boaters looking for more amenities such as restaurants, water-toy rentals, and organized events tend to gravitate to Lee's Ford, Conley Bottom Resort, Jamestown Marina, and State Dock.
Lee's Ford, toward the eastern end of Lake Cumberland, is located on Fishing Creek, only about 30 miles from Interstate 75 and the most accessible marina for out-of-towners. The quiet, winding creek, which is three-quarters of a mile wide at Lee's Ford marina, has steeper shores and in some places tall cliffs — home to bald eagles and a heron rookery.
Conley Bottom is located roughly at the center of the lake, where it begins to widen. The marina is on the main body. While it remains open, the restaurant, store, and offices were destroyed in a May 2019 fire.
Jamestown Marina and State Dock are located on the western end. While the western end has plenty of quiet spots, it also tends to be more active during high season.
"The west end has more sights to see," says State Dock general manager Bryan Horne. "You've got Seventy-Six Falls. You've got the dam. Whenever we have things that draw people here, it's always on the western side."
Lake Cumberland sees two poker runs each year: The Thunder Run and the Lake Cumberland Poker Run. The Lake Cumberland Poker Run is the larger of the two, and a surge in the number of participants last year made it the largest in the United States.
Boaters not looking to stay for extended periods have many options for putting their boats into Lake Cumberland. In all, there are approximately 52 ramps on the main body of the lake and its tributaries. USACE manages five recreation areas with boat ramps on the lake and one that launches into Cumberland River below Wolf Creek Dam. USACE charges $5 to launch at any of its ramps. Holders of America the Beautiful senior discount cards and persons with proof of a disability can launch for free.
All the commercial marinas except State Dock have public ramps, although the state park has a nearby launch that is free to use. The cost to use the other commercial docks' ramps varies, with most in the $6 – $8 range.
In addition to Lake Cumberland State Park, two other state and one county park with boat ramps border the lake: General Burnside Island State Park, Pulaski County Park, and Lake Cumberland Recreation Area.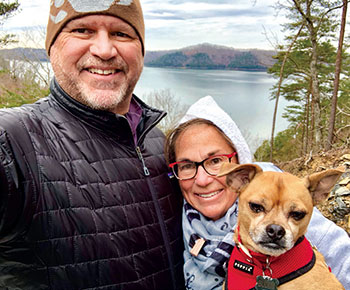 Local Knowledge
The east end of Lake Cumberland is approximately 50 water miles from the west end and Wolf Creek Dam. However, there are still another 50 miles of the Cumberland River lying east of the "east end." There are many boaters who make that trek from east to west on a regular basis.
As far as the area of the lake with the most activity, it's definitely the middle to west end. These are the largest open expanses of water, have the largest coves and creeks for exploring, and also are home to most of the "party" spots on Lake Cumberland, such as the well known Seventy-Six Falls and Harmon Creek. The three biggest events of the year are also centered from mid-lake to the west end: Lake Cumberland Thunder Run, Lake Cumberland Raft Up, and Lake Cumberland Poker Run.
The east end does have the advantage of being closer to larger population centers, such as Somerset, Lexington, and Cincinnati, but most folks seem to gravitate toward the west end eventually. Only two of Lake Cumberland's 11 commercial marinas are located on the east end. The rest are from mid-lake and west.
My personal experience has taught me that the most regular visitors (those who moor boats at Lake Cumberland marinas) travel more than two hours to get to their boats. Many travel far greater distances. Until our permanent move here a year ago, my wife, children, and I traveled more than 300 miles one way from Columbus, Ohio — a five-hour drive — and did so approximately 48 weekends per year for 26 years. No joke! Many lake faithful share similar stories.
The only real reason? Because it's worth it!
— David Dyson, General Manager, Marina@Rowena | Photo: Courtesy, David Dyson
Troubled Water
Harry Wells has seen many changes around Lake Cumberland since that first trip in 1970, with the biggest being how the docks have blossomed. "I can remember when Jamestown Dock was a falling down dock. Now it's become a mega-type of resort. And State Dock very quickly started to catch up. And now the facilities at State Dock are excellent," he says.
J.D. Hamilton recognized the growth potential of Lake Cumberland when he first came to the lake in the early 2000s for a family vacation on a houseboat. Looking for a new business venture, he heard that Lee's Ford Marina was on the market, and he eventually purchased the 900-slip facility on the eastern end of the lake.
"What I was so surprised about was when I really started researching [buying Lee's Ford Marina], at that time the lake was drawing 5 million visitors. Yellowstone National Park draws 31/2 and Grand Canyon draws 4," Hamilton says. "And it's never been marketed. People just don't understand the value of it. I had people call me up and say, 'What are you doing buying a marina?' I said, this thing, its kind of a Warren Buffet thing, you know? It's got all this upside on the development. Really, the only thing that could go wrong is if they drained the lake! And, I said, 'What are the chances of that?'"
It turns out the chances were good, as Hamilton and everyone else found out in early 2007, when USACE announced the lake would have to be dropped 40 feet, from 723 to 680, to make emergency repairs to ailing Wolf Creek Dam. The repairs were expected to take one to three years. Instead, seven years passed before the lake was allowed to return to its normal depth.
What began as an expensive inconvenience to the marina owners, some of whom had to relocate to deeper water, quickly turned into a business killer when rumors began to circulate that the dam was close to collapsing and that the lake would be completely drained.
"We were on the History Channel on 'Mega Disasters,'" Hamilton recounts. "We're saying, come on down, there's nothing wrong, and then you get on the History Channel and they're showing Wolf Creek Dam breaking, and [Tennessee] Titan Stadium being flooded and the Grand Ol' Opry being under water."
The new marina owner, used to steering successful companies, fought hard just to keep Lee's Ford afloat. He and other marina operators banded together to form the Lake Cumberland Association to fight the misconceptions surrounding the drawdown. In August 2010, the association organized a raft-up to challenge the world record of 1,500 boats and inflatables tied together to make a continuous structure on North Carolina's Lake Norman. Despite this being Lake Cumberland's first attempt at breaking the record, 1,650 boats and inflatables joined together that day. The Lake Cumberland Raft Up is now an annual event held each August.
Luckily for Hamilton, he'd already made Lee's Ford the only marina on Lake Cumberland where restaurant visitors could purchase alcoholic beverages with their dinners by convincing Burnside, the nearest town that allowed the sale of wine and beer in restaurants, to annex the 8 miles of shoreline to Lee's Ford Marina. Southern Kentucky had fought hard for 70 years to stay dry after the repeal of Prohibition, and reversing that was no small feat.
Today most towns around the lake sell alcohol. If having a sundowner or two after a fun day on the water is important to you, call ahead. While one town might be "wet" (serves and sells all types of alcohol), the next might only be "moist" (serves beer and wine at larger restaurants, but doesn't allow liquor stores), or even "dry."
Hamilton also battled for years with USACE to allow floating cabins on the lake, to attract visitors who wanted Lake Cumberland's famous houseboat experience without the stress or cost of chartering an 80-foot-long boat.
In the end, "[Lee's Ford] had a lot of difficulty. But I was able to hold onto it, manage through it," Hamilton says. "Six out of nine marinas went through bankruptcy. One still hasn't reopened."
With the lake back to its normal depth and the economy recovering, today marina owners are thinking about expansion. Hamilton is planning to add more slips (Lee's Ford had 900 before the drawdown, but downsized to 800) and expand the marina's parking. But the biggest testament to his recovery is his investment in Harbor Cottages – houseboats that are more house than boat and that, while filled with all the same creature comforts, don't carry as hefty a price tag. His plan is to manufacture 30 to sell or rent.
State Dock added a Tiki Bar and Restaurant and will be expanding its fleet of rental boats and perhaps adding more slips, says general manager Bryan Horne. "We're always evaluating the feasibility of adding new slips. We'll always be adding to the fleet to keep people coming here to build the business on the lake," he says.
"I can say that right now, the lake is really booming again," Hamilton says. "I think that first year [that the lake was back to normal summer pool], people weren't sure. They wanted to make sure the lake was coming back because they'd heard horror stories. Now there are no questions about the lake. People are fully coming back. I have no doubt that Lake Cumberland will never be back down in my lifetime. They fixed it right, and we have a great future."
Harry and Marsha Wells from Chicago have watched Lake Cumberland grow from a little-known reservoir to one of the most-visited lakes in the United States. They've literally and figuratively seen it at its lowest and highest points. The couple has no plans to stop making the 450-mile drive from Chicago to spend time on the lake any time soon. Forty-nine years after they first discovered Lake Cumberland, it's still their favorite vacation spot.
"There's no better place on earth," Harry Wells says simply.