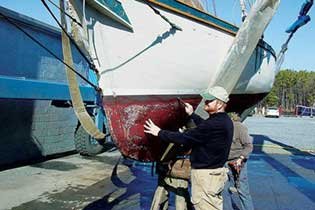 No one wants to overpay for a boat, so how can you get a good idea of its worth? For popular production boats, there are a few places that can help. NadaGuides.com and BUCvalu.com list values of hundreds of models. Keep in mind that estimates from any service presume clean boats typically and appropriately equipped, with everything in proper working order. For boats with limited resale activity, reliable valuations can't be developed until a model and year's production has been circulating for at least three years. And remember that no one can give you an accurate value of a boat sight unseen; that requires the knowledge of an experienced marine surveyor, who spends some hands-on time on the boat. Less popular and custom boats will also need to have a qualified marine surveyor appraise them. For boats that don't require a survey, online websites can help give you a sense of the value. And don't assume asking price — there's usually room for negotiation.
Determining Condition
If you're buying a jon boat or canoe, a visual inspection is probably enough to determine the overall condition of the boat, but few of us are expert enough to know about all the systems in a larger boat. Fortunately, there are professionals, called marine surveyors, who are experts. If you're going to to spend a few thousand dollars or more on a boat, you need to hire one; it could be the most important buying decision you'll make.
A marine survey, which can be a couple of dozen pages long, is a snapshot of the condition and valuation of a boat on a specific day. Think of it this way: Buyers and sellers can speak for themselves, but an independent marine survey speaks for the boat. Because of its depth of information, it has several uses: It's designed to give a potential buyer a clear picture of the condition of the boat with respect to U.S. Coast Guard regulations and nationally recognized standards, to provide a fair market value for the boat, and to document any potentially dangerous deficiencies in the boat's systems.
A marine survey is also a useful tool for buyers when negotiating price based on what repairs or upgrades the boat needs. And finally, insurance and lending companies that need to know the true condition and fair market value of a vessel often require it. Insurance underwriters carefully read through a marine survey to determine whether the vessel is a good risk, and they may require an owner to address certain deficiencies.
Get The Right Surveyor
You wouldn't hire a plumber to rewire your house; the same goes for surveyors. Finding a qualified marine surveyor or a specialist is a matter of knowing where to look.
Marine surveyors are not regulated or licensed, so virtually anyone can call himself a surveyor, and many unqualified people do. A good indicator of competence is a surveyor who has professional affiliations with the American Boat & Yacht Council (ABYC), plus either the National Association of Marine Surveyors (NAMS) or the Society of Accredited Marine Surveyors (SAMS). Read more about choosing a surveyor here.
Choose a surveyor who is familiar with the type of boat you're interested in. Some specialize in power, some in sail, others in wooden or metal boats. Never hire a marine surveyor referred to you by the seller or broker! A surveyor should have absolutely no affiliation with boat brokers, dealers, boat-repair shops, or others whose living depends on the sale or repair of boats — especially the one you're about to buy.
There are three main types of surveys done on a boat you're considering buying, and each requires special training to do them well. Sometimes one surveyor can do everything, but sometimes you may have to hire more than one.