The game show "Family Feud" once queried contestants, "Besides a fish, name something you might find at the end of a fishing line."
The No. 1 answer among 100 people surveyed was "hook" with 22 mentions, followed closely by "lures" at 20. "Shoes" and "worm" tied at 17 each with "tire" and "weeds" bringing up the rear with 9 and 5, respectively. Pretty tame stuff.
We've conducted an even less scientific survey, relying on first-hand accounts and reports, but we added "oddest" before "catches." Anybody who's wetted a line for any amount of time has reeled in something weird, and some things are just weirder than others.
Fine Feathered Friends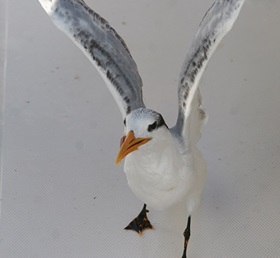 While fishermen are sometimes clued into fish by birds overhead, those same helpful avian are a nuisance on the end of the line.
Comedian Gary Shandling did a bit on his father reeling in a seagull. Mocking his dad, with arms raised and going back and forth to fight the bird in flight, Shandling tells him to cut the line. His dad, enjoying the battle, replies with the punch line, "But it's a good one."
There are no good ones when they take your bait and cut into fishing time. Capt. Skye Stanley of the Blue Heaven out of Islamorada, Fla., says the winged beasts are an everyday source of trouble.
During a sail fishing trip, Stanley's first mate Daniel Attales was tending the lines, yanking the baits away from diving birds, but one determined seagull bombing the spread hooked itself. Attales calmly reeled it in, grabbed the bird and unhooked it. The discombobulated bird stood on the deck for a moment before gaining its bearings and flying off. Stanley said some captains resort to shooting off bottle rockets to scare seagulls, who have also been known to snag baits mid cast.
Other anglers report catching pelicans, herons and other assorted water birds, but name the wildest bird catch by an angler.
Survey says: Osprey!
Good answer, good answer.
Rick Morris didn't have time for any evasive action while fishing in Florida recently. The Bassmaster Elite Series pro, who was preparing for the 2014 Bassmaster Classic, said it all happened so fast.
"He came out of the sky like a rocket," Morris said."I was fishing a 10-inch swimbait that swims on the surface, one of those big California rubber ones." He didn't miss it.
"Like a bullet, splash, and immediately he's in the air. He was flying around like a kite. I'm just holding the rod. He was going around in circles."
Initial reaction for most would be to cut the line, but Morris didn't want any harm to come to the osprey; he knew he couldn't leave his rigging dangling from its leg.
"I was worried about the bird," he said, adding they are protected by the Migratory Bird Treaty Act. "I'm not a timid guy. I've snake hunted, I've done all these things."
So an osprey, even with its two-inch long, sharp talons and its curved beak specialized for eating fish, wasn't too scary.
"I reeled him in and he's flopping on the water near the boat," Morris said. "I threw my rain jacket on him and scooped him up. I was careful not to get him too upset. Once I was holding him, he was not upset. It was like I was holding a puppy."
The treble hook came out easily.
"The hook was not stuck that bad in the bird. One barb was in his ankle. Just a pluck. No blood, no meat, no nothing. He was a lucky bird," Morris said.
But once unbuttoned, its talons were caught in the mesh lining of his rain jacket. He said his dad, Richard, whom Morris takes fishing on the Harris Chain every time he visits, didn't want to tangle with the entanglement.
"He's 76, and you should see the talons on those things. They are like gigantic hooks, like big catfish hooks," Morris said.
Richard took photos of the osprey's plight, and that was probably closer than he wanted to be. Once Morris freed its claws, he "tossed [the osprey] up in the sky and he flew off and shook — just shook like a dog shaking water off him. He shook it all off, like 'damn, that was an experience.'"
Morris, who has fished more than 200 events in his 22 years on the B.A.S.S. circuits, said he's caught the gamut of oddities from snapping turtles to seagulls, but that osprey ranks as his weirdest catch. "It's pretty odd," he said. "But I was so stupid. I should have had my dad film it."
Fur-Bearing Biters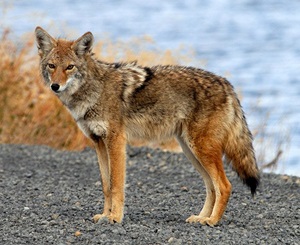 Anglers catch mussels, snakes, turtles, gators and that not-so-unusual lot, but one was rather stunned when a hungry coyote grabbed his lure, and dadgummit, he wasn't about to let it go without a fight.
Bruce Chandler of Holmen, Wis., was fishing a Mississippi River slough near Goose Island when a coyote jumped from the grass and ate his Ish Phat Frog, hooking itself in the process.
Not wanting to lose his new $9 lure nor injure the coyote any further, Chandler trolled away from the weeds and called his partner to come help. The coyote became rather submissive, but they were still worried about it snapping at them in their attempts to unhook it.
A pair of pliers and the hook came out of the coyote's lip easily. They did take a cell phone shot of the situation, and the poor thing certainly had a lost look. The played-out pooch hung onto the boat motor as they eased it back to shore. They reported it gingerly climbed up on land, shook itself off and rested a moment before walking off.
Others have told tales of their overzealous dogs eating a lure and finding out it wasn't something they really wanted, but other furry critters, including muskrats and bats, have also been known to take the bait. Name another unlikely animal, better known for eating trees, that has gotten hooked.
Beaver!
Good answer, good answer.
Some northern anglers trolling for musky have found a flat-tail on their hooks. One reported that their encounter must have really ticked the beaver off, since it slapped its tail on the water a number of times then swam to the other side of the boat and slapped it some more. Another said if beavers bit consistently, he'd quit musky fishing because it was the "craziest fight of my life (not including the divorce)."
Garbage To Bass Record
Old appliances, shopping carts, BBQ pits and Coleman lanterns are among the large assortment of trash that anglers have hooked. Annoying, sure. One who played a hunk of carpet to the surface in front of a crowd left a little red-faced.
Among the most common junk catches is tackle, and while much is trash, usable items are always a plus. Even if you're skunked by fish, finding lures can be a nice addition to the day.
Name the best piece of gear you've ever reeled in.
A rod and reel!
Good answer, good answer.
Not long ago, a fishermen found a $2,000-plus fly rig, researched the brand to find the fly shop where it was sold, and eventually got it back to its grateful owner. A happy northern angler pulled in a $75 ice fishing rod and reel still in the plastic wrap, adding it has since become his favorite fish catcher.
The IGFA offered up this Paul Harvey moment on Japanese angler Manabu Kurita's World Record bass.
Jason Schratwieser, the IGFA conservation director, said during work with the Japan Game Fish Association to certify Kurita's fish, he learned an interesting side story. Two months before landing the record in 2009, Kurita laid down his Deps Sidewinder rod and a Shimano Antares DC7LV reel loaded with 25-pound Toray line as he organized some tackle.
Bam! A big bass ate his live bait and yanked his rod and reel into Lake Biwa. Weeks later, Kurita saw a dead bass floating and went to look. It had line attached, so he yanked it up and, miracle of miracles, on the other end was his lucky rod and reel.
"It was that same rod and reel he used for the world record-tying catch," Schratwieser said of Kurita's 22-pound, 4-ounce largemouth tying George Perry's record that stood since 1932.
And now you know the rest of story.
You've Just Caught ... A New Car!
Hey, this is Family Feud, not The Price is Right. So name the priciest vehicle anglers have ever hooked.
A $4 million Lamborghini Veneno!
Aaeeeerrrrr. (Cue the 'Feud's' distinctive buzzer)
Larry Newirth and Dan Cathell can claim an 18-pounder striper as their biggest fish catch on the Christina River near New Castle, Del., but they're also pretty good at catching rides.
The guys from Bear, Del., came upon a BMW 750 sedan, which stands as their most valued catch at more than $80,000. They've also fished up a late-model Honda Accord from their spot, eliciting this comment from Newirth, 63:
"We better not call any more cars in, or they will think we are doing it," the retired carpenter said.
Police figure their spot is a dumping ground for a local who stole the vehicles for a joyride and didn't want to walk too far home. Cathell said he wants the culprit to quit.
"There's really good fishing action there," he said, "but if this keeps up, I'm worried they are going to close that ramp to the public."
Gotta love hardcore anglers and their priorities.
This Story Rings Fishy
The stories of long-lost wedding and class rings found in fish and returned to rightful owners make headlines, but name an item found in a fish that has a real ring to it.
Cell phone!
Good answer, good answer.
Nokia should resurrect former newsman John Cameron Swayze's famous Timex ad — "It takes a licking and keeps on ticking" — after what Andrew Cheatle's phone went through.
The English businessman lost his phone while walking on the beach and it washed to sea. He was with his girlfriend shopping to replace it when her phone rang. It was Cheatle. Well, not really him, just his phone.
Fishermen Glen Kerley had found it inside a 25-pound cod he caught. Kerley used the SIM card from the wet, chewed up phone to get in touch and return it to Cheatle, who still uses the cod-eaten calling device.
"It was working but it kept acting up so I had to get the circuit board changed in the end. But now it's fine," Cheatle said. "I know it sounds like a fishy tale, but it is 100 percent true."
Habeas Corpus
Because fishermen explore every nook and cranny of waterways, it's understandable anglers occasionally discover a dead body. It's happened across the country, and sometimes it's even encouraged.
At last year's frigid Bassmaster Classic in Oklahoma, Grand River Dam Authorities asked competitors to keep an eye out for an angler who had went missing almost a month earlier. His boat was found abandoned on the lake and searches by air and sea were coming up empty.
"It's somewhat of a good opportunity because you end up with a lot of extra sets of eyes looking, which helps us out quite a bit," an officer told the local Fox News station.
Name an incident involving an angler hooking another human under water, but with a happier ending.
Scuba diver!
Good answer, good answer.
A 13-year-old fishing in the North Sea off the Netherlands cast his line and hooked the lip of Dutch scuba diver Wim van Huffelen.
"I heard a sound on my head and immediately felt a jerk on my lip," said van Huffelen, who had to have stunned the lad when he surfaced with his lure — and disappointed him even more.