A groundbreaking architect takes pen to paper and designs his own boat.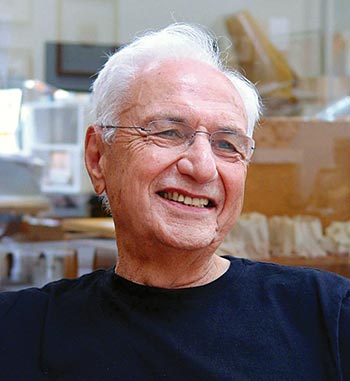 Frank Gehry (Photo: Alexandra Cabri)
Frank Gehry is a world-renowned architect whose works defy categorization. His are the opposite of typical buildings. They tend to have metallic exteriors and bold irregular features, or appear to be bending and turning as if they are living creatures — like waves on the ocean or billowing sails. If you've seen a Gehry design, you understand their magic.
If you haven't seen one, here are a few to look up online: the Guggenheim Museum in Bilbao, Spain (his most famous); Walt Disney Concert Hall in Los Angeles; The Tower at 8 Spruce Street in Lower Manhattan; Dancing House in Prague; the Stata Center in Cambridge, Massachusetts; the Hotel Marqués de Riscal in Elciego, Spain; and the Museum of Pop Culture in Seattle.
He says many of his designs are inspired by sailing, and that's because Gehry remains an avid sailor even at the age of 89. The Canadian-born American commissioned the acclaimed Brooklin Boat Yard in Maine to build a custom boat as striking and unique as his architecture.
"I never had the resources before, and once I did I was busy doing my buildings," Gehry told Town & Country magazine to explain his late arrival to boat design. Foggy (a play on Gehry's initials, F.O.G.) is a 74-foot Germán Frers-designed racing daysailer with Gehry's design-prints all over it. Launched in 2015, it immediately began turning heads on the water and continues to turn heads at his home port of southern California's Marina del Rey.
The entire boat, hull included, appears to be bright-finished wood — teak, cedar, larch, and okume — but beneath is carbon-fiber technology and titanium. The ports are latticed with hundreds of tiny glass inserts that sparkle on the water and, down below, illuminate the interior with silhouettes of sunlight. The deck was constructed separately from the hull of larch and okume that sandwich a foam core.
Gehry commissioned the celebrated Argentinian racing sailing yacht designer. "Don't let me go too crazy," he told Frers. "The boat has to work." It does. Since her launch, Foggy has won several regattas.
If you're in the neighborhood, you can take Foggy's helm for six hours for a $100,000 donation to Turnaround Arts, which brings arts education to under-resourced schools.