Wonder which power plants work best with different boat types? Here's what you need to know.
Back in the day, propulsion choices were limited to basic inboards, sterndrives, or outboards. Today, you have those, plus a full plate of newer options — pod drives, forward drives, jet drives, and even electric motors, but not all work well for every type of boat.
Straight-Shaft Inboards
Good for: traditional powerboats and trawlers and many sailboats.
TIP: When repowering a boat, consider engine weight as well as power output. A power plant that's too heavy will upset the trim, which could cause instability and reduce top speed. Consult the boat manufacturer's recommendations before purchasing a new motor.
Recreational powerboating was built on inboard engines that were little more than automobile engines marinized and adapted for boating. These engines are usually situated low down near the middle of the boat, with a transmission connected directly to the rear of the engine leading to a propeller shaft going down at an angle through the bottom of the boat, with a prop bolted onto the end. Inboard engines may be gasoline, diesel, or now even electric-powered. Recently, joysticks have been introduced that, in conjunction with a bow thruster, make close-quarter maneuvering easy. There is some inherent inefficiency due to shaft angle, they take up valuable room down below, and they're often more difficult to trailer. But these cons are outweighed by the advantages of minimal loss of power coming out of the engine, ease of service because most engine mechanics can work on them, and they're available in many sizes, including large diesels.
Outboards
Good for: planing and high-speed boats such as runabouts, also dinghies; and manufacturers are beginning to use them on larger boats.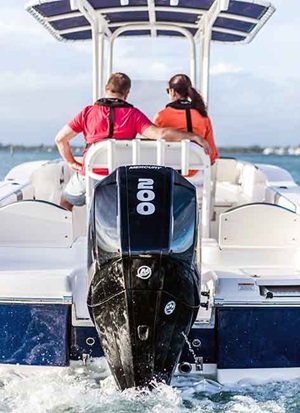 Not your grandad's outboard: Modern engines
offer power and reliability.
Outboards are a convenient package with engine, transmission, and prop all in one. The engine can be bolted directly to the boat's transom or mounted onto a bracket, and some new larger boat models place outboards in a well. Outboards are available in a vast range of power options from diminutive 2.5-hp models to monsters putting out 600 hp or more. While two-stroke engines have historically been lighter than four-strokes, that's not always the case anymore.
Multiple engines (three and even four) are becoming common on larger boats, and it's also possible to incorporate joystick systems for easier docking.
Outboards may be more difficult to work on for a DIY boater, more expensive, and they limit swim platform area. But they have compelling advantages: They're self-contained, can be removed relatively easily for service or repower, they're powerful for their size, and they're usually simple to winterize. See "The Latest In Propulsion" below.
The Latest In Propulsion
When it comes to shows, the Miami International Boat Show is the granddaddy, and it's where manufacturers typically introduce new and improved products. This year was no different, and the focus seemed to be on outboard engines. They were on everything from RIBs to kayaks to trawlers. Outboard engines from 1- to more than 600 hp were on display, and overall they're lighter, quieter, more efficient, and easier to work on than ever. The show even introduced a couple of large diesel outboards — yes, diesel outboards! Here's a look at what's new.
Yamaha
Yamaha brought out its new F90. The engine grew from 1.6 liters to 1.8 liters yet is 13 pounds lighter than the one it replaces. It also gained 1 mph in top speed while still running on regular gas. The new engine increased its alternator output from 25 to 35 amps to power more electronics. For those who fish, it's also compatible with Yamaha's variable trolling rpm switch for slow trolling.
Yamaha's new 90-hp V MAX SHO is a full 34 pounds lighter than the engine it replaces, and Yamaha says that no other production four cylinder bass outboard of equal horsepower is lighter, including two-strokes. It also burns an average of 12 percent less fuel than last year's model. The new engine features an easy-to-replace spin-on oil filter. The 90 is the baby of the V MAX SHO lineup, which previously comprised six models from 115 to 250 horsepower. Yamaha says the new 90 is the perfect power solution for boaters looking to replace an older two-stroke.
Mercury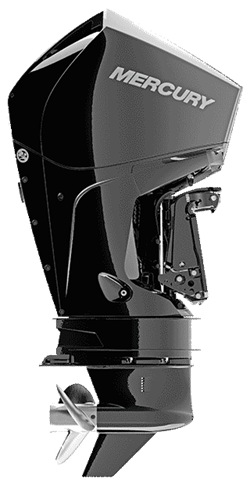 The big news for Mercury is lightweight and ease of maintenance. At 456 pounds, the new 150 Pro XS is 20 pounds lighter than the competition. The big 3.0-liter engine is the largest displacement in the 150-hp category. Mercury has increased the engine's maximum rpm from 5,800 to 6,000, which allows for a wider selection of propeller pitches. The new engine has a charging output of 60 amps as well as idle-charge battery-management capability, which protects against draining batteries while operating multiple electronic devices and trolling. It has also improved the fuel economy of the engine.
Mercury's 200-hp four-stroke is the company's largest displacement in the 200-hp class. At 475 pounds, the engine is 35 pounds lighter than the previous engine and is the lightest in its class. It's calibrated to maximize fuel economy at cruise, which is up 15 percent from last year's model. For those who do a lot of trolling, it also features the idle-charge battery-management system, which has a net output of 20 amps at 650 rpm. The engine also comes with an Adaptive Speed Control that maintains rpm regardless of load. A first, the big 3.4L V-6 four-stroke has a top cowl service door that provides easy oil check and fill without removing the cowl. The cowl is also removable using a single tab.
Honda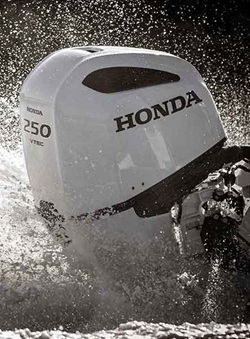 The new BF200 and BF225 are powered by a new engine, the 3.6-liter V-6 engine that also powers the BF250 outboard. These engines have a three-latch lock and seal system and two inverted grip points that make the cover simple to remove and for easier maintenance. Oil and filter changes are also easier, courtesy of a larger diameter dipstick tube, and the integration of a water separator and fuel strainer. Owners who do their own maintenance will be glad to see that the high-pressure filter has been relocated; replacement that used to take an hour is now a five-minute job. There's also a new customizable multifunction display, and the engines feature a push-button start and theft-deterring immobilizer.
Yanmar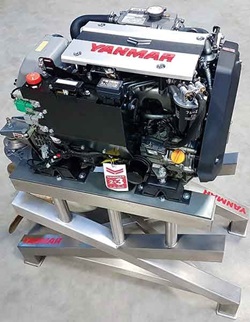 While not an outboard, the big news at Yanmar is a new 3JH40 three-cylinder 40-hp common-rail diesel. Common rail has been around for a while on bigger boats, but Yanmar says this is the first EPA-certified 40-hp engine using the technology. Common rail offers a lot of advantages, especially for sailors. Electronic controls allow the engine to idle smoke-free and quiet. Sooty transoms and downwind exhaust smoke are a thing of the past due to the intelligent electronics that precisely meter fuel. Yanmar also teased that a small diesel outboard is in the works.
Diesel Outboards
A surprise at the show was a pair of large diesel outboards. While heavy and marketed toward commercial users, these engines have torque and fuel-economy advantages over their gas counterparts. Cox Powertrain showed off a 300-hp supercharged diesel outboard. The company claims a lifecycle of up to three times that of a gasoline outboard along with a diesel engine's greater efficiency.
OXE is another company entering the diesel outboard market. A 200-hp version called the Ox was on display (a 300-hp version is in the works) that uses a four-cylinder common-rail Isuzu diesel engine linked to the lower unit by a belt system that can be easily adjusted for two different prop speeds. OXE claims up to 40-percent better fuel economy than typical gas outboards. The engine also features freshwater cooling, rare in outboard engines.
Torqeedo
There were a couple of boats in the water with electric-powered outboards from Torqeedo. The company displayed motors from 1 hp (for kayaks and SUPs) up to 80 hp for larger boats. The Ultralight 403 C is a new, longer-running model of Torqeedo's smallest electric outboard with integrated lithium battery that weighs just under 20 pounds, with the battery. The Ultralight 403 C has 2.85 times more battery capacity compared to the standard Ultralight 403. The company's biggest news was its new Power 48-5000 lithium battery for electric motors up to 10 kW.
The 48V battery has an eight-year capacity warranty. Torqeedo is also now using BMW's i8 electric car batteries, marinized for boating, in its Deep Blue 40- and 80-hp propulsion systems. These batteries are modular and can be built around a boat's design.
— Charles Fort
Sterndrives
Good for: runabouts, houseboats, and others.
Volvo Penta unveiled the first sterndrive in 1959, and they quickly grew in popularity. The concept is simple: The engine, either gas or diesel, is placed inside the back of the boat at the transom, and an output shaft goes through the transom to a drive unit, which looks similar to the lower unit of an outboard. Volvo Penta has recently made forward-facing props available on sterndrives, which are ideal for wakesurfing because the prop is tucked under the boat. Sterndrives do require more frequent maintenance, there is potential for corrosion of the aluminum outdrive with boats stored in saltwater, and they also lose some efficiency due to the gearing necessary for the lower unit. But there are advantages: They can be paired with diesel engines and, like inboards, are usually easy to get repaired. Plus, many people think they look more streamlined than boats with outboards.
Pod Drives
Good for: larger cruisers and semidisplacement trawler yachts.
Used in the commercial market on tugboats and cruise ships for a number of years, pod drives are a fairly recent introduction to recreational marine. The two major players are Volvo Penta's IPS and Mercury Marine's Zeus. Boats with pod drives have no rudders. Instead the pods rotate to drive and steer the boat. Pods are connected to inboard engines and project straight down through the hull, so there's no inefficient shaft angle, as with inboards. A joystick connected to pods via a computer interface makes docking a breeze. Pods cost more to buy and repair, and they're complex. But the advantage is more space below, greater fuel efficiency and often better maneuverability in tight quarters.
Water Jet Drives
Good for: ski-sport boats, picnic boats, PWC, and many boats routinely operating in shallows.
Conventional props, outboards, drive shafts, and appendages are easily damaged in shallow water. The jet drive is often good for boats that operate in such conditions. Water is drawn in through a grating set flush into the bottom of the boat where a pump, driven by an engine, sucks water in and forces it out at high velocity through a nozzle at the stern of the boat. There's no rudder; the boat is steered by directing the flow of water coming out from the nozzle. Some outboard manufacturers also offer models with attached jet drives. Advantages include shallow-water operation, less chance of catching lobster and fishing pots, less chance of injury to those in the water, and higher speed. However, jet-drives are less fuel-efficient than other propulsion systems, especially at lower speeds, and low-speed maneuvering can be a problem.
Saildrive
Good for: sailing cruisers up to about 50 feet in length.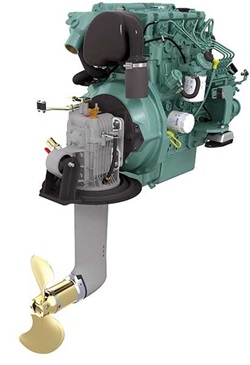 Saildrives take up less space than conventional
drive options.
An engine, usually diesel (though some are electric), is attached to a transmission and drive leg, which resembles the lower unit from an outboard. The leg protrudes through the bottom of the hull and is sealed with a rubber gasket to prevent water from flooding into the boat. This drive leg is fixed and the boat is steered by traditional rudder. Saildrive advantages include much less space needed over a traditional shaft drive, easier installation and fewer alignment issues. However, corrosion of the aluminum leg immersed in seawater can destroy a saildrive quickly, and because they're often offset to one side of the keel, the drive can be vulnerable to damage from groundings and submerged objects.
Electric Drive
Good for: short-excursion boats as well as some runabouts and sailboats.
Rapidly becoming more popular, electric motors are stealthy, quiet, and powerful for their size. One company, Torqeedo, makes several outboard-style motors from 1- to 80 hp. Other manufacturers, such as Elco, make inboard-type electric motors for displacement and semidisplacement hulls up to 100 hp. As battery technology improves, so will the range and usability of electric motors. The Greenline range of trawlers now has diesel/electric hybrid power as standard with a large high-tech battery bank charged from solar panels and an onboard generator.
Advantages of electric motors include simplicity (few moving parts), no flammable fuels and spills, and small size for their power. The biggest disadvantage is the limitation of range due to battery capacity, though the addition of an onboard generator eliminates range anxiety. Batteries are also bulky and can be heavy, and a complete motor/battery setup (and generator) can be expensive.