The automatic identification system is a must-have on some boats, a nice option for others, and expensive overkill on the rest. Does it belong on your boat?
Any mariner who's been around for a couple of decades understands just how radically marine electronics have changed the way we use and navigate our boats. GPS/chartplotters have had the most substantial impact. But there have been other important advancements, such as the addition of digital selective calling, or DSC, to VHF radios, greatly enhanced radar functionality, vastly improved digital cartography, plus the development of satellite messengers. All of these electronic advancements have two things in common: They improve safety at sea and are widely used by recreational boaters.
Automatic identification systems, known as AIS, can also significantly enhance safety. But even though AIS has been in use for well over a decade, it hasn't gained quite the same broad acceptance as these other advancements. The usual barriers — cost and complexity — may explain why. But that doesn't answer the question of whether or not you and I should put AIS on our boats. We're going to try to fix that right now.
First, What Is AIS?
AIS works via a combination of GPS, VHF radio, and an AIS transponder. The transponder broadcasts a ship's information, such as speed and heading (information gathered by GPS, of course), the ship's name, port of origin, size and draft, and more, over VHF frequencies 161.975 megahertz and 162.025 MHz. This information is updated constantly and can be viewed by any other ship or boat equipped with a designated AIS unit, as well as on any computer or smartphone linked to the internet. It should be noted, however, that third-party-produced websites and apps aren't always accurate and should be considered supplements to navigation, as opposed to something to be relied upon.
AIS is further broken down into two classes: A and B. Class A units are more powerful and put out 12 watts versus 2 watts for Class B, which means (assuming antenna height is sufficient) that Class A transmissions have a range of 20 to 30 miles as opposed to the 5- or 6-mile range of Class B units. Class A AIS also has a dedicated display and broadcasts its updates more often, at every two to 10 seconds while underway and every three minutes while at anchor. Class B units transmit approximately every 30 seconds while underway and every six minutes while at anchor.
Class B units, on the other hand, enjoy the usual advantage of simpler, less-powerful products — they cost less. In fact, they cost about half as much as a Class A AIS and are usually priced in the $1,000 range. An even less-expensive option for recreational mariners is an AIS receiver. This doesn't broadcast information about your boat, but it does allow you to tap into the data being broadcast by everyone else.
Data Download
AIS became mandatory on many commercial cargo and passenger vessels during the push to enhance security after 9/11. In the last couple of years, the rules were expanded to include mandatory AIS use on most commercial vessels 65 feet and larger. And while you're still not required to have AIS gear on your recreational boat, its advantages are numerous.
Safety, once again, is the main attraction. With AIS aboard, you'll know which commercial vessels are around the next bend of the river. You'll know the course of a ship that might appear to be getting a little too close for comfort. You'll know if someone's nearby in case you need to call for assistance, and you'll even know the name and type of the ship you need to hail. At the same time, the captains of those vessels will be aware of your presence, unless you have only passive AIS (an AIS receiver). It puts you "on their radar," whether your boat would normally show up on their radar or not.
The latest safety advancement in AIS is the development of AIS MOB (man overboard) or PAIS (Personal AIS) devices. These are small units that generally attach to a life vest or life raft and transmit a MOB notification with GPS coordinates over the AIS system. Anyone in the water is electronically visible to any AIS-equipped boat within approximately 4 miles.
There are also some side benefits to having access to AIS data, whether it's via a transponder on your boat or an app on your smartphone. Anglers who like to target species that gather around commercial fishing boats, like scallopers or trawlers, for example, can identify and locate those boats before leaving the dock. Cruisers traveling in tandem or in a group can keep each other in sight, even when blocked from view by a mountain, fog, or squall. And AIS can help you keep tabs on commercial services, like fuel-delivery barges.
But the question remains: Do you need AIS? The answer for most recreational boaters is maybe. No, you don't have to have AIS, just like most boaters aren't required to have radar or an EPIRB. Heck, many recreational boaters ply inland lakes, bays, and rivers in areas where commercial traffic isn't too much of an issue in the first place. But will harnessing AIS still prove useful? In all likelihood, yes. Taking advantage of it in its most basic form can be as simple as downloading an app or visiting a website.
Boaters who range a bit farther afield could reach a different conclusion. For long-distance cruisers, the safety advantages of AIS make it a strong consideration. Getting AIS is also a no-brainer for people who regularly boat or sail through heavily congested areas or busy harbors. The same goes for those of us who do any boating at night or in the fog, when moving lights and distant sounds can be quite deceiving. One thing is for sure: With AIS aboard, your boat will become a safer boat. And as any mariner who's been around for a while can tell you, that puts it on par with all the other major electronic enhancements of the past few decades.
AIS Options To Consider
1. Passive AIS, via Smartphone or Computer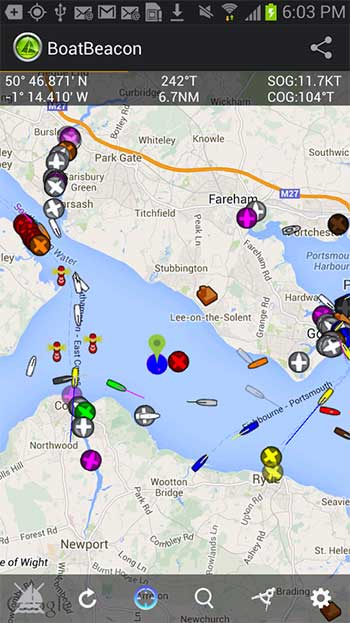 Tapping into limited AIS data can be as simple as downloading
an app onto your smartphone.
This is the least expensive (read: free) way to harness AIS data. From a computer you can visit the website marinetraffic.com and bring up a world map showing AIS vessel data. Zoom in, click, and learn. If using a phone is more your style, an app is also available (iPhone, Android, Windows; $3.49-$5.99). Other AIS apps include Boat Beacon (iPhone, Android; $9.99-$12.99), Ship Finder (iPhone, iPad, Android; free limited version for iPhone and iPad; $2.49-$3.99 for full version), and Vessel Finder (iPhone, Android; basic version free; $9.99 for Pro version). As we noted earlier in the article, though, third-party-produced websites and apps cannot be expected to be as accurate as designated units and should be considered supplements to navigation, as opposed to something to be relied upon.
2. Passive AIS Onboard
If you want to get AIS information anywhere, anytime but don't want to invest in a full-blown system, install an AIS receiver. The big boats won't see you, but at least you can see them. There are options for units that display data right on your networked multifunction display (MFD) or on a dedicated display, and some VHF radios are available with built-in AIS receivers. AIS receivers are built by all the major electronics manufacturers, plus a few specialty companies. Cost generally ranges between $200 and $400.
3. Class B Units
If you go the Class B route, you can get a dedicated AIS unit or, more commonly, a "black box" style unit that integrates with your electronics and displays on your networked MFD. A word of caution: Mariners who regularly boat in congested harbors should think twice before opting to display AIS data on their MFD, especially if it has a relatively small screen. All that traffic cluttering up the harbor can also clutter up your display and make it difficult to use your chartplotter and/or radar. In this case, a dedicated display is a better option. All the major manufacturers offer versions that interface with their networks, and dedicated units are also available. Average cost is in the $1,000 range.
4. Class A
These stand-alone systems all have their own dedicated displays. While they're the most expensive option (usually between $2,000 and $3,000), they're also the best option for serious mariners. They also provide the greatest degree of safety. Class A units are available from most manufacturers that provide Class B units.