Summer is all about having fun on the water, and new toys mean more fun. These are this year's must-have playthings.
Poparazzi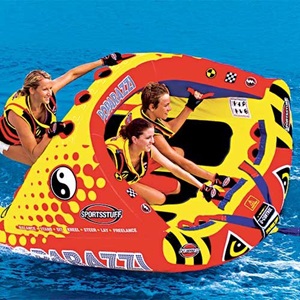 Let's face it: Some towable toys are pretty dull after the first five minutes. But that's set to change with the Poparazzi. At first glance, it resembles an inflatable arch. But there's way more to it that that. The bottom of the Poparazzi is curved, and the unique winged shape gives it enough aerodynamic lift so it skims across the water surface with less drag than it's size would have you believe. There's room for three riders, although you'll need a fairly powerful towboat for anything more than kids. Numerous padded handles keep riders safe. Thanks to that rockered underwater profile, riders shifting weight from one side to the other have a fair measure of control and steerage, making the Poparazzi perfect for wake jumping. $579.99 | www.airhead.com
SurfZUP!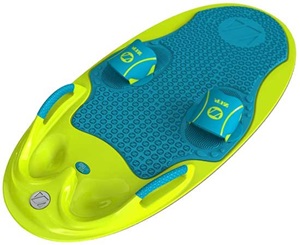 Learning to waterski or wakeboard can be fraught with problems, particularly for youngsters or less-than-athletic follks. A good place to start might be on something easier to manage like the very stable, buoyant, and appropriately named YouGotThis ZUP Board.
This multipurpose board offers a plethora of riding options — pretty much anything you can think up, you can do. Use it as a kneeboard, wakeboard, stand-up board, or surfboard. And if you get tired, just clip the optional DoubleZUP handle to the integrated tow hook and then sit back and relax while you go for a ride.
The ZUP Board is wide and stable with comfortable nonskid EVA foam padding, so even after a day on the water your knees won't suffer. The ZUP comes with indestructable molded-in side handles and strategically placed foot loops. The bright two-tone color scheme of fluorescent green and blue is not only fun, it makes you more visible on the water for safety. $279 | zup.com
Piece-Together Paddleboard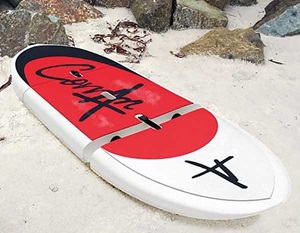 Want to go for a glide but don't have the space or inclination to lug a full-sized paddleboard around? Inflatable boards have been around for a while now, but they can be wobbly. So we were excited to come across the Hydra take-apart board. This 9-foot board dismantles into three pieces so it could conceivably fit into a large locker on the mothership. It's lightweight, too, at less than 25 pounds, so even the smallest family member can manage it. The Hydra comes with an adjustable paddle included in the price. $699 | riotsups.com
Kayak Origami
Kayaks are a great way to entertain the kids, once you've gotten to that ideal cove or beach. But they're hard to stow aboard and tend to roll over when towed. Here's one solution. The Oru Beach is a 12-foot folding kayak that, unlike other collapsible kayak designs that use inflatable tubes, is made up of solid panels that swiftly clip together, much like a large origami project. Oru says that the Beach is very stable and is suitable for paddlers of all abilities, so you can send the kids out to explore with more peace of mind. $1,175 | www.orukayak.com
Breathe Easy Underwater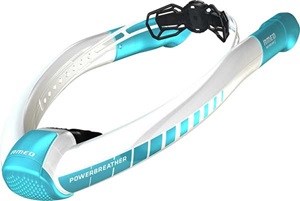 Snorkeling can be fun — until you get a mouthful
of water.
The Powerbreather from Ameo has updated the snorkel using a different approach. The first things you notice are that there's not one but two tubes and that a headband holds the device in place. Instead of breathing and exhaling through the same tube, the Powerbreather has a valve in the mouthpiece so inhaled air enters and exhaled air is pushed out through separate holes; it's similar to a demand valve on a scuba set. The close fit and the twin tubes are more comfortable in use, and the chances of getting a lungful of seawater are greatly reduced thanks to the valves built into the tube stems. $89 | www.powerbreather.com