How to tow your boat using heavy-duty equipment rated to handle significant loads.
With boat sales on the mend and fuel prices dropping, car and truck manufacturers are showing interest in improving towing performance, so it's a good time to take a sharp look at what heavy-duty towing is offering. There are recent changes in factory tow packages, aftermarket equipment, and even towing-performance measurements that mean improvements for trailer-boaters.
Cutting Through The Jargon
"Class III" is a term thrown around a lot. But what does it mean? Technically, it's a classification used in the towing industry to identify towing equipment — hitches and such related items as ball mounts, hitch balls, trailer couplers, and safety chains that make up the towing connection between vehicle and trailer — that are rated to handle loads of 5,000 pounds or more. The towed load is termed Gross Trailer Weight (GTW). Tongue weight (TW) is a related term used to describe the maximum weight allowed on the hitch ball. This is usually 10 percent of the GTW; for instance, a trailer hitch rated at 5,000 pounds GTW would typically have a 500-pound TW limit. For most trailered boats, however, the tongue weight is typically less; 5 percent of GTW is normal.
Tip
Make sure you have the correct ball for your hitch. As the trailered load increases, so too must the diameter of the ball, to safely tow the weight. The trailer tongue should have the proper ball size etched into it near the locking mechanism, and the ball will be marked on top as well.
Confused? There's more. Usually, hitches rated Class III or larger have two ratings for GTW and two for TW. The Weight Carrying (WC) ratings for GTW and TW are typically 5,000/500, sometimes higher; More about this in a moment. But these hitches also carry GTW and TW ratings that are usually double this amount — typically 10,000/1,000 — when used with a weight-distribution hitch kit, labeled WD. For trailer-boaters, using a weight-distribution kit isn't typical; most simply use a weight-carrying ball mount. So this article will focus on the WC ratings. You'll see both ratings clearly displayed on a label stuck to the cross tube of any hitch, usually positioned near the receiver tube.
Class IV and V
What's beyond Class III? Class IV and V, of course. Though these classifications are recognized more as marketing terms than actual ratings standards by the towing industry itself, they do signify that a receiver hitch with these ratings is significantly more robust than a typical Class III receiver.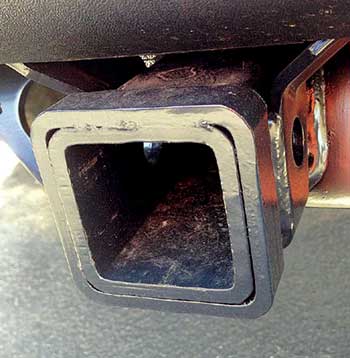 A beefier receiver is needed to handle higher tongue weights. .
How so? First, the ratings. Generally, Class III receivers are rated at 5,000/500 WC, but Class IV hitches up the ante. For example, many Class IV Heavy Duty receivers are rated at 6,000/600 WC, and some even up to 8,000/800 WC, depending on the application. Class V receivers, which are of an extremely robust design and manufacture, are rated up to a staggering 15,000/1,500 WC. Keep in mind that these ratings often exceed the tow ratings that vehicle manufacturers give to their largest trucks.
Most Class IV and Class V hitches are only available through aftermarket channels. These heavy-duty designs achieve these astronomically high ratings through the use of very thick steel side brackets that employ special bends and shapes pressed into them for higher strength. They also use very large cross tubes and employ cast-steel reinforcement brackets and reinforcement rings around the outside of the receiver tube. The entire assembly is robotically welded for consistency and for high weld penetration. The side brackets are much longer than lower-rated hitches; their length reaches farther forward on the vehicle's frame rails, which spreads the load out over a larger area. Finally, even the attachment hardware — the nuts, bolts, and washers — are larger and of higher strength.
Factory Or Aftermarket Tow Packages?
Industry insiders distinguish between OE (original equipment) towing packages and AM (aftermarket) hitches. Which is better? A factory tow package is the easiest and least aggravating way to equip a vehicle to tow; all the components are there, they've been factory installed, and the vehicle is ready to tow when it's driven off the lot.
Factory packages aren't perfect; the manufacturer makes a judgment call on what most owners will want to tow with the vehicle, then chooses a hitch and wiring package accordingly. An advantage to the factory package is that it's designed, engineered, and tested with the vehicle; it's not an afterthought. The main advantage of factory towing-package options, which typically come with full-size trucks but also for many SUVs, is that the factory package includes much more than the hitch and the trailer wiring connector. Check the option sheet carefully; the tow-package option may include components that can't be obtained on the aftermarket. For example, Jeep's Grand Cherokee "Trailer Tow Group" package choices include a Class III receiver hitch and a seven-way wiring connector; selecting the heavier-duty "Trailer Tow Group IV" adds a lower axle ratio more suited for heavier loads, a heavier-duty alternator to keep the battery charged, a trailer sway-control feature, a heavy-duty engine-cooling system, and load-leveling rear suspension. All these features, which work together to help you tow heavier loads more safely, can't be attained by opting out of the trailer tow package and having a hitch installed later.
Tip
The wiring harness for the lights is often included in factory tow packages. If you're getting an aftermarket hitch installed, find out if you need to add the harness as well.
Factory tow packages are widely available on pickups, SUVs, and crossovers from all manufacturers. The bottom line on factory tow packages? Do the homework and examine the components. If your trailer-and-boat package weighs less than 10,000 pounds loaded, the OEM package is an easy way to get what you need with minimal hassle.
Aftermarket hitches, while not designed in conjunction with the vehicle, are a proven way to equip your truck or SUV for towing if it didn't come from the factory with a towing package or if it came with a hitch not heavy-duty enough for your trailered rig. Class IV aftermarket hitches fit the bill when a higher capacity is needed, and more options and accessories are available at aftermarket towing dealerships than are usually available at new-car dealerships. For example, try to buy a standard 2-inch-drop ball mount at a car dealership. While some large truck dealers stock these, many would have to special-order it. Conversely, most aftermarket hitch dealers carry a wide assortment of drops and rises, along with hitch balls, locks, covers, and wiring accessories.
The two major players in the aftermarket hitch arena are Cequent (the parent company of Draw-Tite, Hidden Hitch, and Reese brands) and Curt Manufacturing. These two companies have made recent improvements to their heavy-duty aftermarket receivers to make them more versatile as well as capable of carrying heavier loads with less chance of breakage. The bottom line is that OE Class III receivers will work fine for the great majority of trailer-boaters pulling loads up to 5,000 pounds. For those with larger rigs, a heavy-duty aftermarket Class IV or Class V hitch should be strongly considered. Though the expense will be greater, the peace of mind will be too.
New Rules, New Standards
Recently, towing got a more in-depth look by the Society of Automotive Engineers. It developed a new standard, coded J2807, that tightens the recommendations for determining a vehicle's Gross Combined Weight Rating, which includes trailer towing. In theory, this should make towing safer, because the tightened standards will likely be more accurate for most tow vehicles and lower their tow ratings somewhat. The J2807 standard isn't a requirement; it's a guideline at this point. However, all the major truck manufacturers are following it, although they're not going backward and "recertifying" existing models. This new standard will make comparisons between truck brands easier and more consistent and will produce, going forward, tow ratings that are more accurate and realistic.