Whether headed around the world or out to the cove, sooner or later we all have to stop the boat.
Laundry Lines
Wash your anchor and docklines occasionally in a bucket or cooler and let them soak for the afternoon. Rinse clean and drape over the rail to dry.
Good Boatkeeping
Stock Tip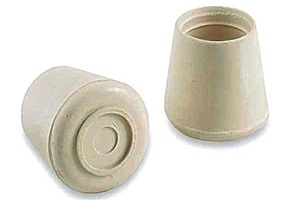 If you have a lightweight anchor aboard — Danforth, Fortress, or similar — the sharp ends of the stock (the bar that passes through the bottom of the flukes) pose a risk to both gelcoat and flesh. Measure the diameter of the stock, then get yourself down to the hardware or home-supply store and buy a package of rubber chair tips of the appropriate diameter. Slip one over each end of the stock. Remove before anchoring.
Don Casey
Line Ready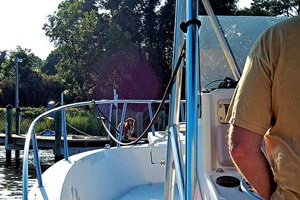 When single-handing, rig a bow line and lead it back to the helm before approaching the ramp. If your engine dies or you need a little help due to crosswinds or current, it's a lot quicker and easier to toss a pre-rigged line to the Good Samaritan on the dock than scrambling around trying to find and attach one in the heat of the moment.
Frank Lanier
Penny Rode Markers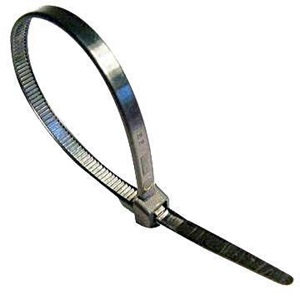 Measure your anchor rode, then, in some easy-to-remember pattern, attach zip ties through a chain link or to one strand of three-strand line. My system is one tie at 25 feet, two at 50 feet, three at 75 feet, and four at 100 feet. Then I just repeat the pattern, one tie at 125 feet, and so on. Some other progression might work better for you. The only takeaway here is that you must mark your rode in some manner, and zip ties do the job perfectly for just a penny each.
D.C.
Glide & Dock
While docking, you can often steer by coasting in neutral using your lower unit as a rudder. Too much wind or current will defeat this, but if you can do it, you can come alongside much more gently and slowly and without having as much need to shift or to deal with the unexpected complications of prop thrust.
Tom Neale

One-Stop Anchoring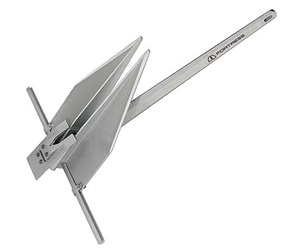 Fortress anchors provide excellent holding, are lightweight, and can be assembled as needed when weight and space are issues. The Fortress Commando comes with everything needed for small-boat anchoring, all in one convenient package.
T.N.
Anchor Safety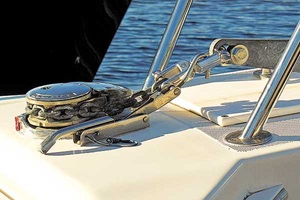 A windlass is used to deploy and retrieve our anchors rather effortlessly but, like anything mechanical, they can fail. One simple safety measure can prevent an anchor and rode from deploying all on its own. The act of adding another securing device will give you peace of mind. Our method of choice is to loop the eye of a lanyard line to the anchor and secure the bitter end to a bow cleat, creating a safe, inexpensive solution. There are also purpose-made hardware units to secure the anchor and rode available from most marine outfitters. You can easily mount one of these to the bow pulpit of your boat. It doesn't matter what you use, just make sure to secure your anchor so it doesn't fly off while you're underway on the water or traveling by land.
Jim Favors
Chafe Guards
Cut up a pair of old jeans to make great chafe gear for dock and fender lines. You can also use commercially available nylon chafe gear as long as it's permeable to water. Just insert between the line and the hard place. Secure to avoid it from slipping out as the line works from wind, waves or current.
Chris Landers
Easy Mooring Pickup
There's no rule that says you have to pick up a mooring at the bow. Here's a tactic that's especially helpful for picking up a mooring when you're alone. In advance, rig a messenger line long enough to reach from the bow cleat outside or over any rails or lifelines, and back to the helm station. There, secure it to a midships cleat until you need it, so there's no chance it might fall in the water or foul the prop. Then come alongside your mooring ball or pennant, reach over the side, and thread your messenger line through the loop/eye of the mooring. Now you have plenty of time for one of two options: Either secure the messenger through the mooring loop with a bowline knot, toss it all back in the water, go forward without stress, and pull the messenger line and mooring line in from the bow; or walk forward, shortening the line as you go to position the boat properly on the mooring.
D.C.