Explore the boating, fishing and other outdoor activities available at Flathead Lake, Montana.
Now here's a place so special that the locals prefer we not even write about it, fearing we'll encourage too many folks to visit. They'd dearly love to keep this American jewel a secret all to themselves.
Montana's Flathead Lake comes with lots of statistics: With its 161-mile shoreline, it's the largest natural lake west of the Mississippi; one of the 300 largest lakes in the world; and it's more than 380 feet deep, just to name a few. But these numbers don't do justice to the most-talked-about Flathead characteristic: It is stunning.
"People are surprised by Flathead Lake," local resident Robert McDonald will tell you. "It's water surrounded by mountains that is untouched, clear, and pristine. They'll be on a boat or on a raft and look down and see rocks and then look again and realize the rocks are 12 feet beneath the water. They always tell me they don't have clear water like this in the Midwest or on the East Coast."
McDonald is spokesman for the Confederated Salish and Kootenai tribes who manage the Flathead Indian Reservation on the southern half of the lake. Under an agreement known as the 1855 Hellgate Treaty, the tribes own 1.3 million acres of the more than 20 million acres on which they originally lived. Because of this, anglers will need to obtain a south Flathead Lake tribal license, which costs $12 and is available at most water-related businesses along the shoreline.
The View From Here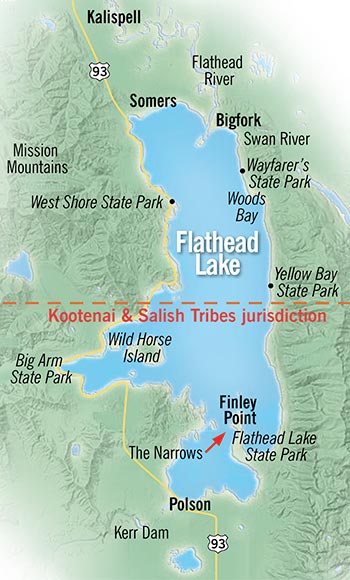 From Flathead Lake, there's usually a snow-capped mountain in sight. To the north, you'll see the peaks from the 1.4-million-acre and century-old Glacier National Park. The Mission Mountains reaching almost 6,000 feet high are visible in the east and the mile-high Salish Mountains are to the west. The Swan and Flathead Rivers, fed by water from the snow-capped peaks on either side, empty into the lake near Bigfork along the northeast shoreline, and the result is clear and frigid water.
"It's a large body of cold water", notes McDonald, "and I get a kick out of watching children run and dive into the lake while their parents don't even try to take a swim until late July when the temperatures have warmed.The lake's water temperature reaches a high of about 60 degrees in late August for those considering when to join their kids.Of the 22 islands on the lake, 2,000-acre Wild Horse Island is the largest, and most popular. It's a state park with daytime-only access and reachable only by boat. There are five public landing sites on the island. Have a chart if you're going to do this; all are easily marked, and visitors need to be aware there are 56 small private lots around the perimeter. The closest access point to Wild Horse is Big Arm State Park on the western shore. It's a favorite place for fishing guide Mike Howe: "Big Arm State Park is perhaps the nicest and least utilized state park, especially for day users," he says. "There's lots of parking, a good ramp, and it's one of the closest ramps to Wild Horse. New this year are three yurts (cabins) that are rentable by the night, and a great campground with lakeside spots. "Big Arm is clean and safe and convenient, it's one of the nicest facilities on the southwest end of the lake. But it gets tricky when strong east winds are blowing. Still, it's a great place for boating when winds are whipping up the rest of the lake." Big Arm has a pebble beach (sand beaches don't exist here) and is home base for many visitors with boats. There is also a popular launch on Finley Point, a peninsula that is also part of Flathead Lake State Park. It's located east of Polson.
There's an obvious reason for the name. Wild Horse Island was used as a hiding place for the Pend d'Oreille Indians after numerous horses were seized on land by members of the Blackfeet Tribe. If all goes according to plan, by the end of the year the island will have about five horses in its population along with the longtime resident mule deer and big horn sheep.
This is considered a spectacular place for hiking and the trails are relatively easy. A pair of bays on the northwest side of the island are used for protection from high winds and are deep enough for anchoring sailboats with keels. Mike Howe adds that the company for which he guides even arranges picnics on the island, including, if the spirit moves you, linen tablecloths, fine china, catered meals, and fine wines from local wineries.
For Robert McDonald of the Salish-Kootenai tribe, there really is a Big Horse spirit of sorts. "It's a chance to visit a place where the ecosystem is still untouched. It's an oasis and provides a wonderful chance to slow down, step back, and soak it in."
Don't Go
Many people in Montana know the beauty of their state and understand the economic benefit realized by tourism dollars. Some, however, ask that you visit the other 49 states before coming here. They are quick to tell you there's nothing to see, nothing to do, and the trout and salmon are already gone and have moved to Canada. There are a lot of other reasons given and they can be found at Montana-Sucks.com. If nothing else, there's a neat tee-shirt you can buy.
Located on the lake's northeast corner, Bigfork, Montana, has a population of 1,400 residents and is home to 50 shops,antique stores, restaurants, and more than a dozen art galleries. The Bigfork Summer Playhouse is celebrating 50 years of providing live theater productions. Bigfork is also home to the Whitewater Festival in May that attracts kayakers from around the country, the Festival of the Arts in August that celebrates the playhouse and galleries, and Tamarack Time in October where the harvest is the star attraction. You can launch just a half-mile south of Bigfork at the 67-acre Wayfarer State Park.
At the opposite end of Flathead and in the heart of the Salish-Kootenai Indian Reservation is the city of Polson. With a population of about 4,000, this lakefront city is host to a cherry festival for a weekend in July that triples the number of residents. The Flathead River flows along Polson's shoreline for four miles until it comes to the Kerr Dam, which provides hydroelectric power to the nearby area. In 2015, the Salish Kootenai tribes will have the option of taking over management of the dam, a move many expect they'll make. There are a number of boat ramps near Polson. Riverside Park on the Flathead River has a ramp and so does Sacajawea Park at the northern end of the Armed Forces Memorial Bridge.
"The coolest thing about Flathead is the variation of scenery around the lake," recounts Howe. "The south end of the lake is surrounded by grassy rolling hills that segue into rocky cliffs and heavily timbered shorelines as you move northward. The 'Painted Rocks' area, north of Wild Horse Island on the west shore, contains Indian paintings dating back hundreds of years. You have to get pretty close to really see them, but it has to be done safely and is a must-see."
One statistic that concerns everyone on Flathead Lake is the number of mackinaw trout, also called lake trout. While a spectacular game fish, it's also one of 15 nonnative fish whose population has increased to the point it threatens the 10 native species, including the bull trout, now considered a "threatened species." For the past eight years, the Salish and Kootenai tribes have sponsored "Mack Days" from mid- March to mid-May offering $100,000 in prize money to anglers who have the best 15-day average of fish landed to reduce the population. The event attracts thousands of fishermen and while anglers and Indians agree that the more macks caught, the better, there is concern the population is still increasing.
Consider this: A recent state figure suggests there are 100 lake trout for every one bull trout. Earlier this year, the tribes suggested allowing gill nets to land more lake trout, but this idea has sparked a huge debate about how many native fish may also be caught in a gill net in an effort to reduce the lake trout numbers. They withdrew the idea in April so the state, local anglers, fishing guides, and representatives of the tribes have decided to come up with an alternative no later than September 30. Angler blogs about the lake have a multiple theme, as in kinds of fish. The mack can be found during the summer in deepwater while whitefish and perch are found at shallower depths. In the evenings northern pike are landed in the northern part of Flathead. And this brings us to a Lake Flathead fish story.
He Went
America's celebrated scribe John Steinbeck drove from Maine to California and back in 1960 in a truck with Charley, his poodle, on a 10,000- mile adventure to learn about the United States. Well aware of having heart disease but more so of the pending Interstate Highway System under construction, Steinbeck lamented the fact that it would soon be possible to drive across the country "and not see a single thing." When he and Charley stopped in Montana, something inside stopped in Montana, something inside the author stopped too: "For other states I have admiration, respect, recognition and some affection," he wrote, "but with Montana, it is love." Steinbeck went on to write about his trip two years later in his novel, Travels with Charley; In Search of America. He noted: "It seemed to me that the frantic bustle of America was not in Montana." In 1962, he was awarded the Nobel Prize for Literature.
The truck he and Charley traveled across the country in was named "Rocinante" after the trustworthy horse in Cervantes' "Don Quixote." It is on display at the National Steinbeck Center in Salinas, California.
"The lake trout in Flathead are our trophy fish," says fishing guide Mike Howe. "But it's the smaller fish — two to six pounds — that are the most aggressive and best table fare. Recently, while jigging for lakers in 160 feet of water, my wife and I caught the same fish. Fishing only six to eight feet from each other, we both set the hook at the same time, and reeled in a fish that had my tube jig in its mouth, and her jigging spoon in its lower jaw. That's one hungry mackinaw!"
This brings us to an even larger fish story: According to popular legend, there's the Flathead Monster, with more than 79 reported sightings since first being seen in 1889. It's described as being almost 20 feet in length, although skeptics point to a 181-pound sturgeon on display at the Polson-Flathead Historical Museum believed to have been caught in the lake. Speaking of skeptics, others say the sturgeon was trucked in from elsewhere.
For the smart Flathead Lake newcomer with a trailer boat in tow, the spectacular scenery is part of the adventure, but the statistics always get in the way of the view. Cynthia Bras of the Confederated Salish and Kootenai tribes frequently speaks with visitors about their plans for the day. "Montana is known for fast changing weather," she tells them, "and here on the lake that's very true. There can be several days of beautiful, calm, sunny weather and then a storm may come in from out of nowhere. You need to be observant of clouds and wind. This is a large lake with large areas that have no sheltered spots so small boats can have difficulty getting in when the waves begin getting large, and they can get that way in a hurry. Make sure you have a VHF radio and cell phone, warm clothing, and rain gear on board. Don't take a chance. Go to shore if you get caught in a storm. Check your fuel tank before going out. Fuel stations are scarce out there. If you keep these things in mind, you should have a good trip."
When the question comes up about where your next boat-and-trailer destination should be, vote "Montana." It may take some discussion and planning, but the rewards of making such a trip to big sky country will be huge — an up-close look at some precious Indian territory, vistas that will amaze you, and a connection to one of America's treasures.