Missouri's Charlie Campbell perfected a magical topwater dance.
Bass fishing these still, pristine waters runs deep within Campbell's psyche. He feels the creeks and rivers that feed these reservoirs coursing through his veins.
Born in Wheeling, Ark., "a wide spot in the road," in 1933, Campbell's parents moved to Ava, Mo., when he was 3 years old. His father, Andy, left the farm behind and took a job as a mail carrier. Besides hauling the mail, his pickup truck was loaded with 25-pound blocks of ice that folks on his route would buy for their ice boxes.
Fishing At An Early Age
Campbell's initial fishing experiences happened in the creeks near home with a willow pole, sewing thread for line and hooks fashioned from safety pins. As soon as he was big enough, he tagged along with his father on night fishing adventures to Beaver and Cowskin creeks. His father's wading apparel was a pair of bib overalls.
"A boat was a luxury we couldn't afford," Campbell said. "When it got too cold to wade in overalls, we quit fishing."
His father's steel baitcasting rod sported a reel that had no level wind guide. He used his thumb to push the braided line back and forth over the spool while cranking. Invariably, the line was knotted to a wooden topwater plug that coaxed strikes from smallmouth bass and goggle-eye. Campbell well remembers the steady plop-plop-plop of a Jitterbug emanating through the night.
One of Campbell's treasures is a small aluminum tackle box that belonged to his father. It fits nicely in the chest pocket of a pair of overalls. The scarred Jitterbugs and Crazy Crawlers inside are some of the very plugs Campbell listened to on those bewitching nights long ago.
Campbell fished creeks near home often while growing up. After graduating from Ava High School, he matriculated to Drury University in Springfield. He graduated with a Masters in education and the goal of becoming a principle or superintendent.
His educational career started on the right path when he landed a job at Forsyth High School in 1957. There, Campbell taught health, physical education and driver's training. He was also responsible for coaching all team sports, including track, baseball, basketball, and girl's softball and volleyball. His volleyball teams lost only three games over a 10-year span.
Boats & Guiding
Soon after being gainfully employed, Campbell bought his first boat. The 15-foot aluminum flat-bottom was powered by a 5 hp Johnson outboard. He began fishing Bull Shoals and Taneycomo regularly and became a fishing guide on these reservoirs.
Back then, teachers hardly made any money," Campbell says. "Nearly all the coaches took to guiding to make extra cash on the weekends and in the summer"
Campbell started his guiding career at Highway K Boat Dock near Branson, which is still in business today. He would sit in the back seat of his johnboat and quietly paddle his customers within casting range of the bank.
"I learned to paddle from the back so I could watch two customers in front of me," Campbell says. "If I had a guy that couldn't cast worth a darn, I'd get the boat way out from the bank so he wouldn't be hung up all the time."
During this pre catch-and-release era, fishermen kept the bass they caught for food. The daily limit was 10 bass per angler. Campbell's clients usually caught their limits, and he would add his 10-bass to their larder. The liberal limits eventually put the bass populations in decline. The Missouri and Arkansas fish and game departments responded with more stringent creel limits.
"That saved our bass fishing," Campbell says.
Campbell eventually upgraded to a 16-foot fiberglass V bottom boat matched with a flat-topped 40 hp Johnson outboard. A major improvement that appeared about this time was the electric trolling motor. Campbell installed one on his transom next to the outboard.
"I'd sit on a little cushion on top of the Johnson and run the electric motor with my foot," Campbell says. "Bull Shoals was one of the best bass lakes in the country then. We caught lots of 7- and 8-pound largemouths."
Zaragossa
It was during this phase of Campbell's life that he was introduced to the Zaragossa, a fishing lure that would forever change his life. The stogie-shaped topwater stickbait was the predecessor of the Heddon Zara Spook.
Due to his coaching, Campbell was well-known and respected in his community. Everyone knew he was also a skilled bass fishing guide. That included Wilber Hicks, who introduced himself to Campbell and invited him on a float-fishing trip. Campbell claims that Hicks was the first to run float trips on the White River, which was then done with wooden johnboats.
"The first time I fished with Wilber, he pulled out the Zaragossa and started catching a slew of big ol' bass on it," Campbell says. "Nobody back then really knew how to work one."
Campbell and Hicks fished together many times thereafter. For Campbell, it was an education that surpassed anything he learned in college. Hicks mesmerized Campbell by making the Zaragossa sashay back and forth with the dog-walking retrieve.
"Wilber could walk the Zaragossa sideways 6 to 10 feet on a long cast and make it dance all the way around a cedar tree," Campbell says.
Campbell was determined to emulate what Hicks was doing with the lure. The more Campbell practiced, the better he got. He eventually became a master with it.
About this time, the Bass Anglers Sportsman Society (B.A.S.S.) was catching fire across the country. Campbell started fishing weekend tournaments and winning them with the Zara Spook. Many other anglers were fishing with topwater baits, but the Spook, when worked with Campbell's dog-walking retrieve, consistently drew strikes from bigger bass.
Campbell's guiding and tournament success encouraged him to change professions. He retired from teaching in 1973, the year his boy's basketball team won the Missouri High School State Championship. He boldly embarked on a new profession that had never been heard of — pro bass fisherman.
His big break came in 1974 when he won a Bassmaster Federation National Championship at Table Rock Lake and qualified for the Bassmaster Classic. His winning lure there was the Zara Spook. Campbell ran away with the tournament with a total of 55 pounds, 15 ounces. In second place with 38 pounds, 5 ounces was Virginia's Woo Daves, who would win the Bassmaster Classic 26 years later.
After fishing the 1974 Classic, Campbell competed in one or two professional Bassmaster Invitational tournaments a year. He would have fished more of them, but the $100 entry fee didn't fit his budget.
It was at one of these Invitationals that Campbell met a young Springfield, Mo., angler just out of college named Johnny Morris. A skilled bass fisherman, Morris would qualify for five consecutive Bassmaster Classics. When Campbell met him, Morris had already given birth to a fledgling catalog business called Bass Pro Shops.
"Johnny and I became friends and we'd go fishing now and then," Campbell says. "He got so busy with Bass Pro Shops that he had to quit fishing tournaments."
Morris offered Campbell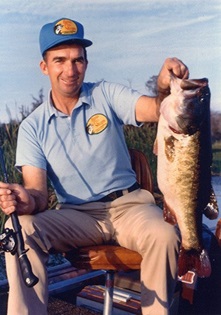 a deal in 1977 that he couldn't refuse. If Campbell would come to work for Bass Pro Shops, Morris would pay for Campbell's professional Bassmaster tournaments. This was about the time that Morris introduced Tracker Boats.
Besides fishing tournaments, doing seminars and Tracker Boat promotions across the country, Campbell had other duties. One of them was to inform Morris of any new hot lures on the tournament trail that should be included in the Bass Pro Shops catalog. Another was to check out other bass boats at tournaments to see if there were any innovations that could be added to Tracker boats.
Walking The Dog
In the 1970s, Campbell did a promotional film showing how he walked the dog with a Zara Spook. He imparted lively side-to-side, dart-and-glide action to the stickbait. It was pure magic. Campbell's skill with the Spook became so widely known that his name became synonymous with the lure.
Campbell qualified for five Bassmaster Classics between 1974 and 1984. At these championship events, the competitors were given a large Plano 777 drawer-style tackle box that had their name inscribed on a metal plate. Each competitor was allowed to put no more than 10 pounds of lures in their box. They could fish with no other lures during the Classic.
Campbell still has all five of his Classic tackle boxes. One of them is a permanent fixture in his Nitro bass boat. He calls it his "boat box." The trays hold battle-tested lures that have proven themselves over the years.
Many of these are topwater plugs that Campbell has modified to achieve the perfect balance he demands. He does this by drilling holes in the lures, adding or removing weights, and moving internal BBs from one lure chamber to another.
In 1986 Campbell officially retired from Bass Pro Shops, but he stays on in an advisory roll and to participate in promotions. That leaves him with ample time to ply Missouri's clear mountain lakes with his topwater plugs.
He lives with Wanda, his wife of 56 years, in a home perched on a 360-foot bluff overlooking Lake Taneycomo near Forsyth. The couple fishes together often, and they've competed as a team in many tournaments.
"We can be fishing Taneycomo in 10 minutes," Campbell says.
He claims they fished Taneycomo every day for a solid month last summer when the bass were on a feeding frenzy.
"Wanda doesn't like topwatering at all," Campbell says. "Her main thing is Carolina rigging a lizard. She can outfish most of the men I fish with and always catches a big bass."
On practice days prior to a tournament, Wanda insists that Campbell weigh the bigger bass she catches and take pictures of them.
"She does that so she can brag that she beat me," Campbell says.
Wanda caught her biggest bass while she and Campbell were practicing for a tournament at Truman Reservoir. Windy conditions hampered Campbell's topwater bite, but Wanda hooked and landed a 9-pound, 6-ounce, largemouth with her lizard.
No doubt, the bass in Missouri's Ozark lakes were happy to see Campbell sidelined by a broken hip. The bad news for the bass is that Campbell is mending nicely. No doubt, he will continue plugging for years to come.
Campbell's hands shake, but his eyes are clear. He still thrills to a topwater strike and can make a Zara Spook do a magical dance.
Walking The Dog With Charlie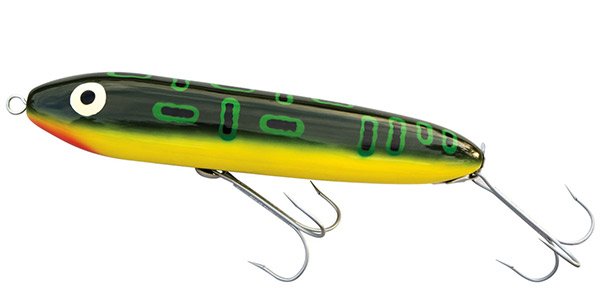 Colors
Frog finish, shore minnow, foil or chrome, flitter shad
Equipment
5 1/2 foot medium-light graphite casting rod with pistol-style handle; 5.0:1 casting reel; 14- to 17- pound-test mono.
Seasons
Can work year-round; pre-spawn to late fall is best.
Water Clarity
Will work best in clearer water. Use lighter colors in clear (chrome, foil finish, or shore minnow). In stained water, dark colors are best (frog, or darker shore minnow.)
Depth
In clear water, the technique can pull fish from depths of 15 to 18 feet. In stained, usually 4 to 6 feet is best.
Presentation
Longer casts are best. Cast well beyond target to achieve walking action prior to reaching target.
Retrieve
Normal walking is achieved by short, rhythmic twitches of the rod tip. Use only the wrist and make each pull equal distance. To half-step, alternate the speed and length of your cadence, giving one long pull followed by one quick, short pull, another long, a short pull, etc.
Rigging
Campbell prefers tying to a No. 3 snap. Split rings also work. The important thing is not to overweight the front of the lure. To modify the lure's buoyancy when it sits too low or high in the water, you can change the hooks.