Hampton's Landing Marina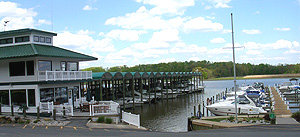 Located on a protected creek full of wildlife, Hampton's Landing, has been a family owned marina since 1940. Our channel has been dredged by the Army Corps. 5' mean low water, our services are the most complete in the area. New covered slips under construction.
BoatUS Member Discount Details
$.10 Off per Gallon of Fuel
Hours
In Season:
M - Su 8:00AM - 6:00PM
Additional Information
Shopping

Upper Potomac River marker 41, to Neabsco Creek at Freestone Point, VA, follow channel through bridge, 3rd marina in from bridge.

Lat. - 38.36.4
Long. - 77.15.44
16, 6, 78A, 9
Yes
4
93
Fresh Water, Pump Out
No
Showers
No
Boat Parts & Supplies, Ice
Local Transportation
Please contact business before arrival to verify all information and discounts. Members must present their valid BoatUS Membership card on arrival in order to receive discounts.