Damage Avoidance - Hurricane Preparation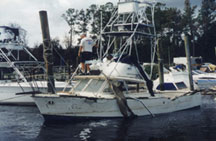 Boat owners from Maine to Texas have a reason to become edgy in the late summer and fall: Each year, on average, two hurricanes will come ashore somewhere along the Gulf or Atlantic coasts, destroying homes, sinking boats, and turning people's lives topsy turvy for weeks, or even months. This year, who knows? Florida is struck most often, but every coastal state is a potential target.
Experts predict that in the next 20 years there will be much more hurricane activity than has been seen in the past 20 years. Experts also fear that after a number of storm-free years, people in some of the vulnerable areas will be less wary of a storm's potential fury. But to residents of Charleston, South Carolina, crippled by Hugo in 1989, and people in Dade County, Florida, ravaged by Andrew in 1993, the hurricane threat won't soon be forgotten.
Where to Keep Your Boat in a Hurricane
Securing a Boat Ashore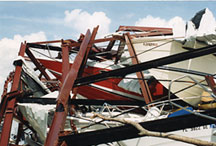 High-rise storage racks can be toppled by a storm's high winds. If possible, put your boat on a trailer and take it further inland.
A study by MIT after hurricane Gloria found that boats stored ashore were far more likely to be saved than boats stored in the water. For many boat owners and marinas, hauling boats is the foundation of their hurricane plan. Some farsighted marinas and yacht clubs have evacuation plans to pull as many boats out of the water as possible whenever a storm is approaching and secure the rest. There are some types of boats that must be pulled if they are to have any chance of surviving. Smaller, open boats and high performance powerboats with low freeboard, to use two examples, will almost always be overcome by waves, spray, and rain. Fortunately, most of these boats can be placed on trailers and transported inland.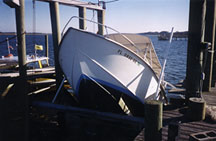 High-rise storage racks can be toppled by a storm's high winds. If possible, put your boat on a trailer and take it further inland.
Boats ashore should be stored well above the anticipated storm surge, but even when boats are tipped off jackstands and cradles by rising water, the damage they sustain in a storm tends to be less severe than the damage to boats left in the water. Windage is also a consideration. If nothing else, reduce windage (see "Critical Points") as much as possible and make sure your boat has extra jackstands, at least three or four on each side for boats under 30' and five or six for larger boats. The jackstands must be supported by plywood and chained together. To reduce windage, some ambitious boat owners on the Gulf Coast dug holes for their sailboat keels so that they presented less windage. Smaller sailboats were laid on their sides. Recent storms have proven that high-rise storage racks are vulnerable in a storm's high winds. Several have been completely destroyed in recent hurricanes. If possible, boats on storage racks should be placed on trailers and taken home.
Securing a Boat in the Water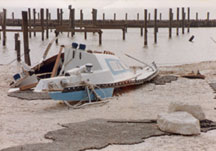 A storm surge during Hurricane Alicia combined with normal high tides to overcome this low-lying breakwater. The protected harbor then became an open bay and all of the boats in the harbor either sank or were carried ashore.
Any boat in the water should be secured in a snug harbor (don't even think about riding out the storm at sea unless you're the skipper of an aircraft carrier). The trick is deciding which harbors will be still be snug if a hurricane comes ashore and which will be vulnerable. Storm surge—high water—is a major consideration.
A storm surge of 10' or more is common in a hurricane, so a seawall or sandy spit that normally protects a harbor may not offer any protection in a hurricane. Crowded, rock strewn harbors are picturesque, but they may not be the best place to keep your boat in a storm. Rocks are hard on boats, should yours break loose, and in a crowded harbor the chance of another boat breaking loose and banging into your boat is that much greater. Finally, what is the bottom of the harbor like? If you plan to anchor, check your charts to see how much water your boat will be anchored in. The best anchoring is usually in sand, followed by clay, hard mud, shells, broken shells, and soft mud. Also, water can sometimes be blown out of the harbor, leaving boats stranded briefly. If this happens, your boat would rather settle onto anything but rocks.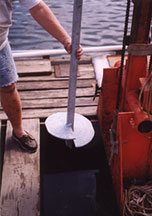 Mooring test have shown the helix anchor has tremendous holding power compared to traditional mushroom and deadweight anchors.