Win A Fishing Trip With Mark Zona!
Last chance to renew your BoatUS ANGLER membership and have a chance to WIN a day of fishing in Michigan with Mark Zona of "Zona's Awesome Fishing Show" and Bassmaster television! All current BoatUS ANGLER Members as of September 30, 2014 will automatically be entered in the contest.

Watch the video to learn more!


Upcoming Events:

Sept 4 - 6: Bass Pro Shops Northern Open #3 presented by Allstate, Lake St. Clair, Detroit, Michigan.

Sept 6: Casting for the Cure Tournament at Alabama's Logan Martin Lake, $50 entry, $1000 top prize.

Sept 11 - 13: 2014 Bass Pro Shops Central Open #3 presented by Allstate, Arkansas River, Muskogee, Oklahoma.

Sept 12 - 14: 44th Annual Newport International Boat Show. Newport waterfront along America's Cup Avenue in Newport, Rhode Island.

Oct 17 - 19: Bisbee's Los Cabos Offshore Tournament, Cabo San Lucas, Mexico. $750,000 in cash prizes.
BoatUS ANGLER "Catch of the Month" Contest
Don't forget to take shots of your catch and submit them to the BoatUS ANGLER "Catch of the Month" photo contest at BoatUS.com/Angler/contest, which runs monthly through October 31, 2014. Monthly prizes awarded for "Best Freshwater Catch" & "Best Saltwater Catch", Grand Prize winners will be chosen at contest end.

For complete contest details and prizes, to view the current entries, or to submit your own photo, visit BoatUS.com/Angler/contest.
August Freshwater Winner
Leslie Sams - Pikeville, NC
Largemouth Bass

August Saltwater Winner
Michael Panella - Westbrook, CT
6 lb. 9 oz. Black Sea Bass
RecycledFish Stewardship Tip:
Firewood
Burn it where you buy it. Small insects such as the Emerald Ash Borer and the Asian Long Horned beetle can devastate a forest. Both species have been, and can be, transported in firewood.

Membership News:

BoatUS ANGLER Members can link their DeLorme inReach unit to their membership, saving valuable time when requesting assistance. With the push of a button, your membership information and GPS location will be transmitted from your inReach device to the BoatUS 24-hour Towing Dispatch Center. This allows us to dispatch the nearest TowBoatUS or Vessel Assist towboat to your location. BoatUS ANGLER Members also can save $25 on a new inReach unit.
Seaworthy Tip: Don't Let Winter Get You!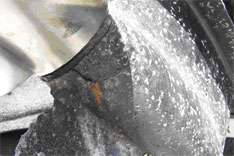 It's that time of year again... The leaves have started to change color, and the nights are getting longer and cooler. Hopefully you've got some fall fishing still ahead of you, but when the time comes, we're here to help. The editors of Seaworthy have put together a complete winterizing brochure with a two-page winterizing checklist that focuses in on the things that went wrong in 95% of our ice and freezing claims over the past decade. One of the most important things you can do for your outboard or sterndrive is to make sure it is covered or left in the down position to prevent water from entering the exhaust hub of the propeller. In cold weather, any accumulated water that got in the hub can freeze and ice may expand and crack the housing. Also, outdrives and outboards are common targets for thieves, especially in the winter when they may be out of sight for long periods of time. If possible, take outdrives and smaller outboards off the boat for safekeeping. To get more advice on winterizing and to download our new winterizing brochure, go to BoatUS.com/Seaworthy/winter.

For more Damage Avoidance Tips visit BoatUS.com/Seaworthy.
Guide Spotlight: Saltwater

Guide Name: A-Team Fishing Adventures
State: Alabama
Waters Fished: Dauphin Island & Bayou la Batre

Species: Speckled Trout, Redfish
Phone: 251-661-7696
BoatUS Discount: 10% Off Charters

Captain Bobby Abruscato is the owner and founder of A-Team Fishing Adventures with 35 years of experience fishing waters adjacent to Dauphin Island.

Guide Spotlight: Freshwater

Charter Name: Always Gone Fishing Guide Service
State: Alabama
Waters Fished: Pickwick Lake, Wilson Lake, Wheeler Lake
Species: Bass
Phone: 931-698-3904
BoatUS Discount: 10% Off Guide Service

Currey Holley has 25 years experience fishing on the Tennessee River and is a licensed US Coast Guard Captain. Our goal is to provide a safe and fun fishing experience.
Protecting You from the Rays, Skin Cancer Doesn't Have to Be: Steve Chaconas

When I started guiding in the late 80s, a tee shirt and shorts were appropriate attire. Sunglasses were a fashion statement. And we didn't wear sunscreen; we lathered up with sun tan oil! A sunburn was a sign of a healthy lifestyle...

BASS Elite Series #5:
Kurt Dove
BoatUS ANGLER Pro Staff Member Kurt Dove talks about his current season on the Elite Series and stop #5 on the tour.