Upgraded XTO Offshore Outboard delivers greater convenience, enhanced charging technology, and 450 horsepower.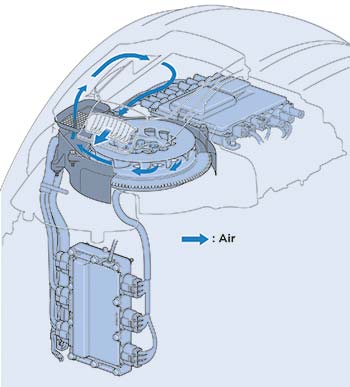 The phased angle control produces 96 net amps per outboard.
Yamaha adds 25 new horses and more charging power to its F425 platform with the new F450 XTO Offshore. Changes in the intake and exhaust design, cams, and valves have enabled the added power without otherwise changing the engine's max rpm or physical footprint.
The F450 also boasts a new charging system with phased angle control to produce 96 net amps when in neutral, enough power to feed juice to high-demand items like gyrostabilizers, air conditioning systems, and more.
Net output is per outboard and is stackable, multiplying amperage output by the number of outboards. That means up to 480 net amps in quint configuration. Starting power is always maintained. Full charging power goes first to starting batteries until charged, then it's directed to the house batteries The system includes built-in reverse polarity protection and prioritizes keeping starting batteries at full charge.
Another bonus feature on the F450 is "TotalTilt," which lets you tilt then engine from any position to full up or full down with a double-tap of the switch. Yamaha has also brought new features and function to its F150/F200 DEC models by adding integrated electro-hydraulic steering. With a steering control unit under the cowl and an integrated hydraulic pump in the bracket, this eliminates all those exterior hoses and pumps for cleaner rigging and more available onboard space. These motors enjoy TotalTilt functionality, as well. And, in order to save space on F200 and F250 installations, Yamaha has combined the conventional hydraulic lines with an integrated pump.
Helm Master EX gets upgraded for 2023 as well, integrating bow thruster control and a DEC binnacle. Start/stop switches are now located on the binnacle itself (eliminating the need for a separate switch panel) and the DEC controls now feature the same "soft grip" material found on the joystick. All of these upgrades and updates are expected to be available in spring 2023.