The 2023 Sailing Convention for Women draws female sailors from different generations and backgrounds to share their knowledge, skills, and camaraderie.
The premier Sailing Convention for Women is back with full sails and expanded learning opportunities. April 1 marks the 32nd annual convention after a Covid hiatus. The convention features an all-day series of on-the-water instruction and shore-based workshops, from beginners to very experienced women sailors. The Bahia Corinthian Yacht Club (BCYC) is the hosting venue, as it has been for the past 28 years, in Corona del Mar, California, on Newport Harbor.
"The Convention gives women an opportunity to meet other women sailors, discuss options for cruising, racing, and recreational sailing, and find out about women's sailing organizations in their areas, as well as instructional programs available," explains founder and producer, Gail Hine. "We have something meaningful for everyone."
Workshops include Suddenly Singlehanded, Steer with the Sails, Intro to AIS, Avoid Mistakes & Mayhem, Prepare for Passage Making, Basic Navigation, Docking, three levels of on-the-water sailing instruction, and many more.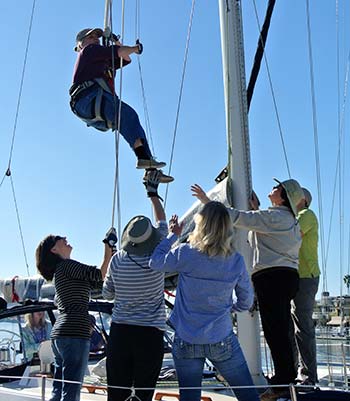 Learning to go up a mast.
This year's guest speaker at the dinner program is Marie Rogers, who was the second woman in 118 years to serve as commodore of the historic Los Angeles Yacht Club (LAYC). Rogers was also the second Black person, and the first Black woman, to serve as commodore. She raced the 50th Transpac along with 72 other monohulls and six multihulls, and also participates close to home on her J/29, Rush Street, and does coastal racing on Marie, a Nelson Marek 55 she shares with Bill, her husband.
The convention registration early-bird fee (February 1–28) is $250, including workshops, breakfast, lunch, dinner, souvenirs, raffle prize tickets, and session handouts. The fee from March 1–26 is $270. Late registration, March 27 to April 1, is $290. Prepaid registrations are required as space is limited to approximately 250. Email Gail Hine or Lisa Cullinane for more information.