Take some of the stress out of a boater distress call with the newly approved next-generation ResQLink PLBs with Return Link Service.
As many boaters prepare for the season, another boating safety tool is available now that ACR Electronics' next-generation ResQLink Personal Locator Beacons (PLB) with Return Link Service (RLS) are approved in the U.S.
The buoyant PLB requires no subscription, and with the inclusion of the new Return Link Service (RLS) feature, boaters can have peace of mind knowing their distress message has been received and their location detected. The Galileo Global Navigation Satellite System (GNSS) Return Link alerting technology is available with the ACR Electronics ResQLink View RLS ($449.95), and the ResQLink 410 RLS ($409.95).
Take a look at how it works: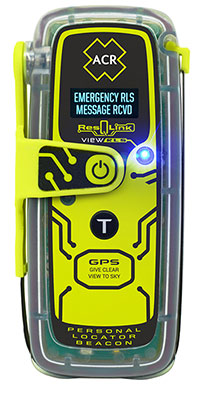 The confirmation light is easy to spot.
According to ACR, ResQLink View RLS is the world's first PLB with the capability to provide the user with a clear confirmation message via a digital display screen verifying that the international satellite system Cospas-Sarsat has received their distress message and location.
"Now we can offer the latest innovation in life-saving technology to our beacon owners with a confirmation light, or even via a message on our ResQLink View RLS display screen, as reassurance that help is on the way — a significant boost for morale in a life-threatening emergency," explains Mikele D'Arcangelo, vice president of global marketing and product management for ACR Electronics.
Incorporating a multi-constellation receiver that uses both the Galileo GNSS as well as the GPS Satellite network for faster location and improved accuracy, ACR PLBs operate on the three Cospas-Sarsat satellite systems including the new MEOSAR. This ensures they will offer the near-instantaneous signal detection and transmission enabled by the global MEOSAR satellites and upgraded ground-station components. Using the next-gen network, anyone activating a ResQLink PLB can expect their beacon to be located within 100 meters (328 feet), 95% of the time, within five minutes of the distress signal, according to ACR.