Historian Samuel Eliot Morison spent five months at sea aboard a three-masted ketch retracing the routes of Christopher Columbus across the Atlantic Ocean and around the Caribbean.
In his 50s, he was comfortable — an esteemed history professor at the oldest institution of learning in America. He'd published books that attained critical and popular acclaim. He'd represented the United States in the Paris Peace Conference following World War I, and he had been chosen to write the Harvard College official history for its 300-year celebration. By virtually any measure, Samuel Eliot Morison could coast along in distinguished satisfaction on a quiet academic sunset cruise.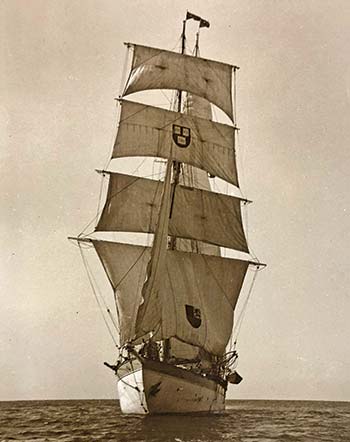 The 142-foot three-masted brigantine ­Capitana. (Photo: Samuel
Eliot Morison Papers, Harvard Archive & SEM Estate)
But Morison didn't think like that. Instead of dreaming of retiring in his 60s, he started ramping up, driven by a curiosity about legendary Genoese explorer and navigator Christopher Columbus who, in the 1400s, completed four voyages across the Atlantic Ocean backed by the Catholic monarchs of Spain, voyages that had opened the way for the widespread European exploration and colonization of the Americas.
Columbus had fascinated Morison since boyhood. What sort of seaman was he, really? Where exactly did he sail on his epic voyages? It vexed Sam Morison that 450 years of scholarship had, so far, failed to produce satisfying answers to these questions. Determined to fill in all the gaps himself, he raised funds from several sources, and in the late summer of 1939 embarked on an expedition to retrace Columbus's voyages. He and several companions set off in two boats — the 45-foot yawl Mary Otis and the 142-foot three-masted Capitana — an expedition that would shed a new light on American history.
Searching For SEM
I first learned about Sam Morison, "SEM" to his friends and family, three years ago while researching my book "Adventurous Use of the Sea," a collection of real-life sea stories of men and women who'd accomplished some of the most extraordinary voyages in the past 100 years. I was especially drawn to Morison and his Atlantic voyages for inclusion in my book and tracked his original logs and photos to the Harvard University archives where, in 2019, I encountered the first of several obstacles. First, the archivist would only allow me to see the material with permission from the Morison family, a delay that would prove consequential.
From Morison's granddaughter, Emily Beck, I finally was able to gain permission, and along the way gathered insights into the character and personal history of my subject. I learned that Sam Morison had learned to sail at 14 in Northeast Harbor, Maine, in the summer of 1901. He and a friend discovered a 16-foot open North Haven dinghy called Leda, and spent their school holiday exploring "the reefs, sprayed with rock weed," "the long, flat granite ledges, washed clean by winter gales," the "perpetually whistling bell buoys," and the nourishing mussel beds of those Down East reaches — experiences that engendered in him "an almost passionate love of the sea" that he would nurture to the end of his 88 years.
He wrote about sitting in his family's pew at Boston's Trinity Church as a young boy, imagining that a nearby stained-glass image depicted not Christ and his disciples at the Last Supper but Christopher Columbus standing an egg on end before a host of skeptical Spaniards. His passion was stoked.
A Lifelong Passion For Firsthand Knowledge
Later, one of Morison's role models was Francis Parkman, author of "History of France in the New World." Parkman had "followed the routes of the French explorers," Morison wrote of his mentor, "camped in the primeval forest, and lived among primitive Indians. This fieldwork, combined with historical imagination and a lively narrative style, gives [his book] a peculiar depth and vividness. It is no mere flat land made of words out of other words on paper, but a fresh creation in three dimensions, a story in which the reader is conscious of space and light, of the earth underfoot, the sky overhead, and God in His Heaven."
It would be more than 20 years, after he'd become a Harvard history professor himself, before Morison would be able to tackle his favorite topic in the way that would have made Parkman proud. "Never write without first having a darned good look," Morison told his students, summing up his own work ethic.
In 1937, he embarked on that trial run. With two friends, he chartered the 72-foot yawl Ptarmigan and sailed her south to Trinidad, on Columbus's track. Near the Gulf Stream they encountered a massive equinoctial storm. Shoreside anemometers recorded winds of 93 mph, and even running under bare poles Ptarmigan sustained enough damage to force them into Bermuda for repairs. Harrowing, yes, but Morison had successfully tested his theory. "One winter's sail in a chartered yawl along the line of the Windward and Leeward Islands provided me with a living commentary on the contemporary narratives of Columbus' Second Voyage, and proved that Parkman's outdoor methods could profitably be applied at sea."
Columbus, Genius Seaman
Morison wondered what kind of sailor was Columbus. Did he understand magnetic variation — the difference between true north and magnetic north? Morison knew Columbus sailed hundreds of years before navigators could reliably find their own longitude. But was it possible that Columbus had figured out how to rely more on celestial sights, or on dead reckoning over unprecedented ocean distances? What did Columbus understand about the winds and currents of the North Atlantic basin? For example, why did he rig Niña with a lateen sail for upwind work on the outbound voyage, but changed it out for square sails on the return voyage home? Why did he keep two different distance logs across the Atlantic? These were the questions that spurred Morison as he sailed the passages that Columbus sailed and trod the ground that Columbus walked.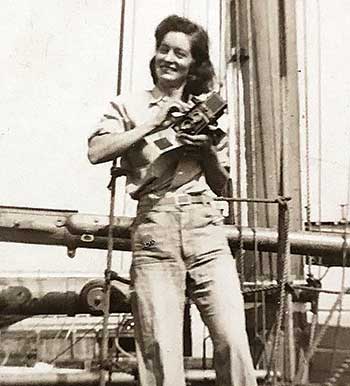 SEM's first wife, Elizabeth "Bessie" Morison joined Capitana for
several passages. (Photo: HUG 4581.45.5 Box 1 Sheet no. 1.
Harvard University Archives)
For his 1939 voyage, Morison set off aboard Capitana with several friends, including his wife, Bessie. Capitana's owner, Paul Hammond, had rerigged his own three-masted ketch as a barkentine for the trade winds run, with square sails on the foremast. He renamed her after the flagship Columbus sailed on his Fourth Voyage, and loaded her down with 300 volumes of Columbus research materials.
Two Steps Forward, One Back
In my own quest to learn about Morison, just as I'd finally been given the rare family approval to sit with his own logbooks, I was stymied by yet another obstacle: a medical diagnosis that left me immunocompromised for several months. I recovered, but by then the whole world had fallen ill. Beginning in March 2020, the Harvard archives locked itself down tight against the COVID-19 pandemic. Like everyone else, I hunkered down, too, worked on my book, recuperated, and continued to try to dig up Morison info. No go. The archive held what I needed, and it remained a fortress.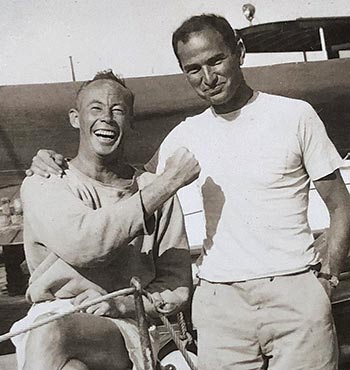 Gil Stearns and Bill Stevens aboard Mary Otis. (Photo: Samuel
Eliot Morison Papers, Harvard Archive & SEM Estate)
In spring 2021, I received a letter from Morison's grandson, Cameron Beck, who connected me to a cousin, Mary Otis, whose father, Bill Stevens, was on the expedition and owned Mary Otis — the Niña to the Santa Maria, Morison's informal nickname for Capitana.
Bill Stevens and the Mary Otis crew had set off from Portland, Maine, just as Morison and the Capitana crew set off from New London, Connecticut, on September 1, 1939, the day Germany invaded Poland, igniting World War II. Later, I'd find photographs in Morison's own album from that day, just as they were setting off from the North American coast toward Europe, showing Capitana's crew conducting lifeboat drills, gravely aware that they were at risk of being torpedoed by German U-boats. Two-and-a-half weeks later, Capitana and Mary Otis joined each other in the Azores, and the crews learned that Russia had invaded Poland.
Into The Archives At Last
LOG ENTRY, yacht Mary Otis, September 29. Under mainsail at 830 passed Pt. Castelo. Hoisted jib w mizzen, set a NE course for the Formigas — saw tuna fishermen — after calm spell under lee, breezed up strong from the NW. Vessel suddenly refuses to answer helm. Gil & I, below, called on deck; & find rudder post has broken & rudder is hanging loose on its lower pintle. In a few minutes it parts and rudder sinks. Attempts to steer ship with sails alone fail. Beam sea & she heads right for the Formigas, which look like the fins of a school of sharks. The tender oars are no good as rudders. Finally bring her around by rigging fender beam with deck buckets and hawser end strung over starboard quarter & staysail set. Set jigger too and start engine. Take in the jury rudder and steer pretty well by manipulating staysail & mizzen — wind abeam NW — quite a sea. She does very well. We head for Sao Lourenço. Let go anchor in 6 fathoms sandy bottom 1/4-mile off landing place. Mary Otis has good night in harbor.
Once COVID-19 restrictions finally were lifted, and I rushed to Cambridge, Massachusetts, to access the sequestered archives, these were the kinds of handwritten entries I discovered in these long-ago Morison logbooks — harrowing stories of his extraordinary seamanship. Plus, there in the archives was the treasure-trove of photos from Capitana and Mary Otis, and Morison's actual charts annotated with his own firsthand observations and discoveries, proving and disproving which places on the modern charts matched places Columbus had actually sailed on his voyages.
Through painstaking real-world experiments, Morison was able to determine that 1 league in Columbus' logs was equal to 3.18 nautical miles, and that ocean currents in the Caribbean islands skewed the distances he measured. Morison, with his own navigating experience and years of study, and based on his sailing the different possible routes himself, had brought into focus where Columbus actually went.
"The Admiral liked to pose as an expert in celestial navigation," Morison wrote. "Yet the testimony of his own journals proves that the simple method of finding latitude from a meridional observation of the sun was unknown to Columbus." These were all explosive revelations in the 1940s, and the kind of gold for which I'd been digging since I started work on "Adventurous Use of the Sea." But my deadline for the book had long come and gone by then, and I'd delivered the manuscript profiling 18 extraordinary boating pioneers and their epic voyages and accomplishments over the last century — just not including Samuel Eliot Morison and his groundbreaking expedition.
Into The History Books
In 1942, Morison went on to publish a renowned two-volume biography of Columbus, "Admiral of the Ocean Sea," which won the first of his two Pulitzer Prizes. President Franklin Delano Roosevelt, who'd been assistant secretary of the Navy in World War I, loved the book so much that in 1942 he commissioned Morison to write the official history of the U.S. Navy in World War II. To write it properly, given his passion for firsthand experience, Morison decided at age 55 to go into active duty himself during World War II, first as a lieutenant commander in the Pacific witnessing sea battles aboard patrol boats and destroyers, then later as a captain.
In 1964, President Lyndon Baines Johnson awarded Morison the Presidential Medal of Freedom for his lifetime of contributions, and in 1980 a U.S. Navy frigate was named for him. In recognition of his seagoing accomplishments, when it all played out, the historian had attained the rank of his own childhood hero, living out his last two decades and more as Admiral Morison.
Modern Questions About Christopher Columbus
Over the years, different historians have posed difficult ethical questions about Christopher Columbus (1451–1506), centering primarily on his plundering and decimation of the native people he encountered in the New World. Back in Morison's time, when so little was yet confirmed about the course and methods of the Columbus voyages themselves, the moral revelations from his landfalls were not yet scrutinized the way they are today. It was Columbus' genius as a navigator of uncharted waters, in those early days of sea exploration into unknown worlds, that was the primary focus of Morison's research, the result of which added critical groundbreaking detail to that era of human history.