Some friends and family are impossible to please when it comes to choosing the right gift. Not so with boaters. Let us help you with your shopping list.
If you love a boater, you already know what gifts they go gaga over. Boating gear, of course! But the potential choices can be overwhelming, so you want to make sure you get just the right something for that sweet seafarer. Never fear, dear gift-giver: We've sorted through the slew of new marine gear and gadgets to ID the niftiest nautical items of note for this holiday season.
Powerful Present
If you want to give the most powerful (yet portable) present sitting under the tree, clear out some extra space for a Mercury Marine 25- or 30-hp outboard motor. These FourStroke aren't rehashes; they're new designs built from the ground up, featuring a three-cylinder powerhead that displaces 500cc and starts tipping the scales at 132 pounds. Shafts are available in 10- and 15-inch versions. These outboards come with the Mercury Tiller, which is reversible for left- or right-handed operation, but remote controls are available, as are power trim and tilt and/or electric start.
The big surprise, however, is in the digital domain: These are SmartCraft-capable engines (the smallest ever) with EFI (batteryless EFI on manual-start versions). That means you can use them with SmartCraft gauges or even tap into them via Bluetooth with your phone and the VesselView Mobile app, enabling you to see performance data and tracking routine maintenance. Are these the smartest engines of their size around? It would be tough to argue otherwise. Starting at $4,300 | MercuryMarine.com
Fin-Nor introduced its first line of sunglasses last year, and for 2022 it has launched the North Drop line. These sunglasses feature integrated spring hinges, adjustable nose pads, integrated side shields, and rubber temple tips on bioresin frames. Available in matte black, gray, and Keys camo finish, both polycarbonate and glass lenses are available in gray and blue, green, or silver mirror, with gray or copper base. The seven-layer lenses feature an oleophobic (anti-smudge)/hydrophobic (water-, dust-resistant) coating, 100% UVA/UVB blocking, and PVA polarization. We wore a pair for a day and found them unexpectedly comfortable with excellent optics. $199–$269 | Fin-Nor.com
Casting For Smiles
Boating anglers will be grinning ear to ear when they rip off the wrapping of a new Shimano Spheros SW rod-and-reel combo. In fact, this rig won the "Best Rod & Reel Combo" category at the 2022 ICAST show, with four models in the line ranging from 5000- to 8000-size spinning reels with 7- to 9-foot rods. These rods are fast-action with EVA grips and Fuji aluminum-oxide guides, and have medium-heavy and heavy power ratings. The reels have gear ratios from 5.6:1 to 6.2:1, four ball bearings plus a roller bearing, and are rated for 20- to 65-pound braid lines, or 10- to 20-pound monofilament. Note, these are saltwater-capable rigs and the bearings are sealed to prevent salt or sand intrusion. $149 to $199 | Fish.Shimano.com
Tow-Tally Awesome
You want to give the kids thrill rides one minute, then kick back and chillax the next? The new Rave Sports Big Easy is the ticket. This two- to four-person towable has center-facing couch-style seats that will be forward- and back-looking, then you crank the wheel hard over and send the riders into a whip-turn. Foam-filled handles are reinforced at the attachment points with neoprene, seams are reinforced, and the 28-gallon air bladder is PVC. This is one B-I-G towable at 85 by 100 by 29 inches, and it can handle a payload of up to 680 pounds. When you're ready to switch from riding to relaxing, tether it close to the boat, and a standard 12-can cooler fits in the center pocket, while open drinks can sit in the integrated cup holders. $699 | RaveSports.com
Sweet Skis
Do you have a petite water skier in the family? Connelly has added a 63-inch size to its DV8 line of water skis, featuring the Versatail blocks that won a 2022 Water Sports Industry Association Innovation Award. The Versatail system allows you to change the back of the ski with different blocks that control water flow, so you can tweak it to match the rider's strengths and style. Different blocks are available for maximum speed, more control, or for added tip pressure on right- or left-handed turns. The skis are a 90/10 carbon/fiberglass layup with a CNC-cut PVC core, variable bevel, and a Viper 2.0 fin with aluminum foil. DV8 models in 66, 67, and 68 inches are also available. $1,699 | ConnellySkis.com
The Gift Of Grilling
Who enjoys grilling? Everyone! Who enjoys boating? We do! So why not combine the two activities? Since Magma introduced its Crossover line this year, its been rolling out new additions to the modular system. The Marine Crossover Grill Top is destined to become a favorite of waterborne grillers from coast to coast. The top and grates are made from polished stainless-steel, the base is cast aluminum, and it features a diffuser plate, which ensures even temperatures across the cooking surface while funneling grease away from the burner. It will have supper sizzling at up to 700 degrees, then after a cooling period you can fold it shut, latch it tight, and easily carry it by the top handle. $399 | MagmaProducts.com
Fishin' Kids
If you're shopping for a young angler, the Youth Fishing Rod Combos from American Tackle Company should be front and center. These are spincast push-button combos that come with the reel prespooled with 10-pound test, and the 5-foot, 6-inch carbon-fiber, medium-power, medium-fast action rods have MicroWave Air casting guides. If that sounds a bit more advanced than the average kid's combos, that's because they are; American Tackle's aim is to upscale the grade of kids' starter gear to reduce the frustration that can go along with low-grade beginner rod-and-reel combos. American Tackle partnered with Autism Anglers to create this rig — and a portion of every sale goes to benefit Autism Anglers — after discovering that fishing has a number of benefits for kids on the spectrum including improved focus, coordination, self-confidence, and social interaction. $39.99 | AmericanTackle.us
Cheers, And Cheers!
Sports fans are going to love Igloo's new line of KoolTunes NFL coolers. Emblazoned with your favorite team's graphics, these 14-quart (26-can capacity) coolers have a pair of 5-watt Bluetooth speakers built in. They're IP56-rated water-resistant, powered via an internal lithium-ion battery, play for up to 10 hours on a single charge, and a USB charging cable is included. A control panel mounted in the back has an LED status indicator light, charging port, and Bluetooth pairing and volume buttons. The carry handle is molded into the swivel-open top, which locks in place and opens via a side button like Igloo's standard Playmate coolers. $174.99 | IglooCoolers.com
Because You Care
Nothing says "I love you" like giving the gift of safety. And if your significant other hasn't upgraded his or her emergency electronics lately, now's time to consider getting them a personal locator beacon (PLB). The latest and the greatest: ACR's ResQLink View RLS. The "RLS" stands for Return Link Service, and what sets this PLB apart from the crowd is a flashing blue light and confirmation message that appears on-screen when an emergency alert has been received and your position has been located. The RLS model won a DAME design award in Amsterdam in 2021 but remained unavailable in the U.S. until June, when it was granted approval by NOAA. $449.95 | Acrartex.com
Perfect For The PWC
If the person on your list is a personal watercraft fan, they'll love a life jacket that provides a comfort-boost. One new one that would surely be appreciated is the U.S. Coast Guard-approved Unlimited Rush. Made from neoprene, it fits like a wetsuit and can be comfortably worn against bare skin. Drainage mesh at the bottom allows water to escape, it has a D-ring for attaching the ECOS lanyard, and comes with an emergency whistle. The Rush closes with a zipper and two buckles; comes in XS, S, M, L, and XL sizes; and is available in five different color patterns. $124 | Unlimited-PWC.Store
Give The Gift Of Membership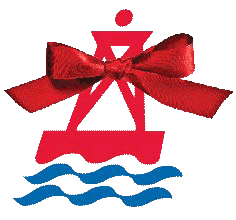 Need a quick gift for the boater in your life? Look no further! A BoatUS membership makes an excellent gift — and it even comes without shipping delays. Not only will the recipient get a full year of helpful boating tips and expert info from BoatUS Magazine, they can also take advantage of more than 20 member benefits and services, including discounts on fuel, slips, repairs, and more at over 1,200 businesses countrywide. And if the person is really special, upgrade your gift to a Towing membership to provide 24/7 on-water assistance from TowBoatUS — the biggest and best towing fleet in the business! $25 for Basic membership, $99 to $200 for Towing membership | BoatUS.com/Gifts