After three days learning to skipper a big trawler, she comes away with confidence and a new arsenal of skills.
My ankles and back ached as I folded into the front of the engine compartment, alongside the twin diesel powerplants and systems, in Uptick, the 36-foot Grand Banks trawler on which I was ramping up knowledge of handling a larger boat. Captain Chris Day, instructor of trawler training classes for Southwest Florida Yachts Florida Sailing & Cruising School in Coral Springs, Florida, was our teacher for three packed days of close-quarters boathandling and docking, skills I'd been accumulating on smaller boats over the years — plus the hands-on workings of all the onboard systems.
My goal? To take big boats out myself with confidence and possibly skipper a charter or flotilla vacation with family or friends. Reading and editing stories about boat handling and mechanics is one thing, and I get lots of that in my job at BoatUS Magazine. But to move beyond theoretical knowledge, like most boaters, we've got to get hands-on to really know what we're doing.
Day One — Down The Hatch
Chris started by reviewing the boat's many systems — engines, batteries, filters, heat exchanger, solenoids, generator, air conditioning, freshwater and septic systems — explaining how each works.
"I don't expect you to know how to fix them," he said. "But you need to know where to look when something goes wrong." The word "when" was not lost on me. After all, it's a boat!
Chris had me locate all the seacocks, explaining the importance of exercising them to ensure they can be closed if needed. We investigated the bilge pump, diagrammed the fuel system, and learned how the engine cools itself and the batteries charge. In addition to being an instructor and delivery captain, Chris is a marine surveyor, and teaches from that perspective, pointing out anything that could be an issue.
By 10:30 a.m. that first day, I'd consumed enough information for a week! It was fascinating to learn how the "leg bone is connected to the knee bone," so to speak, learning which systems are where and how they work, a process that was slowly removing my fear of "what happens if?" while out on the water.
'Slow, Slow, Slow'
An hour later, the only other student on our boat, my friend Rich, and I cast off the lines while Chris took Uptick out of her slip and into open water outside the marina. There he reviewed basic boat handling techniques — pivoting in our own length as well as shifting and steering. As soon as I got behind the wheel, my previous training with the BoatUS Foundation's On-Water Training Program came back to me. I hadn't run a boat since the previous summer, but the muscle memory was still there.
When it came time to bring Uptick back to the dock, a stressful maneuver for even seasoned skippers, Chris asked, "What's the most important thing to remember when docking?"
"Slow is pro?" I replied.
"Close. Slow, SLOW, SLOW!"
After entering the marina and approaching the fairway, Chris had me pivot the boat 180 degrees, back into the fairway, then pivot 90 degrees into the berth, coaching every step. When I got a little too close to a piling, he calmly encouraged the use of the bow thruster to make tiny tweaks, and ... success! There's little that makes a person feel as empowered as docking a big boat on the first try.
"Sometimes the best thing to do is nothing," said Chris, explaining that when a maneuver doesn't go as planned, lots of people panic and try to do too much to fix it. "It gets you into more trouble than if you just wait it out." There are three stages to docking, he said: approach, set up, dock. I'd identified my biggest issue while docking: forgetting to turn the wheel before engaging the gear. I craved more practice.
Gaining Experience
"Experience is something you don't get until just after you need it," is a favorite quote of mine. Nothing was truer during the afternoon docking lesson. After lunch, when we took Uptick out, Chris offered less coaching, and observed. Since the morning's session, the wind and current had shifted, and my results were wobbly. The wind thrust me down the fairway, I didn't shift to neutral soon enough, and found myself pushed toward the left side of the fairway. Not only had I overshot the slip, but Uptick was crooked, so I didn't have room to pivot into the slip.
Tip
BoatUS Members receive 5% off all SWFY courses and 10% off charters from May 1 through October 31, 2021 and 2022. Visit
swfyachts.com
or call 800-262-7939 for info.
Rather than fight it, Chris calmly advised going past, turning around, trying again. I took a deep breath, reapproached at a slower speed, set up, and slid Uptick into the slip. Fist bumps! Chris closed the day by giving us piles of homework, plus workbooks and study guides to prepare for our final exam at the end of day three.
Day Two — Charting A Course, Of Course
Chris arrived, grabbed coffee, reviewed our homework from the night before, then pulled out a paper chart, parallel rules, and plotters.
"This morning you're going to plot our course for today," he announced. But we had a chartplotter. Why do this on paper, I wondered? He pointed to our destination, Sanibel Lighthouse, and showed how to figure out distance and direction. I had a momentary flashback to my childhood, pre-chartplotters, watching my mother and grandfather teaching navigation for the Coast Guard Auxiliary. It seemed mystical and arduous to a youngster. Turns out, it wasn't rocket science.
Using the plotters, I went from buoy to buoy, measuring the distance against the scale on the chart, then walking the parallel rules to the compass rose to determine the heading. Chris mentioned that, as a rule of thumb, running at 6 knots would get us 1 nautical mile every 10 minutes, which I calculated and added to my notes.
Once Chris checked my work, we went through our predeparture checklist, tossed lines, and Rich took us out of the slip and into the ICW. As navigator, I gave him directions based on my notes while spotting the next markers. He watched the compass. We arrived at the lighthouse in exactly the time calculated, never once looking at the chartplotter other than to check speed.
We pulled outside the channel to drop anchor for lunch with Chris on the bow working the windlass and teaching us anchoring hand signals.
The first time we dropped anchor, it wouldn't grab the packed mud bottom. We hauled, tried again, and the second time worked like a charm. Over lunch, Chris told us the biggest challenge students have is understanding boat mechanics, that many people take these courses because they're looking to buy a boat or planning to do the Great Loop, and learning from a pro builds confidence. It was doing that for me.
I plotted the course home using the 200/20 trick — for a bearing less than 180 degrees, add 200 then subtract 20 (essentially adding 180 degrees). I took the helm and headed back along the ICW's Miserable Mile, the infamous narrow channel besieged by strong currents and shallows on either side. The wind and tide were blowing Uptick to starboard, making it tricky to stay centered. It seemed like every time I got back in the middle, I'd find myself hugging the channel markers again — frustrating, but a good lesson in vigilance and the power of current.
The end of the day brought more homework from Chris, cocktails on deck for Rich and me, and more studying. The written test was looming and there was much we needed to go over. After a few hours of cramming, I turned in after midnight, hoping I was ready.
Take A Women-Only Boat Handling Class Near You
According to industry statistics, an increasing number of women are buying boats these days — almost one-third higher than the percentage of women in the general boat-owning population. Also, women make up nearly one-third of those using peer-to-peer boat rental services, like Boatsetter.
Why take a boating course with students (and often instructors) who are all women? "Women tell us they thrive in an on-water learning environment when they don't feel pressure or intimidation from husbands or partners," says Alan Dennison, BoatUS Foundation On-Water Training coordinator. "It's a really different feel than our regular courses, which offer the same curriculum. The women who take our Women Making Waves classes encourage and celebrate each other, and many times come off the boats making plans together."
Even if you're not planning to take a boat out by yourself, it's important for women to learn basic boat-handling skills, especially in case your partner goes overboard or has a medical emergency. Plus, being in control helps reduce anxiety and fear, increasing your enjoyment of being on the water.
Here are just some of the companies and nonprofits that run women's-only boat-handling courses:
— S.N.W. & Claire Wyngaard
Day Three — The Final Exam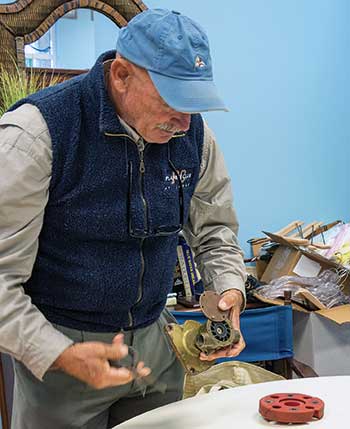 During my final lesson, Capt. Chris demonstrates how to
change an impeller, a common repair.
Chris emerged from the morning fog, hopped aboard at 8:15, and reviewed our homework before taking us over to another Grand Banks in the marina, an older boat with more stripped-down engines, so a little easier to follow the flow, so to speak. The three of us once again pretzeled ourselves belowdecks and spent an hour reviewing fuel and oil systems, Chris quizzing us on how each work. Just when we didn't think we could stand straight again, he sent us to a Sabreline a few slips down with instructions to study the engine room, identify where each system was located, then meet back at the Southwest Florida Yachts office.
There, we found him standing in front of a table of parts. He identified the two types of primary filters/separators, a heat exchanger, impeller, and shaft saver, and explained how they work. He showed us how to remove/replace an impeller — a common part to go bad and a fairly easy fix. Everything was making sense.
After an early lunch, the weather began to clear, and Chris had me take the boat out to the ICW, this time heading toward Fort Myers — a great day for more advanced learning. There was a good bit of traffic in the channel with some bigger, faster boats passing us with large wakes. To avoid getting bounced around, Chris instructed how to turn hard into the V of a boat's wake once it passed. We cruised about 5 miles, each one building my confidence. Rich took over as we turned back toward home, pods of dolphins playing and feeding around us. He had his own battles trying to stay centered in the channel, which I admit made me smile, as the day before he'd kept asking why I was having such difficulty.
Back at the fuel dock, Chris taught us how to "spring off" the dock. He held the line at the bow while I shifted into port engine forward, kicking out the stern and rotating the bow pulpit over the dock. Once the boat reached a 25-degree angle to the dock, I shifted into reverse, backed into the fairway, then pivoted to head toward our slip while running the previous days' lessons through my head.
It was show time. I put the boat into neutral early and glided until I reached the slip. I set up the turn by spinning the wheel all the way before putting the boat in gear. The stern got a little close to the piling, so I added a little starboard engine forward while still allowing it to swing. Once we cleared the piling, I shifted into reverse, used a smidge of thruster to make a small correction, then backed right in. YES! I'd watched others do this maneuver countless times, so impressed, and now I was doing it myself!
After tying up and shutting everything down, Chris handed out the written test of 50 questions. Thankfully it was open book, and I felt prepared. In the end, Rich and I both passed and received our certificates. But even better, I came away feeling a deep sense of accomplishment. There are few things more empowering than successfully docking a boat that size on the first try and without leaving any gelcoat on the pilings. And we had so much fun! For the first time in my life, I could see myself skippering a charter boat on a beautiful vacation somewhere. Now I knew I could do it!
If You Go
Southwest Florida Yachts, located at Tarpon Point Marina in Cape Coral, Florida, has been offering charters and boat handling/cruising instruction for 37 years. The three-day Basic Powerboat Handling course is $1,295 to $1,695 per person plus fuel, tip, and food. Other courses include Inland Powerboat Cruising (three days), a combo class of Basic Handling & Inland Cruising (six days), and Offshore Powerboat Cruising (eight days).
Sailing courses run $595 to $1,295 per person, and include Basic Sailing, Basic Coastal Cruising, Bareboat Charter, Coastal Navigation, Advanced Coastal Cruising, and Cruising Catamaran. Individual courses run two to three days; combination courses are three to 10. For all courses, you live aboard, provision yourself, and provide daily lunch for the captain. The closest airport is Fort Myers. Visit swfyachts.com for information.