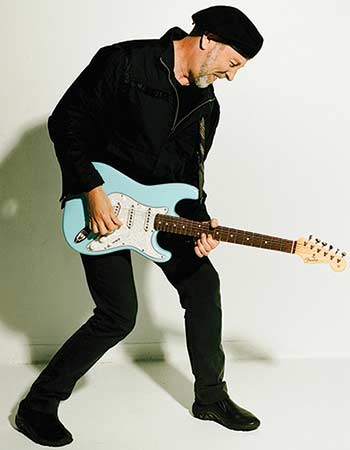 Richard Thompson (Photo: Pamela Littky)
When I was 16 years old and living in the fo'c'sle of a 130-foot brigantine the first time, I heard "Song for the North Star" — one of many times my life was incontestably steered by a song. I knew nothing then about Jorma Kaukonen, nothing about his electric band Hot Tuna, or his previous membership in Jefferson Airplane, nothing even about his Piedmont Blues mentor, the Reverend Gary Davis. It was just that song, played on a cheap cassette recorder, that crept inside me and told me where to go. Eventually, the fellow who owned the tape went his way and I went mine, and for the next several years, every chance I got to poke into a record store would see me digging through the stacks, hoping to find it on an out-of-print album called "Quah."
That was in 1982, and it's been more than a decade since I even thought of "North Star." But this morning I clicked on a link, and in about 3 minutes and for less than $10, I downloaded that whole long-lost album. The song still stands up to the raised expectations of all that waiting.
The Boating Playlists
Playlist 1: The Starter Kit. Unless you haven't been a boater for more than about two weeks or you just want to visit some old music friends of your own, you can slip right out of this well-marked channel to the next playlists where we'll explore some lesser-known gunkholes of the music world.
The Starter Kit comes in two halves. The first part is a top-10 list, based on a survey of boaters conducted by Discover Boating. The second part is composed from my own informal survey of boaters' foundation songs. The playlist's final item is not a single song but a 72-song box set.
Let's face it: The Starter Kit wouldn't be complete without highlights from the whole Jimmy Buffett oeuvre. In fact, it's no accident that our first playlist begins and ends with Buffett. He's even hiding there in the middle. Love him or hate him, "JB's" music has thoroughly infused the boating scene since his 1977 release "Changes in Latitudes, Changes in Attitudes." And his better songs came from before that: By the following year, when "Cheeseburger in Paradise" hit the airwaves, Buffett's Parrotheads would evermore dominate the space where boats and music meet.
Within this category of well-traveled boating tunes, Crosby, Stills & Nash (CSN) best embodies the sailor's wandering, searching spirit not just in the lyrics but in the very rhythms and intervals of their voices and instruments. The Discover Boating list placed CSN's 1982 "Southern Cross" as No. 4, and that's well deserved. Legend has it that Stephen Stills reworked that song from an unreleased Curtis Brothers demo called "Seven League Boots" recorded a few years earlier with Lindsey Buckingham and Stevie Nicks. (Despite plenty of trying, I still haven't tracked down that mythical proto-song. If you find it, I want to know!)
No matter how deep you dive into the CSN catalog, great boating songs keep turning up. "Lee Shore" makes our next playlist, and David Crosby was said to have written "Wooden Ships" and "Carry Me" aboard his 1947 59-foot Alden schooner, Mayan. Neil Young wrote many a song aboard his lovely Ragland, a 1913 gaff-rigged Baltic Trader he owned for 35 years.
1. The Starter Kit
"A Pirate Looks At Forty," Jimmy Buffett
"Come Sail Away," Styx
"Redneck Yacht Club," Craig Morgan
"Southern Cross," Crosby, Stills & Nash
"5 O'Clock Somewhere," Alan Jackson, with Jimmy Buffett
"Knee Deep," Zac Brown Band
"Boats," Kenny Chesney
"Sloop John B," The Beach Boys
"If I Had a Boat," Lyle Lovett
"Rock the Boat," Hues Corporation
"Back to the Islands," Leon Russell
"Four Strong Winds," Neil Young (Ian Tyson)
"And It Stoned Me," Van Morrison
"Wooden Ships," Crosby, Stills & Nash
"Boats to Build," Guy Clark
"The Wreck of the Edmund Fitzgerald," Gordon Lightfoot
"The Irish Rover," The Pogues
"Redemption Song," Bob Marley
"Sail Away," Enya
"Boats, Beaches, Bars & Ballads" (album), Jimmy Buffett
The first 10 songs in this list come from a survey conducted by Discover Boating in 2011. This list has since been updated and can be found by searching "boat songs" at discoverboating.com.
Playlist 2: The Seafaring Setlist. The songs in this second list fit a particular set of folksy tastes, ranging from traditional shanties to contemporary singer-songwriter fare. A cockpitful of do-it-yourselfers with any music sense at all could learn these songs and play them live at anchor. Just add voices and maybe a guitar; any fiddles, bodhráns, mouth harps, or mandolins would be gravy in the mix. This list was selected from a collection of more than 100 songs informally compiled by Kit Staton, a musicologist with a love for the genre.
At the traditional end, check out the first song in the playlist, "Rolling Down to Old Maui" from the British folklorist A.L. Lloyd. Based on baritones and tenors singing in parallel fifths, this song sounds even older than whaling: It hints at thousand-year-old monastic chants, yet is sung by men made of tarred marlin and iron. "Once more we sail in the northerly gale through the ice and wind and rain." The longer compilation, available online, proposes two other versions of this song. In 1980, the Celtic folk band Morrigan recorded a 6 minute rendition featuring strings that give the song a friendlier feel.
For more local traditions, check the songs by Stan Rogers, Gordon Bok, or Cindy Kallet. These songs are based on Celtic musical structures but are infused with North American seafaring details. Tragic ballads about brave men and ships that never made it home trade places with lyrical, polyphonic a cappella fishing tunes like "Shantyboatin'."
We all know "Sloop John B," whether from The Beach Boys or The Kingston Trio, if not from a lifetime of campfire singing. But check out the version by The Dicey Doh Singers from the Bahamas. You'll hear the line "Down in Nassau town we did roam," in a whole new way.
Lyle Lovett's "If I Had a Boat," is one of the rare songs that made both Kit Staton's list and the Discover Boating Top 10. You'd be hard-pressed to walk into any seaside watering hole with a guitar player banging away in the corner and not hear this song. Still, when you take that song's signature line ("If I had a boat I'd go out on the ocean, and if I had a pony I'd ride him on my boat"), you make the link from boating songs to the great cowboy songs from inland America that eloquently speak to an errant, restless soul. And just one link further along that chain are the great American highway songs. Lyle Lovett opens the door to Robert Earl Keen, Guy Clark, Steve Earle, Lucinda Williams, Nanci Griffith — and Townes Van Zandt, godfather of them all.
2. The Seafaring Setlist
"Rolling Down to Old Maui," A.L. Lloyd
"Shantyboatin'," Cindy Kallet, et al
"The Sloop John B.," The Dicey Doh Singers
"Mutineer," Rob Lutes
"Northwest Passage," Stan Rogers
"Three Fishers," Nathan Rogers
"Mingulay Boat Song," Richard Thompson
"Rolling Sea," Vetiver
"Ships," Redbird
"Ten Thousand Miles," Coope, Boyes & Simpson
"The Water Is Wide," Among The Oak & Ash
"Fishing," Richard Shindell
"Island Vibration," Winston Grennan
"From Clare to Here," Ralph McTell
"Row," Rachel Polisher and Brian Claflin
"Water Song," Hot Tuna
"Natchez Whistle," John Hartford
"Shenandoah," Mustard's Retreat
"Farewell to Nova Scotia," Wicked Tinkers
"Lee Shore," Crosby & Nash
All the songs listed here are available as downloads from both Amazon Music and iTunes Store.
Playlist 3: Songs For A Powered Amp. Buckle up your life jacket. We're about to put the throttle down: amped-up music for an amped-up ride. The music on this list will get you psyched to attempt the new trick you've been trying to master. Listen from the end of a taut towrope, with stinging spray and a steep white wake around you. The songs in this list come from video soundtracks: "12 Honkeys," "Fluid," "DoubleUP Experience," "High-Wake Drifters," all films that feature the biggest-name champions and innovators in wakeboarding.
Want to try a Bel Air to Blind handle pass? Playing "Super Nova Goes Pop" from the woofers on your tower will help. How about a Scarecrow with a rewind 180 back to forward? Korn's "Shoots and Ladders" worked for Scott Byerly. An Orbital 540? Go with Primer 55 and their "Supa Freak Love." From devastating power chords to post-punk surf-pop to straight-up ska, these "Songs for a Powered Amp" will appeal to all who seek explicit material.
3. Songs For A Powered Amp
"Supa Freak Love," Primer 55
"King of the Road," Fu Manchu
"Messin Wit My Mind," 96 Decibel Freaks
"It's Martini Time," The Reverend Horton Heat
"Shoots and Ladders," Korn
"Down on the World Again," Social Distortion
"Talk is Cheap," The Toasters
"Mean Machine," Sugar Ray
"It's Tricky," The Bloodhound Gang
"Why Did You Do It," Stretch
"Super Nova Goes Pop," Powerman 5000
"Shallow Days," Blackalicious
"Hope Overture," Clint Mansell
"Pushing Me Away," Linkin Park
"Regulate," Warren G
"Flamboyant," Big L
"The Kids," Jamiroquai
"Lounge," Modest Mouse
"Motr," Trans Am
"Heavy Flow," Moby
All the songs listed here are available on iTunes Store.
Playlist 4: Author's Choice. When I made a playlist for a friend who'd gone voyaging, I was struck by how many great boating songs have been written and performed by old souls younger than myself. Take Wilco, for starters. They occupy two positions in the Author's Choice list, including the top spot. Seriously, trust me on this, and download "Secret of the Sea" straightaway. This song — 2 minutes and 42 seconds of pure pop bliss from the sliding bass and jangly arpeggios of the first measure — comes from one of 3,000 lyrics that Woody Guthrie left behind. For all but a couple hundred of those songs, the original music died with the man. In the mid-1990s, Woody's daughter invited Billy Bragg and the members of Wilco to write and arrange all the music for a project that resulted in two "Mermaid Avenue" albums. Come to think of it, Woody was, among other things, a sailor, an Able Seaman (AB) in the U.S. Merchant Marine during World War II, so maybe it's no coincidence that virtually all the songs in these two volumes make great water music.
The piano-driven vibe of the second Wilco song, "Theologians," is altogether different. Yet it does drive, the rhythm and music holding together lines like "I'm an ocean, abyss in motion. Slow motion." Looking still deeper into that abyss are the old souls in "The Low Anthem," not one of whose members was older than 25 when they holed up in Block Island more than a decade ago and recorded "Oh My God, Charlie Darwin." "Set the sails and feel the winds a-stirring. Towards the bright horizon set the way." Starts out auspiciously enough. But beginning with the line, "Spooning water from the broken vessel, as far as I can see there is no land," and through the song's haunting chorus, they take it right over the edge. This is quiet music that's meant to be played loud.
For all the depth in songs like those, others tell great stories: "Boots of Spanish Leather," "Louisiana 1927," "Pancho and Lefty." Still others lyrically capture the peculiar mood of living under sail. Gordon Lightfoot's "Christian Island" tells it best: "Tall and strong, she dips and reels. I call her Silver Heels, and I like the way she feels."
4. Author's Choice
"Secret of the Sea," Wilco (Woody Guthrie)
"Christian Island," Gordon Lightfoot
"Oh My God, Charlie Darwin," The Low Anthem
"Because," The Beatles (2006 Love remix)
"Tradewinds," Mark Almond Band
"Boots of Spanish Leather," Nanci Griffith (Bob Dylan)
"Crossing the Bar," Salamander Crossing (Tennyson)
"Just the Motion," David Byrne (Richard Thompson)
"Theologians," Wilco
"To Live Is to Fly," Cowboy Junkies (Townes Van Zandt)
"Pancho and Lefty," Townes Van Zandt
"Next Best Western," Richard Shindell
"Mighty Storm," The Duhks
"Louisiana 1927," Randy Newman
"Bitter Green," Tony Rice (Gordon Lightfoot)
Barefoot Davis (artist)
Eric Stone (artist)
Eileen Quinn (artist)
Donna Lange (artist)
"Song for the North Star," Jorma Kaukonen
BONUS TRACK: "Sea Fever," Goodbye Chester
The final list concludes not with songs but with songwriters: four salty troubadours who've truly been there and done that. They each have whole discographies well worth exploring, or better yet, catching live in some seaside watering hole. So, whether you like your music recorded or live, digital or analog, introspective or loud, you'll find plenty among these playlists to rock your boat.
Ultimate Playlists
Remember mixed tapes? You know, blank audio cassettes on which you lovingly compiled your ultimate playlist of songs. Time marches on and that era has faded, but there are options for compilations with today's technology.
It's called "streaming." Pandora and Spotify pioneered the technology, but other options include Apple Music, Google Play, Deezer, and iHeart Radio. Streaming audio delivers the music you want without recording or downloading files. You can access streaming audio by downloading an app on your phone or tablet, or on your computer or Smart TV.
— Rich Armstrong