Every year, technology delivers improved capabilities and graphics to marine electronics. We previewed the latest for the season ahead.
Some of us get all charged up over hot new electronics, while others find keeping pace with the latest tech tedious, to say the least. No matter which category you fall into, one thing's for sure: As we enter a new decade, there are lots of cool new goodies for boaters. And as the marine electronics world keeps changing, we'll keep you up to date.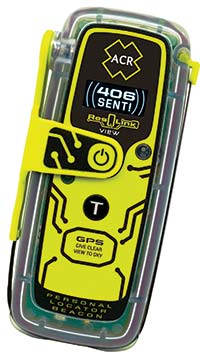 ACR Electronics has a well-earned reputation for using new tech to make boating safer, and continues to do so in 2020 with the newest version of the ResQLink View PLB. Like older models, it alerts search-and-rescue personnel to your GPS location with the press of a button. But now, thanks to a new integrated digital display, you can keep track of operational activities like GPS status and battery power. You can also access operating instructions. Plus, this version utilizes a new multiconstellation GNSS receiver, which can tap into the signals of both GPS and Galileo satellites. $350 | acrartex.com
Simrad has a new NSO, the evo3S. This latest upgrade to the glass bridge NSO line is significantly faster (page load time has been cut by half) and enjoys smoother transitions, thanks to the use of an iMX 8 six-core processor. Even multiple screen-splits — up to six are supported — won't slow down the NSO's reaction time because the CPU's performance is doubled. The new NSOs are available in 16-, 19-, and 24-inch display sizes, and systems can be fully customized by adding the evo3S MPU black box. $6,999 to $11,699 | simrad-yachting.com
SiriusXM has a new way for anglers to utilize satellite capabilities, called Fish Mapping. The service collects data on water temperature (including subsurface temps to 99 feet), plankton concentration, sea surface height variations, and even weedline locations, which are analyzed by oceanographers and reviewed to locate optimal conditions for specific species of gamefish. The resulting fishing spot recommendations can be viewed on your multifunction display (MFD), so navigating to them is fast and easy, and coverage areas are out to 150 miles from all U.S. coasts. $99.99/month | siriusxmcommunications.com
Argo is now available for socially minded mariners looking for an app that allows you to connect with other boaters, plan out your voyage, and navigate to the next destination. The app includes texting and posting abilities, real-time reports on weather and local advice, and autorouting — taking water depth and boat draft into consideration. The really unique feature, however, is the ability to tap into community reviews and gain some insight into local beaches, marinas, waterfront restaurants, and other places and ports you might visit. The best part? The price. Free | argonav.io
JL Audio rolled out their new MVi amplifiers at this year's show, and if you enjoy rocking the boat with major-league tunes, these are right up your alley. The MVi has Digital Signal Processing, can be easily configured via a free JL Audio app rather than having switches and knobs, and features six preset sound profiles. Wireless communication can be enjoyed via Bluetooth, up to six MVIs can be networked together, and a weather-tight chassis protects the hardware. $849 | jlaudio.com
Fusion has a new marine stereo hitting the water this year, the RA670. This unit is essentially a shrunk-down version of their top-of-the-line Apollo series, with similar bells and whistles like Digital Signal Processing, multi-zone control, Wi-Fi, and the ability to source your tunes via a wide range of inputs from Bluetooth to USB. Most noteworthy for people headed for Party Cove is PartyBus, which allows you to sync the music between multiple vessels. $449.99 | fusionentertainment.com
FT-TEC USA has an interesting new Wi-Fi/cellular GPS tracker/emergency beacon, which allows you to keep tabs on kids, pets, or other boaters. You can see the tracked party's location via an app on your cellphone, and we love the idea of arming the tracker with a battery that enjoys inductive charging so you don't have to worry about changing batteries on a regular basis. Along with acting as a tracker, the device has a panic button that alerts all other units within range in addition to the authorities in case of emergency. $199 | ft-tec.com
Furuno enters 2020 aiming to amp up your angling action with the Deep Impact fishfinder amplifier. The Deep Impact (designed to work specifically with NavNat TZtouch3 units) boosts the already-potent 1-kW TrueEcho CHIRP output power by up to 300% and can be matched up with the BT-5 to power 5-kW and 10-kW transducers — making it the most potent fishfinding system on the recreational market. You want to touch bottom and detect fish down to 10,000 feet? The Deep Impact is your ticket. $2,195 | furunousa.com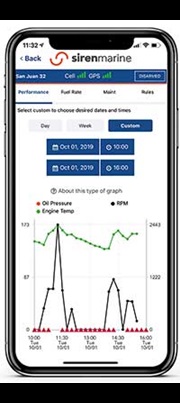 Siren Marine brings us its latest way to monitor and control your boat from afar, with the Siren 3 Pro. This updated system combines Wi-Fi, cellular, and Iridium satellite technology to enhance worldwide performance. The 3 Pro utilizes two Controller Area Network channels (one NMEA2000 and the other for multiple protocols) for wide integration capabilities, and can support up to 15 wireless sensors and 24 wired input/outputs so systems can be highly customized. $599 | sirenmarine.com
Si-Tex has gone wireless with its new radar, the MDS-12. This 4-kW, 36-nm dome utilizes Wi-Fi to communicate with Si-Tex's NavPro 900 and NavPro 1200 MFDs. Control of the radar comes via either the touchscreen display or hard keys, and the Mirror Control feature on the companion app allows mobile devices to also serve as both displays and controls. $1,599 | si-tex.com
Ever So App-Pealing
This app is our favorite: The BoatUS App with new TowBoatUS CONNECT allows you to request a tow in under a minute. Even better is that the app pulls your GPS position from your phone and sends it directly to the towboat, so they know exactly where you are. That also means BoatUS can instantly select the closest TowBoatUS boat, so you get the fastest service possible.
Using the app you'll also get texts from the tower giving you their ETA (with those texts coming in less than 2 minutes 80% of the time) as well as progress updates. Free | BoatUS.com/App