Searching for your first (or next) boat or the latest in electronics and gear? Top tips for navigating the event — and scoring great deals.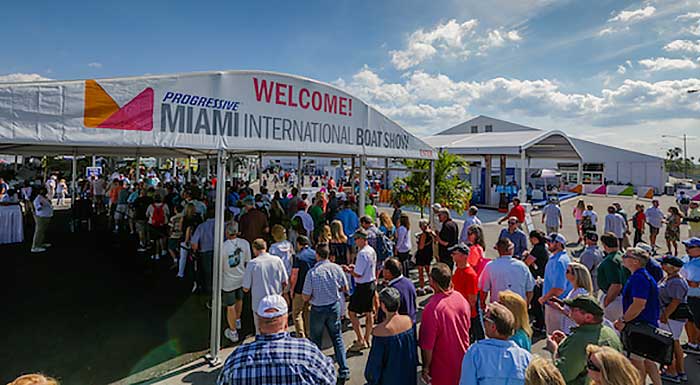 "Boat-show season," the time when most national and regional boat shows are held, generally starts in October and ends in February. Many of the smaller regional shows are held at marinas or inside convention centers and can easily fill a lazy day of browsing. By far the two largest shows in the country, the Fort Lauderdale International Boat Show in late October, and Miami International Boat Show in February, are so vast they can take several days to absorb. Here are some smart tips to make the most of your boat-show experience.
1. Dress comfortably. You'll walk miles, so comfortable slip-on shoes are best for getting on and off a lot of boats. Most dealers ask that you remove shoes before boarding. Wear loose-fitting clothes, avoid dangling jewelry, pack light, and bring your own water, hat, and sunscreen.
2. Attendance cost. Tickets typically range from $12 to $35, depending on the venue. BoatUS members get special discounts at many shows (visit BoatUS.com/Tickets). Most shows host a "VIP Day" before the show opens. These special-admission tickets are more expensive but often well worth it. Crowds are lighter, with more serious buyers. You'll get more attention from dealers on these days, and unhurried tours of the boats.
3. Security. Especially at the big Florida shows, expect a screening at the entrance. Your bags will likely be scanned and/or inspected. Lines back up during the opening rush.
4. Getting around. Most shows divide boats by category — dayboats, cruisers, fishing, sailing, sport, etc. Every show will have a brochure with detailed floor/dock-layout map. Larger shows have free-download apps for their specific show.
5. Electronics. Take cellphone pictures of your boat and nav station so the salesperson will have an idea what you're looking for, and your installation. If you plan on fitting, say, a new chartplotter into a spare spot on your dash, take a few dimensions along so you'll know if the unit you're considering will fit.
6. Homework. A productive show starts at home. Narrow the list of boats you're most interested in. All shows provide a list of exhibitors, and (often free) seminars on their websites. Before you go, dig into the manufacturer's websites to learn boat details. Think about a list of questions about the priorities on design and accessories you're most interested in, including specifics on warranties, servicing options, and any training options. Be prepared with a good sense of your financial abilities, including what it will cost to insure your new pride and joy.
7. Getting the best deal. "Special boat show price" signs are seen at every show, and the discounted price can be significant. Dealers offer that price "while the show lasts," but the reality is they want to sell boats, so they will hold that price for serious buyers ready to move. As a further show-only incentive, many dealers will include significant "packages" of products you'll need anyway, which could include gear such as electronics, docklines, life jackets, or extended warranties or service contracts.
BoatUS Members, click here to get discounted boat show tickets.