Great sailing, "sport eating," a philosopher skipper, and a reunion of old friends make new memories in Greece's Cyclades Islands.
It's always a gamble when, years later, you revisit a place once precious to you. The memories, preserved in the amber of the mind, have stayed young and idealized. It's always a risk to disturb them.
When I sailed in Greece for the first time in my early 20s, I was so sad to leave I cried as my plane took off. Looking out at the blue Aegean and islands below, I worried I'd never return. But fate — and work — did carry me back, several times over the years. Once, when my boyfriend, Douglas, and I went sailing there, on a hike through a goat pasture, he proposed. We used a Greek design on our wedding invitation, had Greek food at our reception, and later, we'd name the boat on which we'd go cruising Ithaka, after the Greek poem by Constantine Cavafy. Greece had captured our hearts.
When we toyed with the idea of returning 20 years later, Douglas and I wondered if the aspects we'd loved about the Greek Islands had changed. Fortunately, one of my childhood friends lives in Athens. Years before, while sailing in Greece, Lynda had met and later married a Greek naval architect named Kostas who was a yacht captain. They now own and operate a small chartering company.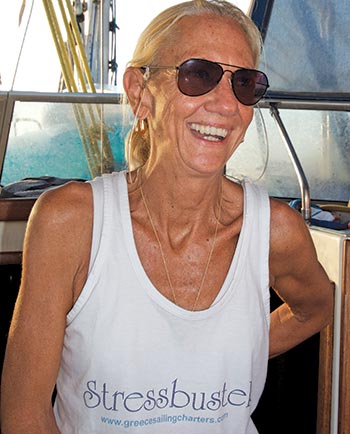 Our friend and first mate, Lynda.
"Greece has changed, but it stays the same," Lynda said when I posed the question. "Come sailing with us. See for yourselves!" So we did, aboard Stressbuster, their roomy Greek-designed Atlantic 70 cutter.
We invited two other couples to join us for a 10-day charter in September, aiming to revisit the Cyclades Islands, clustered in the middle of the Aegean, beginning about 45 miles from Athens. Lynda suggested exploring some of the lesser-known islands in the western group, called "The Little Cyclades." We had a loose itinerary based on Kostas' and Lynda's local knowledge, and they convinced us to stay flexible. In Greece, periods of high fair-weather wind, the meltemi of legend, can sometimes dictate a change to your day's — or week's — plan. The best strategy for sailing Greece is to relax and go with the flow.
Welcome Aboard!
We boarded Stressbuster to a warm welcome, and all of us, old friends and new, felt immediately at ease. With much of the decision-making left to the wind and our hosts, a calm descended, leaving us to ponder more pressing considerations, such as whether or not to take the helm, what to read, when to shift from one shady spot in the cockpit to another, and what yummy Greek delicacy we might devour next. Lynda took care of the latter by perpetually jack-in-the boxing out of the galley with extraordinary lunches and snacks — likely a defensive move on her part, as well as generous, deterring six guests from rummaging through her provisions willy-nilly.
As we sailed, we lunched like Greek gods and goddesses — yemista (baked stuffed tomatoes and peppers); roasted chicken lemonata; shrimp saganaki in tomato-feta sauce; briam, a roasted-vegetable casserole; and a mouthwatering eggplant-tomato dish called iman bayaldi. The translated name of that one, said Kostas, means "the priest fainted," presumably from the pleasure.
Every afternoon after sailing we docked Mediterranean-style at a new island harbor and were fascinated by how Kostas and Lynda sardined Stressbuster stern-first into what looked like impossibly small spaces. During this daily Med-mooring dance, Lynda would pirouette around on deck, dropping fenders and deploying massive stern lines to the quay, while Kostas, planted at the helm like an orchestra conductor, gesticulated and emanated orders: "Leeenda, take slack! Leeenda, cleat it! Leeeendaaa!" We helped, but too many performers in this amusing pas de deux does not a pretty ballet make.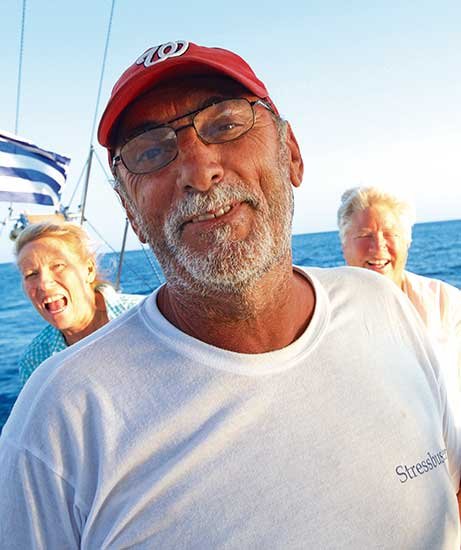 Experienced skipper Kostas.
Once we were perfectly knitted into place, and our passerelle lowered, we headed out on foot to explore each island's sights, sounds, and personality. Evenings, after a cocktail aboard, we meandered to island tavernas, where tables groaned with inexpensive, mouth-watering local fare: red snapper and calamari fresh from the sea, meat casseroles, grilled lamb, Greek salads, and mezes (small plates). One evening as we dug in, our friend Peter said, "We've now devolved into sport eating." Deliciously, embarrassingly, it was true.
Slowly, new memories of Greece were forming; we were seeing the islands through the lens of Kostas and Lynda, for whom these islands are home. Lynda offered constant and funny insights about the Greek people and culture from the viewpoint of an American expat. Kostas was a character straight out of central casting, lounging during cocktail hour sipping his tsipouro, that Greekest of Greek throat-burning distilled spirits none of the rest of us would try twice, while perusing the works of Aristotle and other Greek philosophers. Fluent in English, he loved reading in ancient Greek, playing with language, and translating words with Greek roots.
"Do you have a word for 'bittersweet' in Greek," our friend Molly asked one day, "when something makes you feel happy and sad at the same time?"
"No," Kostas replied with typical Greek-skipper certitude. "Greeks have no such ambivalence." He was a walking Greek-history book. On the island of Kea, for instance, one of the cradles of Greek civilization, he mentioned that the Keans had a custom in ancient times that when its citizens reached 70 — then the retirement age — they could attend a farewell feast, opt to down a cup of hemlock, and set out to sea in a small boat. "For eternity," Kostas added.
"Wow," said Douglas, who was planning on retiring the following year. I don't know if Kostas' tales were embroidered or not, but the man provided never-ending amusement.
'Always Go To The Chora'
Following Lynda's advice, we always walked or taxied along cobbled streets and paths, or up winding roads past ancient terraced fields and olive groves, to the village at the top of each island, called the chora. There we rediscovered the Greece of our memories: small shops and bakeries, blue-domed churches, whitewashed homes, and window boxes bursting with bougainvillea. Greek men and their laden donkeys passed old widows called yia yias dressed head-to-toe in black. At small outdoor cafes we'd order strong coffee and drink in the view. The choras were the gemstones of every island, free of the throbbing music and café bars that seemed to be taking over some of the waterfront towns. Here is was what Lynda meant when she'd said Greece has changed but stays the same.
Indeed, near the chora in Kea, we found what our hosts both said was a "must-see" — the island's famous lion, a gigantic stone sculpture the size of a double-decker bus, carved by an itinerant artist around 600 B.C.
In Kythnos, Lynda led us to a freshwater hot spring funneling down the mountain through an aqueduct that spills it into the sea. In a natural pool at the spring's end, we relaxed in the warm water and whiled away the late afternoon in our "spa," catching up with our lives.
We worked our way south to Serifos, with its spectacular chora providing astounding views of surrounding sea and islands amid windmills frozen in time. Then we tore away, sailing to the stunning island of Sifnos. High in the fortified ancient village of Kastro — which means "castle" — were yet more sweeping views to the sea from a town lost in time. Ancient sarcophagi and urns carved with Roman scenes, once the resting places of fleeting conquerors, were now just used decoratively outside modest houses.
At the Archaeological Museum, we learned that after the Greeks had won back their islands, they'd dumped the Roman ashes from these urns and used them for water collection. Locals had also salvaged Doric columns and used them for entryways and balcony supports in their modest homes. Everywhere, the ancient was married to the new.
On our sail to Milos, we anchored at the stunning rock pinnacles rising up along its southern coast, called Kleftikos, which Kostas said means "thieves" — named for the pirates who used to find shelter in its hidden coves. Milos is the original — "and legitimate!" said he — home of the Venus de Milo, the famous ancient-Greek sculpture created in about 130 B.C. that now resides in the Louvre museum in Paris. "Its real name was Aphrodite of Milos," he said, and it was yet another sore spot for Greeks, who've tired of having their antiquities "relocated" to other countries over time immemorial. We snorkeled through the turquoise pools beneath these natural wonders.
The wind had begun to build over the past few days, and as our voyage neared an end, we had to think about getting closer to Stressbuster's Athens base. A meltemi was brewing. We sailed to the uninhabited islet of San Giorgio, where we could take refuge from the intensifying wind by dropping anchor behind the mountains. Next we'd sail west to the Saronic Gulf to avoid pounding upwind; but that night we'd have a quiet place for dinner aboard and our last night in the Cyclades.
A gentle swell rocked Stressbuster on her anchor while Lynda whipped up a farewell feast for eight. As the sun set, and with San Giorgio to ourselves, the aroma of roasting garlic emanated from below. But then, a plaintive crying could be heard from ashore, like a child wailing in distress. Douglas and I scanned the shoreline with binoculars, then scanned up the rugged cliffs.
Finally ... there! It was a baby goat, stranded high on the side of a breathtakingly vertical cliff. Kostas reassured us that the kid was just calling for its mother and would be fine, that goats are amazing cliff climbers. Finally, around midnight, mercifully, the crying stopped. The next morning, as we set sail, all was quiet.
I've wondered since: Did the mother goat rescue her baby? I'm sure it did. Greeks, even Greek goats, are resilient, able to figure things out and adapt. The cry of the kid was bittersweet, though — to use that perfect word — a reminder that there's a sadness in saying goodbye to a place you treasure, but it's sadness laced with hope, for return and reunion.
Douglas and I had come back to islands we'd loved, and — despite the flow of time — had found their austere beauty as memorable as when we'd last left.
Chartering Information
Visit greecesailingcharters.com for details on chartering Stressbuster in the Greek Isles.
The Moorings in Greece offers both bareboat and crewed sail and poweryacht charters. They are a BoatUS partner that offers exclusive member discounts.
View all available discounts at BoatUS.com/Savings