These valves are essential components that keep water on the outside of your boat. Ignore them and you could be sunk — literally.
Next time you're hauled or on your trailer, count the holes in your hull and make notes as to their location and function. Now see if you can find each one and its seacock. If you can't, do some exploring. It's better to explore now than when the sea is flooding in. Unless it's far above the waterline, every thru-hull should have a seacock, which should be readily accessible and obvious or well labeled.
Seacocks 101
Most seacocks today are of the ball-valve type. From fully open to fully closed is one-quarter turn. The handle opens the valve when it's in alignment with the direction of the flow and closes the valve if it's positioned across the flow.
TIP: If applying lubrication to your seacocks during servicing, avoid using any grease containing graphite. Graphite is at the top end of the galvanic scale and will lead to swift galvanic corrosion of bronze and stainless parts.
Quality seacocks have bronze bodies with a stainless or chromed ball inside. Some have nonmetallic composite bodies, such as Forespar's Marelon valves.
Seacocks should be specifically manufactured for the purpose. Don't try to save money on cheap ones; they can fail when you need them most. Gate valves shouldn't be used for seacocks. These usually have a wheel to turn and a gate that opens and closes inside, and unlike a proper seacock, there is no visual indication when it is either open or closed. Gate valves are prone to blockage and corrosion.
While most seacocks can be disassembled for inspection and repair, this often involves removing them from the hull and requires steps unique to the particular valve, which is beyond the scope of this article. But there are some important things you can do to help ensure that your seacocks let water in when it's needed and keep it out when it's not.
Seacock Husbandry
Each seacock on your boat needs regular inspection. Check for signs of galvanic corrosion on the valve. Bronze seacocks may have a very thin greenish coating, which in small amounts isn't unusual, but larger crumbly amounts likely means it's weakened. If you winterize, seacocks normally should be included in the process because water can freeze inside and crack the fitting. Some seacocks have drain plugs to help with winterizing.
Check to see that the body isn't loose on the hull. It should be snugged firm to the hull, and normally there is a backing plate between it and the hull. Some surveyors recommend standing on the seacock assembly to test its strength. The idea is that when you're working down in your boat at sea you may actually do this accidentally, or you may inadvertently apply other strong pressure causing the valve to break off with resultant rapid flooding. Obviously standing on a valve should only be done judiciously, preferably with the boat out of the water.
Each metal seacock should have a green ground wire connected to some part of its body, usually at the base. Loosen the nut securing the wire terminal connection, check to see if the connection is clean, and spray on a little anticorrosive oil. Also check the wire that runs from that terminal. If the strand is green inside the insulation, has lumps under the insulation, or shows other signs of corrosion, it probably isn't doing its job well and you should replace its terminal and the wire with another tinned marine-grade wire of appropriate thickness. On most boats, metal seacocks that aren't grounded/bonded can suffer from galvanic corrosion.
Open and close all your seacocks regularly. If you feel them tightening up or becoming excessively loose, have them checked. It may just be debris in the hole or a nut backing off, or there may be an internal issue with the seacock. Try to wiggle the handle. It shouldn't wiggle much, if at all. If it does, the shaft that attaches it to the inner valve may be corroded or otherwise compromised. You may need a new valve. It's a good idea to close all the seacocks when you leave the boat so that even if a hose were to pop off, the boat would not flood and sink.
Industry Standards
The American Boat & Yacht Council has important standards regarding seacocks. If you go to the website and click on the membership menu at the top of the page, you can get a five-day trial. See, for example, Standard H-27. Standards include that the seacock assembly should be able to withstand static downward pressure of 500 pounds for 30 seconds. The standards also address the height above the waterline of holes that should have seacocks. Different circumstances, such as aluminum and steel hulls, may involve different issues, and a full reading of the standards is important.
Each seacock normally has a hose leading somewhere in the boat. Check for two hose clamps (some fittings only have room for one) and ensure they're not corroded. Even some so-called stainless clamps may have nonstainless barrels and/or low grade stainless that can corrode. Often the hose will be severely crimped at the point at or near where it leaves the valve's nipple. Frequently this is because people have stood on the hose or stored heavy items against the hull and on the hose. Sharp hose bends will not only impede the water flow, which could damage a component within the boat, but they can also severely weaken the hose. If the hose has wire inserts within its wall, the wire may become rusty and breach the hose. Old or compromised hoses should be replaced.
Exercise Your Seacocks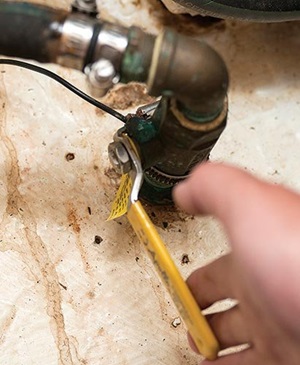 To keep seacocks functioning reliably, they must be exercised regularly and lubricated at least once a year. Cone- and plug-type seacocks need to be disassembled to be properly serviced, but ball-valve seacocks are easily maintained by spreading a dollop of manufacturer-approved waterproof lubricant on both sides of the closed ball.
Outside the boat, the ball is usually within reach, but lubricating the interior side of the ball requires removing the hose attached to the valve. Operate the seacock handle a couple of times to spread the lubricant onto the seat, and make a habit of exercising it every couple of months.
Don Casey