Unlimited Towing Packages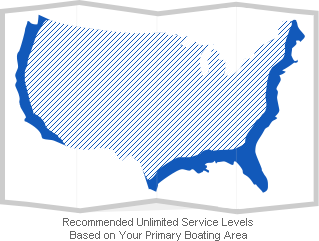 BoatUS Unlimited Towing Levels are the BEST VALUE & LOWEST PRICES inland and coastal.
Unlimited Saltwater
Towing Membership
Get Unlimited Towing
Member
An Unlimited Service Area is up to a minimum of 25 miles from the responding TowBoatUS or VESSEL ASSIST Port. Many TowBoatUS and VESSEL ASSIST Companies offer larger Unlimited Service Areas to meet the need of their boating community.

See your local towing companies Unlimited Service Area.

For Soft Ungroundings within an Unlimited Service Area the Unlimited Service Level pays the cost of the per foot fee billed by towing company.
VS
Non-Member
The average daytime hourly rate for a commercial towing company is $250 from the time they leave their dock until they return. That amount goes up for service provided at night or in bad weather. The BoatUS Unlimited Service Level would provide for these expenses.

Towing Companies charge an additional per foot fee to unground your boat in addition to their hourly rate. The BoatUS Unlimited Service Level would provide for this expense.
Make It Gold

For those who want 100% of their towing bill paid for, no matter if the tow starts from drifting offshore, a soft ungrounding, from restricted use docks OR from your homedock to a repair facility, Unlimited Gold is the level to go with.

Example:

Bob goes out to his boat at the marina and the engine won't start! He doesn't have a repair facility at his marina, so he will need to be towed a few miles down the shore to get repairs. With Unlimited Gold Towing, BoatUS would pay 100% of his bill for that on-water transport from his non-restricted dock to his repair facility. (Unlimited towing would provide for 50% of the tow bill.)

Get Unlimited Gold Towing