New App!
BoatUS — We're With You On The Water
The New BoatUS app is all of BoatUS right at your fingertips. Still the fastest way to get a tow on the water, our new app combines the features you love to take with you on the water like tides and marine forecasts, plus convenient access to your BoatUS Membership or insurance policy.
The BoatUS mobile app now offers hurricane alerts that are refreshed with every NOAA update to the forecast. Download the app now or update to the current version (V 4.2.0) and opt-in to push notifications to take advantage of this new feature. BoatUS policyholders can also use the app to file a claim, including hurricane haul-out claims, right through their phone.
Not a BoatUS Member? You can still download the free app to call for assistance on the water and take advantage of the convenient tide and weather forecasting features.
Download now or text the app to your smartphone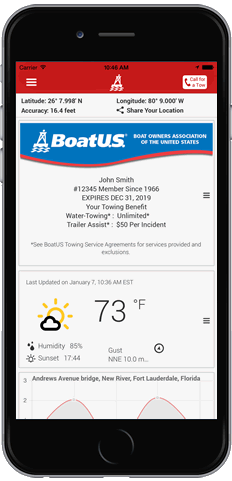 Features Include
Get Towing Assistance Fast
Just tap "Call For A Tow" to connect to our dispatch center 24/7. TowBoatUS is the nation's largest network of on-water towers with more than 300 ports nationwide. When you use the app to call for a tow on the water or road, we'll know your location — thanks to your phone's GPS — and dispatch assistance to you quickly.
Weather and Tides
Check the current tides, weather and marine conditions on your local waterways or the forecasts for your favorite destinations for up to 5 days ahead of your trip. Automatically be notified with detailed storm information each time NOAA begins tracking a hurricane headed your way.
Our Local Discount Finder
Find local marinas, tackle shops, and boatyards that offer you savings and discounts for being a BoatUS Member. Save on dockage, fuel, repairs, and more. And when you arrive, use the app to display your Membership card to receive your discount. You can also locate TowBoatUS ports and life jacket loaner sites. Use the filters to adjust exactly what types of services you want to see.
Manage Your Membership
Join, upgrade, or renew your Membership right through the app.
Manage Your Insurance Policy
As a BoatUS or GEICO boat policy holder you can access your insurance card and policy details, see upcoming invoices, make payments, and even file a claim.
Not insured with BoatUS? Use the BoatUS app to get a quote on insurance offered by the boating experts.
Additional features will be added in the coming months!
Update Your App
Have a previous version of the BoatUS App? Visit the App Store or Google Play to download and set up your new BoatUS App, then you can delete the old version off of your phone. We're working on improvements and new features daily.

*We suggest you do not delete your old BoatUS app until you get the new version successfully loaded onto your phone.
Frequently Asked Questions
In most cases, you may connect your Membership number 24 hours after joining.
You may connect your Policy information 24 hours after binding is complete.
Yes. This information is necessary in order to dispatch towing assistance. If you don't want to provide certain pieces of information, use a generic value that is in the right format (Ex. a@a.com for email or 000-000-000 for phone number.) Emergency contacts will never be solicited and only contacted in an emergency situation.
Policy numbers must be formatted exactly as they appear on your documentation documents (with a lead BUS or all numbers with a dash): BUS0000000 or 0000000-00 (Ex: BUS1234567 or 1234567-90)
You'll want to set up an app account so you can save weather and marine condition favorites and store information about your boat and Membership that will be used if you ever need towing assistance. Tap the "Set Up App Account" button on the opening screen to set up your account on your phone. During this process, BoatUS collects the information we need to insure a speedy and accurate dispatch in case you ever need a tow.
Yes! Just visit the Membership tab and tap the "Become A Member" button.
If you are already a Member, you can upgrade your on water or trailer towing service by tapping the "Upgrade" button at the bottom of the Membership tab after your Membership card is populated.
By default, the weather and marine conditions on the home tab will show your current location, provided you have enabled location services on your phone. You can populate your favorites when you are logged into your app.
You can add additional locations and save them to your profile as long as you've created an app account and are logged in. To add a new location, go to the search bar at the top of the weather or marine forecasts screen and start typing the name of the city you wish to add. Select it from the drop down if it pops up, or tap the magnifying glass search icon. When the location forecast appears, tap the star icon in the upper right. It should change colors. That indicates it's been added to your favorites. To see the forecast for the next four days, tap the "See Forecast" button.
Sorry, at this time the BoatUS App is only available in the US App Store and Google Play Stores.