Free BoatUS App
One push of a button connects you to the nation's largest network of on-water towers!
Download now or text the app to your cell phone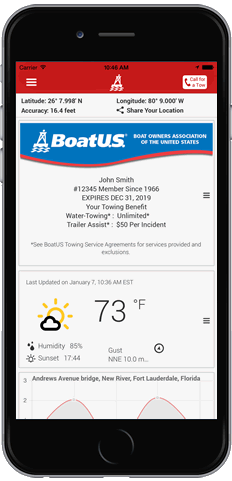 Weather & Tides
View conditions for current & saved locations

Service Locator
Search local services & Member discounts.

Data Card
Proof of Membership
at your finger tips
Testimonial
I used [the app] in May when I had engine failure. I was very glad I had it. The dispatch center patched me to the local tower very quickly. If you boat, you need this app.
- Robert S.
Additional App Features
Pushing "Call for a Tow" connects you to BoatUS 24/7 Dispatch
BoatUS dispatch will know where you are based on your phone's GPS locator. Because your profile is stored in the app, our dispatch will also know who you are, what boat you're most likely on, and whether you have a BoatUS Towing Membership. For Members who choose to buy Unlimited or Unlimited Gold Towing, BoatUS will pay the bill so you don't have to!
Display Your BoatUS Member Card
BoatUS Members show your digital Member card for discounts at over 1,000 participating marinas and boating businesses nationwide!
Easily relay your location via phone or VHF radio!
View latitude and longitude even when out of cell phone range. (When in cell phone range, you can view your location on Google Maps.)
Share your location with friends and family!
Being able to sending your GPS coordinates is helpful when trying to meet up with friends, share a good fishing spot, or advise family of potential navigational hazards
No, the BoatUS Towing App is available to anybody! If you are not a Member, please "turn off" the switch asking if you are a BoatUS Member, enter your name where it says "Member Name" and fill out the rest of the information on the form. This information will help us and the local tower provide towing assistance to you. It will not be used for any other purpose. Consider joining BoatUS with our Unlimited on-water towing service and let BoatUS pay your entire on-water towing bill on the spot!

If your phone is displaying an error message about GPS being disabled or the location readout displays 'Not Available', GPS services are not available on your device, or are disabled. In order for the phone to acquire a GPS location, certain settings must be enabled on the phone. Most phones only need the 'Standalone GPS services' service enabled, however others need the 'Google location services' enabled as well.

To open the location settings screen on your phone, go to the home screen, open your app drawer, and then select Settings. Tap the option called 'Location & security' or 'Location Access' (or similar). Click on this item to open the location menu, and ensure that the appropriate services are enabled.

If you have a security app installed and running, make sure location access is granted for the BoatUS app.

There are two main reasons why your location may show up incorrectly on the map:

1. Cached location: In order to conserve battery life, Android phones will occasionally save their current location to avoid having to use the GPS receiver. Depending on when the phone last updated it's position, it may report an incorrect location. This can be especially true if you have just turned the phone on, or recently switched in or out of 'Airplane Mode'. Every time it starts, the app requests an updated location from the phone, however different phones may take longer to respond with an updated location than others.

2. Waiting for GPS: In order to determine it's location, a cell phone may use cell tower triangulation, Wi-Fi triangulation, or GPS. These offer varying degrees of accuracy, with GPS being the most accurate. When it is trying to find it's location, the phone will work progressively through each of these methods, you you may notice that your coordinate readout may seem to change even if you are standing still. Even if the phone has already has a GPS fix, that location may continue to get more accurate as the phone gets better signals from the satellites.

In either of these situations, the best solution is to wait for the more accurate location provider (i.e. GPS) to become available. The map display and the coordinate readout will automatically update as the location becomes more and more accurate. If you use any of the location-based services (e.g. sharing your location or calling for a tow), only the current coordinates will be transmitted.

Please fill out the Member Card Settings by swiping from the left (left slide-out nav) and select Settings then select Member Card Settings. Filling out the page in its entirety is required to use the features of the app. If it does not update your BoatUS Member Card, please ensure your Member Number, Last Name and ZIP code match what we have on file for you.

Please ensure your Member Card settings are correct. If you have recently joined BoatUS or upgraded your Towing package, it can take up to 24 hours for those updates to be reflected in the app.

This means your device is not capable of making a phone call or you are out of range of your cellular network; this happens when you are out of cellular range, are in Airplane mode or do not have the capabilities to make a phone call (tablets). Calling for a tow will not be possible, please use your VHF radio to hail the Coast Guard on Channel 16.