New App!
BoatUS — We're With You On The Water
The New BoatUS app is all of BoatUS right at your fingertips. Still the fastest way to get a tow on the water, our new app combines the features you love to take with you on the water like tides and marine forecasts, plus convenient access to your BoatUS Membership or insurance policy.
Not a BoatUS Member? You can still download the free app to call for assistance on the water and take advantage of the convenient tide and weather forecasting features.
Download now or text the app to your smartphone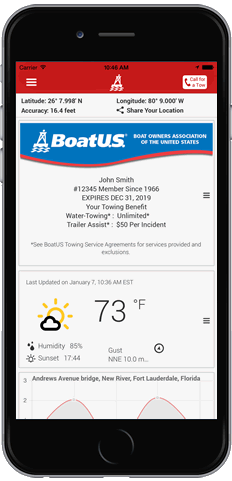 Features Include
Get Towing Assistance Fast
Just tap "Call For A Tow" to connect to our dispatch center 24/7. TowBoatUS is the nation's largest network of on-water towers with more than 300 ports nationwide. When you use the app to call for a tow on the water or road, we'll know your location — thanks to your phone's GPS — and dispatch assistance to you quickly.
Weather and Tides
Check the current tides, weather and marine conditions on your local waterways or the forecasts for your favorite destinations for up to 5 days ahead of your trip.
Our Local Discount Finder
Find local marinas, tackle shops, and boatyards that offer you savings and discounts for being a BoatUS Member. Save on dockage, fuel, repairs, and more. And when you arrive, use the app to display your Membership card to receive your discount. You can also locate TowBoatUS ports and life jacket loaner sites. Use the filters to adjust exactly what types of services you want to see.
Manage Your Membership
Join, upgrade, or renew your Membership right through the app.
Manage Your Insurance Policy
As a BoatUS or GEICO boat policy holder you can access your insurance card and policy details, see upcoming invoices, make payments, and even file a claim.
Not insured with BoatUS? Use the BoatUS app to get a quote on insurance offered by the boating experts.
Additional features will be added in the coming months!