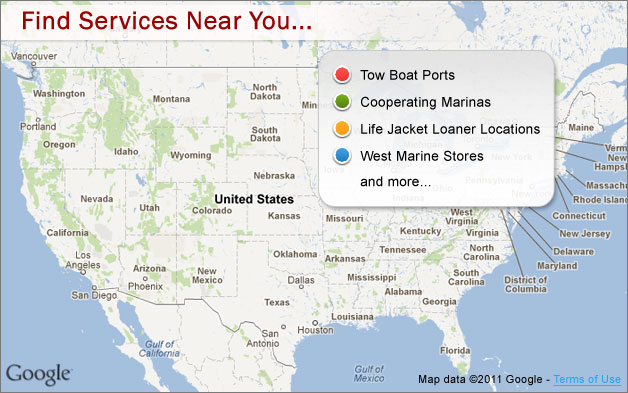 Welcome
to the BoatUS Member Services Locator.
The Member Services Locator is designed to help BoatUS Members locate services and discounts in your boating area. Select how you want to view the results, either on an interactive map or in an alphabetical list by state, then check the box next to the service(s) you want to search for then enter in a city, state or zip code and click "Search."
BoatUS Members have access to over 300 Tow Boat Ports and 24/7 dispatching in case the unexpected happens on-the-water. At your local West Marine store, earn a $10 reward certificate for every $250 spent. Just by showing your Membership card, you save at over 1,000 Marinas, Marine Service facilities (repair shops, storage facilities, etc.), Bait Shops and Guide & Charter operators. Need to borrow a child's life jacket? Search for Life Jacket Loaner locations that will temporarily lend an extra kid's life jacket.
Looking for a boat ramp? Click here to visit the BoatUS Boat Ramp Locator