Ready For An App At The Helm?
By Lenny Rudow
A year ago, we told you how apps and your smartphone could revolutionize life onboard a boat, but things have changed so much since then that it's already time for an update. Or maybe we should call it a redo, because in this short time frame, at least five apps have evolved from assisting you when you operate your boat to actually operating parts of it firsthand.
Before we start examining these adventurous apps, let's get the standard-issue warning out of the way: We don't think you or anyone else should ever rely solely on your cellphone for operating, navigating, or otherwise interfacing with your boat. While cellphones will prove incredibly helpful, they're prone to failure especially in a saltwater environment and they're no substitute for good old-fashioned navigational tools and nautical know-how. Never completely depend on your cellphone for anything beyond creating an embarrassing distraction during your kid's music recital. 'Nuff said, now for the cool stuff…
Furuno TZtouch Remote App
Furuno was the first company to offer complete integration between your main navigational suite and your cellphone or iPad. Their NavNet TZtouch system, introduced this past spring, can be driven via the TZtouch Remote app. You'll need to tap into the network with a wireless LAN and then you can bring up any item on the helm display, from radar to chartplotter to fishfinder, and tap on the screen of your phone or iPad to take complete control. The TZtouch can be networked in with your autopilot, so this means you could actually kick back in your seat or in the cockpit, or in the flybridge Jacuzzi, or wherever you like and literally "drive" via your iPhone operating system (iOS). According to Furuno's Advertising and Communications Manager Jeff Kauzlaric, they completely reengineered their software for TZtouch (using a multi-touch interface similar to the one on tablets and smartphones), which made for a complete integration between the Nav suite and the app.
The app doesn't cost extra (nor does Furuno's Viewer app, which allows you simply to view your electronics on the phone or pad's screen). As an added bonus, you can view screens that aren't currently displayed on the multifunction display (MFD), so you could, for example, take a peek at the fishfinder via your iPhone even when the chartplotter is on the screen at the helm. For now, only iUsers can take advantage of the TZtouch Remote app. Furuno says versions for other platforms (read: Android) will be coming in the future. Free | www.navnet.com
BoatWarden
This is an app that goes along with BoatWarden security sensors, which can be installed to monitor everything from bilge alarms to security perimeters. Instead of logging onto a website to monitor your boat, as you would with outdated remote security systems, use the BoatWarden app to check out your boat from afar, anywhere, anytime, as long as you have your iPhone or Android handy.
Remote monitoring is cool, but remote control is a lot more interesting. And this is where the latest version of the BoatWarden app (V2.1) distinguishes itself from other, older apps: You can also use it to tell your boat what to do. Pre-programmed commands for simple operations, such as turning pumps on and off, activating the climatecontrol system, or turning off the lights you forgot about, can all be done from the phone. Best of all, the alarm system can tell you if your boat's moving when it shouldn't be, and instead of just calling the cops, you can shut down the engines with the swipe of your finger. Exactly what you have control over depends to some degree on how many accessory monitors you add, which can get expensive as the base system starts at around $750; you can add monitoring from six different categories, and most additional items are more than $100. The system is made in Ireland, so you'll also need to purchase a local SIM card. Free | www.boatwarden.com
RayRemote and RayControl
Raymarine was an early app adopter, providing one of the first remote-viewing apps for marine electronics, the RayViewer (free), upon the introduction of the first unit in their e-series, the e7. But this was just a simple viewer, which essentially turned your phone or pad into another screen for your chartplotter display. Not so with their new RayRemote and RayControl apps.
These new versions offer a more complete electronic interface, by turning your phone or pad (both iOS and Android) into a full-blown remote control for your e-series or c-series display (which may require a software upgrade to V3.15, available free at www.raymarine.com). In RayRemote, you can switch between a full-screen repeater display and a full-screen virtual keypad with the MFD controls, including cursor and rotary controls, allowing you to navigate features and rotate through menus as though you were right at the helm. In RayControl, the MFD's screen and controls appear along with a virtual keypad mirroring that of the unit. So, why have two different apps that do essentially the same thing? Once again Raymarine is a step ahead of the app curve, because the RayRemote app is optimized for cellphone screens, while the RayControl app is optimized for larger tablet screens. $29.99 (RayRemote) and $49.99 (RayControl) | www.raymarine.com
FusionLink App
Fusion also lets you take control with their FusionLink system and app, although what you get to operate is limited to the boat's stereo and entertainment systems. FusionLink essentially turns your i-thing into a wireless remote for a Fusion 700-series system, once it's armed with a wireless router. The level of control is nearly complete, with the ability to tap into and adjust zones, audio tone, music libraries, and more. Plus, as you'd expect from yesteryear's generation of apps, the FusionLink app can also be used to turn your phone or iPad into a system viewer. An Android version is expected any day now. $29.95 | www.fusionelectronics.com
Siren Marine Pocket Boat Tracker Controller
This app (when teamed with a Siren monitoring system) gives you abilities very similar to those of the BoatWarden, though the Siren system doesn't offer as many different add-on monitors. It's also significantly less expensive, with a base system starting at $499. Alerts come via text; you can use the app to turn on and off appliances or gadgets; and most importantly, when the Siren goes off due to theft, you have the power to shut down those power plants from afar. Free | sirenmarine.com
So, there you have it five apps that not only interact with your boat, but let you take more control over it. You can bet that as the app revolution continues, we'll see more and more of these hands on apps that deliver physical abilities as well as virtual ones. 
Award-winning writer Lenny Rudow is BoatUS Magazine's electronics editor, senior editor for www.Boats.com, and the author of several popular books on fishing.
— Published: October/November 2012
Recommended Articles
Cell phone and tablet apps for weather prediction, navigation, and maintenance are making boating safer

New applications are being developed that can help you run your boat more efficiently and effectively

Thanks to smartphones, all it takes is a good weather app to become an accurate on-the-spot forecaster
Phone Protection
Worried about taking that iPhone on the boat? Then you need a tip-top protective case, like the LifeProof. This handy cell-saver is waterproof, dirt proof, and shockproof. It seals your phone in a polycarbonate frame, with a screen that leaves the phone's screen fully touchable. It can be safely submerged down to 6.6 feet, thanks to acoustic vents at the microphone and speakers, though it may take some adjusting to get them positioned and pressurized properly (or you'll hear an echo on the phone). $79 | www.lifeproof.com
4 Of The Best Apps To Keep You Safe On The Water
Let's look at a few other new nautical cell choices you're sure to find appealing. While they may not have an element of physical control, all are going to be meaningful to boaters.
Boat Beacon
Here's an app that allows you to access Automatic Identification System (AIS) info, right on your phone. A complete AIS system may be overkill for some boaters, but armed with Boat Beacon, you can still take advantage of the system whenever you have cell service. It provides collision detection out to 60 miles, Closest Point of Approach (CPA ) calculations, basic GPS data, and MMSI numbers so you can hail nearby vessels directly. Available for iPhones and Droid. $9.99 | pocketmariner.com/mobile-apps/boatbeacon/
Towing Capacities App
Here's a good one for trailer boaters who switch vehicles often. The Towing Capacities App (for Androids only) knows the towing capacity for every domestic and imported pickup and SUV sold in the U.S. from 2005 through 2012. Plug in the make, model, and year of your vehicle, press "go," and it'll tell you how much you can tow. $1.99 | www.onlinetowingguide.com
Whale Tracker
This app lets you keep tabs on whales, by overlaying their position on a NOAA chart. The idea is to prevent collisions with the whales — obviously a laudable goal — and is the result of collaboration between a number of government agencies. You'll find it in the iTunes store for free, but there's no Whale Tracker website.
BoatUS Towing App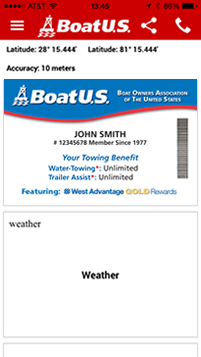 Naturally, this one remains our favorite. We've told you about it before, so here's a basic recap: Using iPhones and Androids within cell/data range, the Towing App automatically transmits your breakdown location, boat type, size, and Member info to a BoatUS 24hr Dispatcher, before you hear their voice (similar to OnStar)! It also has an electronic "membership card," a "Share Location" feature that sends your latitude and longitude to a friend's phone, and a BoatUS directory. Free | www.BoatUS.com/app
BoatUS Magazine Is A Benefit Of BoatUS Membership
Membership Also Provides:
Subscription to the print version of BoatUS Magazine
4% back on purchases from West Marine stores or online at WestMarine.com
Discounts on fuel, transient slips, repairs and more at over 1,000 businesses
Deals on cruises, charters, car rentals, hotel stays and more ...
All For Only $24 A Year!