Posted: August 22 2006 at 13:47 | IP Logged

---
In 1964 Chris Craft had an ace up their sleeve, and they kept it secret. It was the new (fiberglass) 38' Chris Craft Commander, built in secrecy and shipped under wraps to the 1964 New York Boat Show where it was a sensation the minute it was unveiled.
The new boat utilized the new fiberglass medium to full extent, using an expensive and over-engineered three piece hull design. The design used forms that couldn't be achieved by pulling a single piece hull out of a mold. The entire floating bottom of the hull was constructed of heavy fiberglass roving and polyester, using transverse and longitudinal hollow box beams for rigidity. The port and starboard hull sides were then bonded to the bottom and joined at the centerline of the bow and transom. The boat was engineered to withstand 3X the stress of running full speed in a 6-foot sea, and this is one reason so many Commanders of this era are still in such good shape.
Power was originally provided by a pair of the 210-hp small block Chevrolets or a pair of the 275-hp big block Lincolns. Top speeds were in the 32-MPH category, depending upon model, equipment and weight. Weights varied between 17,000 and 24,000 pounds, depending on model, flybridge, etc.
Here is a look at the 1964 vintage 38 Commander hull, this one happens to be my 1966 Express, TRADITION, getting new bottom paint and props this summer! Yes, the work was done in the heat of June, in Tennessee!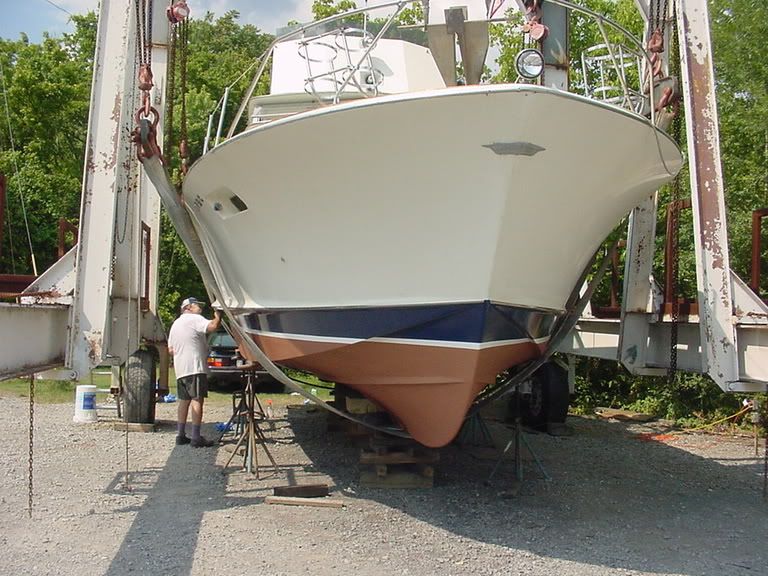 This boat was also featured in the June 2006 edition of Motor Boating Magazine
http://www.network54.com/Forum/424840/message/1147979180/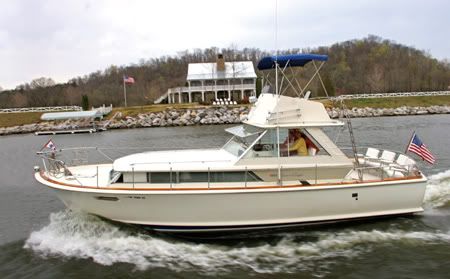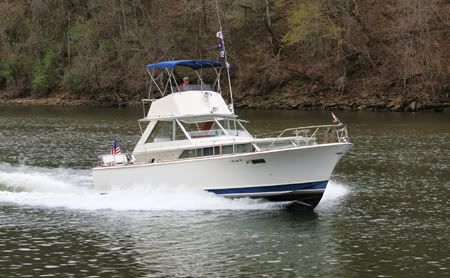 The 38 is only one of many Commander models. When the introduction of this model proved to be so successful, Chris Craft then offered many more Commander models from 19 to 58 feet in length. They all shared the same general nautical philosophy and family resemblance in some way, back to the original 38 of 1964.
The older Commander models of the series were fitted with lots of wood inside and at the helm station too. Here is an example of what a 38 Express looks like, note the 12' x 15' open deck at the aft section of the boat, perfect for deck chairs and open weather cruising!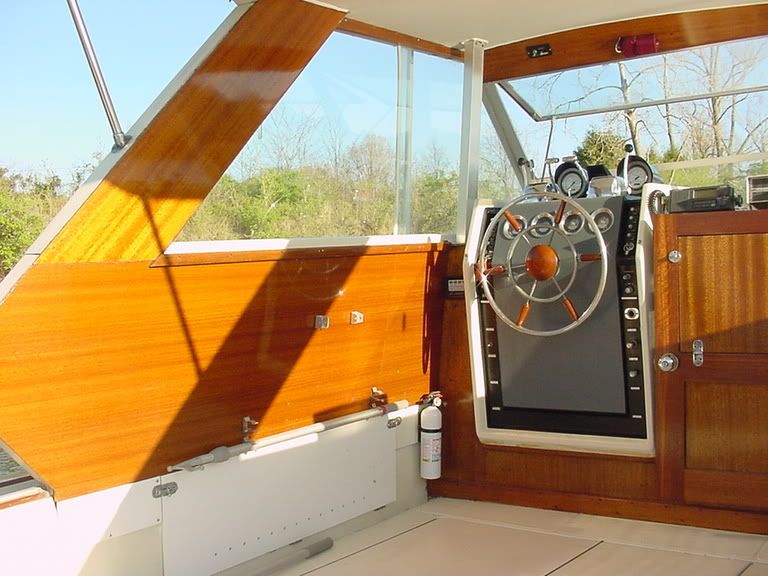 Anyone seeking detail information about hull construction, pump impellers, valve adjustment, models, etc., can obtain much of it at my personal web site at http://www.chriscraftcommander.com In the event you are researching a possible acquisition or trade, this would be a great place to do your homework. I also want to promote an ongoing discussion here on the Boat US forum page (Boat Groups) about the Commander series, where I have learned so much in the past and continue to do so!

Regards to all,

Paul



Edited by Sonja Lowe on September 25 2013 at 18:46

__________________
1966 38-foot Chris Craft Commander, Ford 427s; 1956 17-foot Chris Craft Sportsman, Chevy 327

See my Chris Craft Commander web site

http://www.chriscraftcommander.com