Posted: September 29 2011 at 15:40 | IP Logged

---
Hi guys,

I've received a few emails on this one, so I thought I'd post some diagrams "for the record", since I know lots of others are reading this thread too.

These images should be self explanatory. Since I know the exact pipe type and size, I'm going to order brass fittings, but I'm installing the system this season as shown, in case anyone is interested!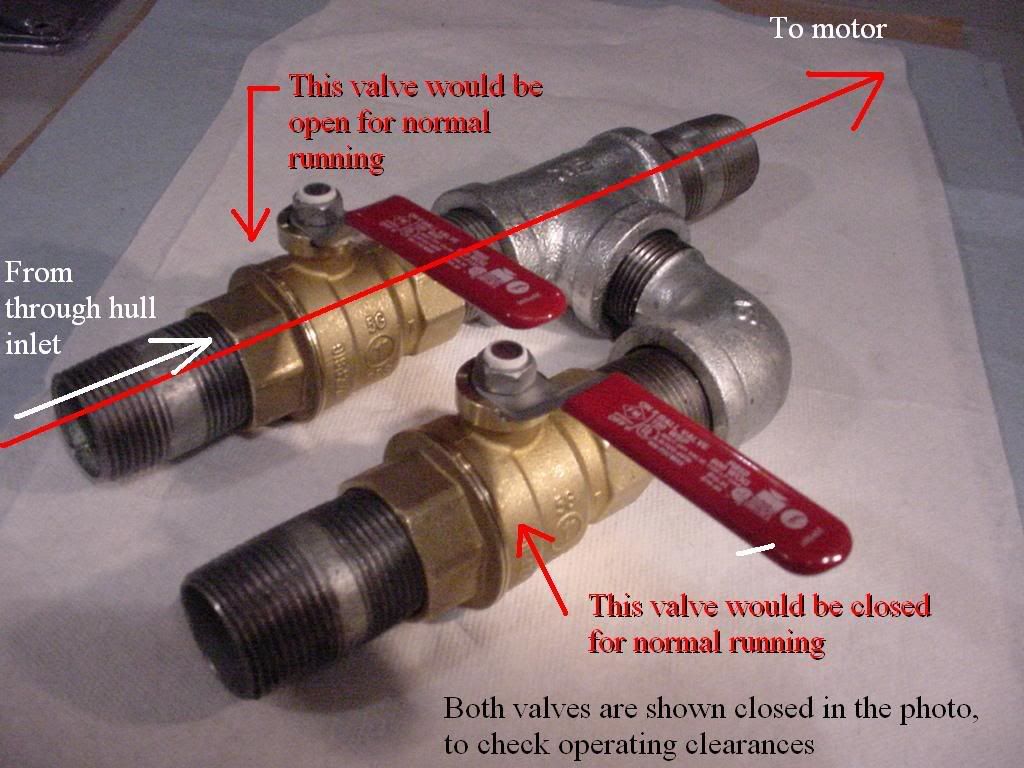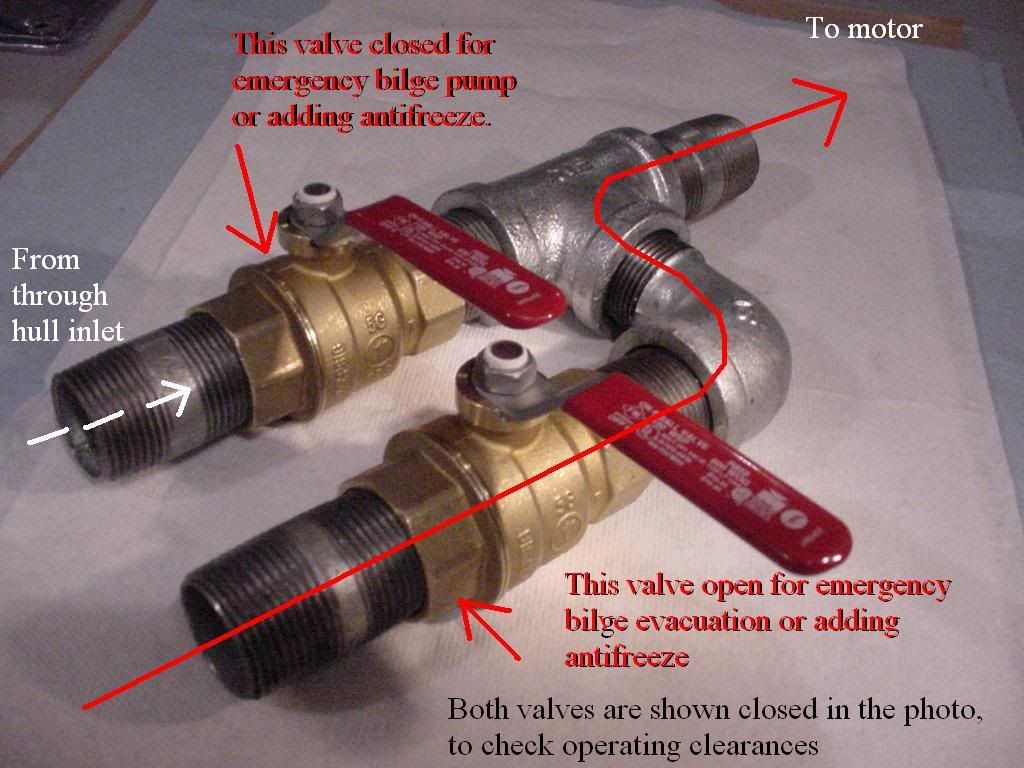 I'll paint things to give a little protection to the galvanized fittings, and I intend to detail the motor now that I know it's going to be a runner. I have the main intake low and direct, with the ancillary valve up high. The good news is, the whole assembly can be lifted off for servicing the motor by unfastening two hose clips; the one at the pump and the one at the bottom intake. In the photo below, both valves are in the "closed" position. This is when I was adjusting things for clearances, as you can see, this side of the motor has a rather tight access and I wanted to be sure the swing of each ball valve didn't conflict with anything, including the motor box.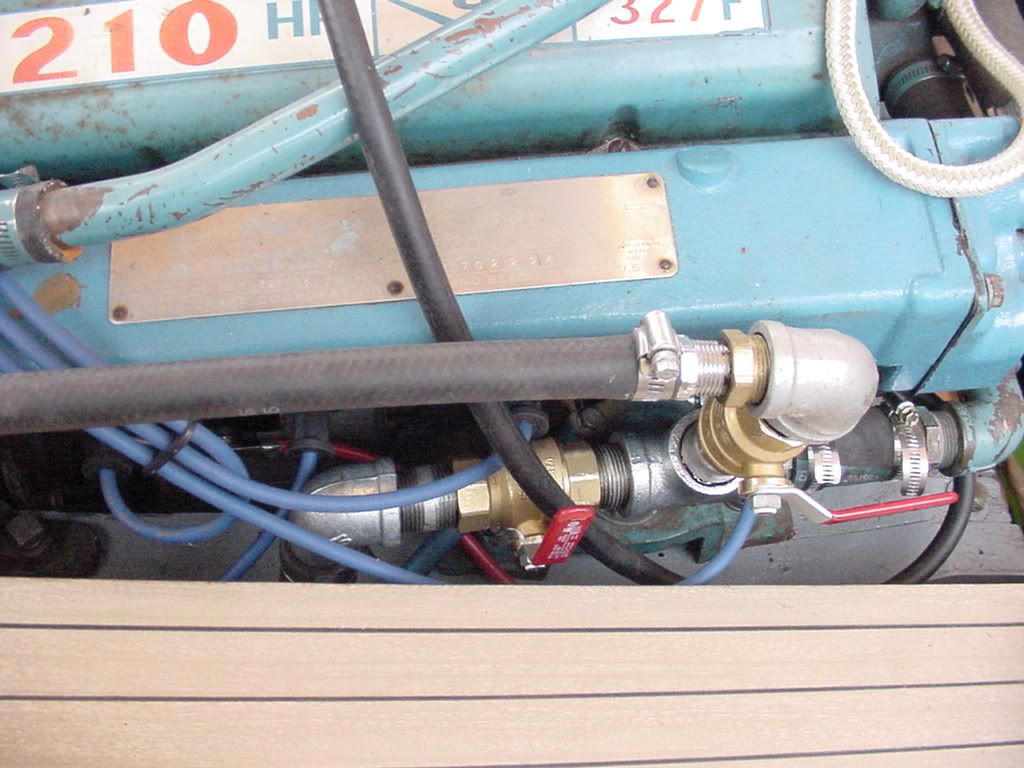 I put an old ten gallon waste can from my shop in the boat and filled it with water. Put the emergency bilge pump hose in the container, adjusted the ball valves accordingly, and fired up the motor. It purred contently and with a little rev, it achieved suction on the line. In the photo below, you can see the ball valve in the "up" (open) position set to draw water out of the container.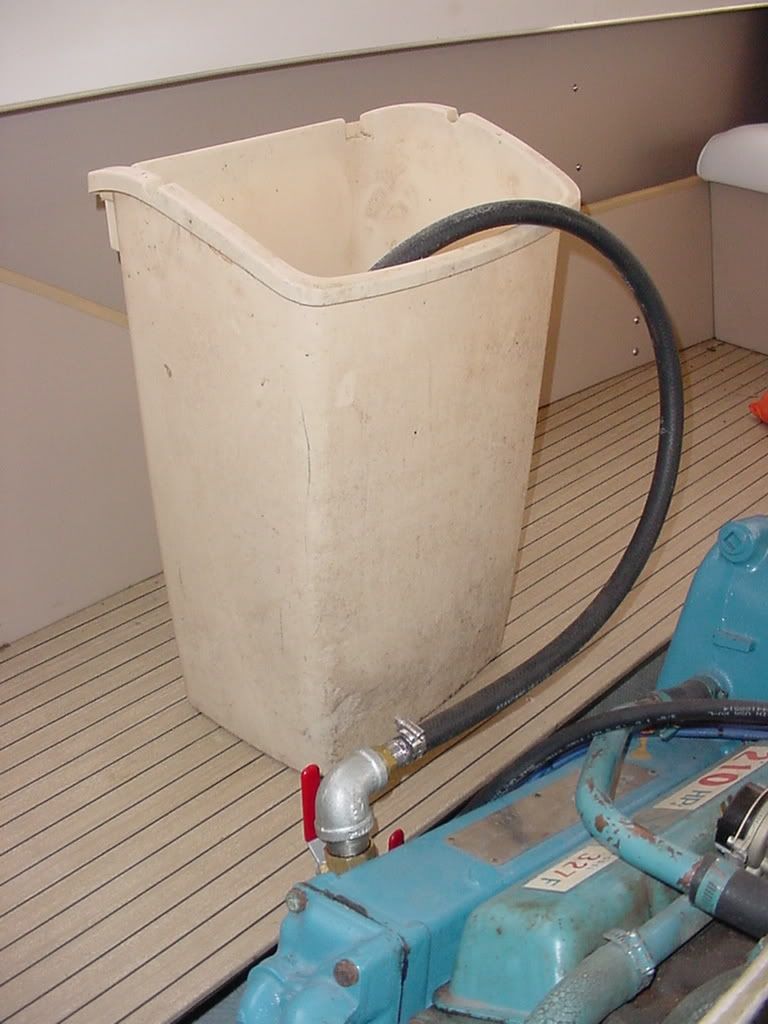 I checked the exhaust, plenty of water was being pumped at idle, even with that small diameter hose I was using. I was surprised how fast it drained that ten gallon container! This would make one heck of an emergency system, which I hope I'll never need. right now I have a smallish hose connected, but I have the fittings to add a larger hose, which I will probably do just to be on the safe side.

This time I ran it with water, next time I'll probably run it with water to get the motor warm, and then I'll run a few gallons of antifreeze mixed 50% with water through the system.

I'll rig a way to capture the antifreeze mix as it comes out the tailpipes, into a large plastic trash barrel, so I can circulate everything again and be sure the mix gets everywhere it should. No need to be wasting antifreeze anyway, even though it's the environmentally safe type, I have dogs and I don't want them getting into anything like that. As everyone should know, just a sip of the ethylene glycol type of antifreeze can kill a dog; this stuff I was using is the proplyene glycol type.

Someone makes a nice brass hose connected bilge strainer, and I'll get one of those hooked up for the normal running of the boat, in order to keep the emergency bilge pump system at ready.

As the system evolved, I now run antifreeze mix through the motor until it gets hot enough for the thermostat to be sure to open, I collect what comes out the tailpipes, and use a common sump pump to bring the antifreeze back to the bucket inside the boat, and from there it goes back into the motor. This is a very slick system.

Here it is in action !!

http://www.youtube.com/embed/wJNGHT3hUAU?rel=0

DO NOT use an animal unfriendly antifreeze.

DO NOT use a USCG non-approved antifreeze for marine use

DO NOT use a garden hose and city water pressure directly into your motor, as you may put water inside that motor where you don't want water! City water pressure is vastly higher than your cooling system is designed for.


Regards,

Paul

http://chriscraftcommander.com




Edited by Sonja Lowe on October 09 2013 at 12:15

__________________
1973 23' Lancer Inboard, 427 power
1966 38 Commander Express, 427 power
1966 20' fiberglass Sea Skiff
1956 17' CC Sportsman
http://www.chriscraftcommander.com