Posted: January 26 2010 at 21:23 | IP Logged

---
Our 1964 46' constellation was damaged beyond repair last week in a storm in the California Delta near Sacramento. She was able to be piloted over to the nearest haul out yard and is currently blocked and "on the hard". The insurance company has totaled her out, and I am sure she is destined for the crusher very soon.
If you have any interest in all or part of her, please contact the insurance person, Ken Ferch. 1 800 236 3113 x 3372. Email is kferch at markelcorp.com. Thanks.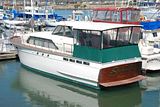 Edited by Caddy_kid on January 26 2010 at 21:39

__________________
-Brian