Win A Fishing Trip With Mark Zona!
You can go fishing with Zona, just for being a BoatUS ANGLER Member! Click here to see how!
BoatUS ANGLER "Catch of the Month" Contest
This summer don't forget the camera to take shots of your catch and submit them to the BoatUS ANGLER "Catch of the Month" photo contest at BoatUS.com/Angler/contest, which runs monthly through October 31, 2014. Monthly prizes awarded for "Best Freshwater Catch" & "Best Saltwater Catch", Grand Prize winners will be chosen at contest end.

For complete contest details and prizes, to view the current entries, or to submit your own photo, visit BoatUS.com/Angler/contest.
July Freshwater Winner

Nick Firman - Fayetteville, NY
5 lb, 20" Smallmouth Bass

July Saltwater Winner

Rachel Kimbro - Stevensville, MD
31" Redfish
RecycledFish Stewardship Tip:
A Fish In Water
In the quest to document the catch, we've seen all manner of camera mounts recently. We've seen cameras mounted on top of hats, cameras mounted to chest slings, James Bond-like devices that hold the camera in place on the forearm, and GoPro's mounted on the fork of a landing net.

Membership News:
Show your #BoatUSpride:

Put your BoatUS Angler Membership card, tote bag, hat, Magazine, lanyard and other gear to good use!

Snap a photo of you on the water showing off the BoatUS or BoatUS Angler item and enter the #BoatUSpride photo contest now through September 30, 2014. Each entry is a chance to win a GoPro Hero3+, 1 year Unlimited Towing BoatUS Membership, plus a $200 West Marine gift card.
Seaworthy Tip: Avoiding the Roadside Blues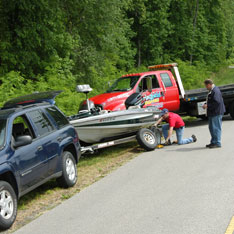 Nothing can ruin a lovely boating weekend like having it end on the side of the highway with a broken-down trailer. When that does happen, BoatUS's Trailer Assist often gets the call, and they keep track of why those calls come in. The number one problem? Tires. To avoid having your weekend end badly, here are five things to check:
Tire Pressure. A tire with low psi has reduced load-carrying capacity and will heat up faster because of the excess friction with the road surface. Eventually, the tire will blow out.
Sidewall condition. Dry rot or spider cracks indicate a pending tire failure.
Matched tires. Never mix radials and bias-ply tires or use different sized tires on your trailer.
Your spares. Don't just check that you have a spare tire and that it is in good shape, also check to see if you have an extra pre-greased hub with bearings. Be sure your lug wrench can fit the lug nuts.
Tire tread. If there are worn areas, there's a reason and it can be alignment, inflation (too high or too low), or suspension problems.
For more Damage Avoidance Tips visit BoatUS.com/Seaworthy.
Guide Spotlight: Freshwater

Guide Name: Santee Cooper Fishing Guide - Capt Bill Saltzman
State: South Carolina
Waters Fished: Santee Cooper Lakes, Lake Marion & Lake Moultrie

Species: Catfish
Phone: 803-524-1951
BoatUS Discount: 10% Off Charters

Captain Bill has fished the waters of Santee Cooper Lakes for many years and has caught many catfish. Catfishing on the Santee Cooper Lakes will have fantastic scenery and monster sized catfish.

Guide Spotlight: Saltwater

Charter Name: Reel Till U Feel Fishing Charters
State: Florida
Waters Fished: Tampa Bay
Species: Snook, Trout, Redfish, Tarpon
Phone: 813-610-5559
BoatUS Discount: 10%-15% Off Charters

Captain Mark is a lifelong resident of Tampa, who grew up fishing every nook and cranny of its waters, as well as those of the surrounding areas. There are not many fishermen in Tampa who can match his knowledge of the trends and tides that lead to a productive expedition.
See Red for Fishing Success:
by Steve Chaconas

Looking for that small edge that can put him over the top at the highest level of professional bass fishing, FLW Kellogg's pro Dave Lefebre realized that beauty, in this case red hooks, is only a skim coat deep.

BASS Elite Series #4:
by Kurt Dove
BoatUS ANGLER Pro Staff Member Kurt Dove talks about the fishing and how he did during the 4th event of the Bassmaster Elite Series in Toledo Bend, LA.