IN THIS ISSUE - DECEMBER 2013:

Enjoying all the how-to tips, fishing news and information in your monthly
BoatUS ANGLER Tacklebox Newsletter? Share it with your fishing buddies!

---
Skip the Gift Card this Holiday Season
Gift cards always make a great last minute gift, especially if you don't know what to buy for your fellow angler that has two of everything. However I have a better idea for your fishing family and friends this season. Let me suggest giving the angler on your list a BoatUS ANGLER Gift Membership.
An affordable $24 Membership can be purchased by calling 1-866-906-0013 and includes 24/7 nationwide dispatch with $50 of on the water boat towing assistance and $50 of roadside assistance for a disabled boat trailer and tow vehicle. Exclusive fuel, transient slip and repair discounts, savings on fishing gear and access to lots of "how-to" information is also included. Being a member also means a bigger voice for your angler on Capitol Hill when government unfairly targets boaters with anti-fishing and boating legislation.
Want to upgrade? Adding BoatUS ANGLERs' roadside "Unlimited" Trailer Assist to a membership for an additional $14 provides 100 miles of free road towing for both the disabled boat trailer and its tow vehicle to a safe location or repair facility. This means your angler will thank you for not having to leave their prized rig on the side of the road. Lockout, flat tire, battery jump and fuel drop-off services are included in this low price.
Another upgrade is adding an on-the-water towing plan: Freshwater anglers can add "Unlimited" on the water towing to their membership for just $43 additional, while saltwater anglers can add it for $125 annually. Soft ungroundings, jump-starts, fuel delivery and tows back to a marina, home dock or launch ramp are included for any boat that is owned, rented, chartered or borrowed.
So skip the gift card, socks and underwear this season and purchase your fellow fisherman a 1 year BoatUS ANGLER Membership.

See you on the water,


Steve Levi
SLevi@boatus.com
www.BoatUSAngler.com
Simple Ways to Bring Old Lures Back to Life
Is your tackle box a tangled mess of rusty hooks, scarred lures, and melted rubber skirts? Don't toss them out! Lures today cost anywhere from $5 - $15 and more. It pays to take a little time to bring your baits back to life. They might not look like the originals when you are finished, but they'll be close enough to be effective, and different enough to catch more fish. For just about everything you need to revive your favorite lures, check out jannsnetcraft.com and lurcraft.com.
Start with cleaning your tackle box get rid of all the accumulated "stuff" that has found its way into your storage boxes. Rusty hooks can leave a stain in your tackle box and eventually transfer to your lures! There are many clear plastic storage boxes and most come in standard sizes. Put labels on your boxes to keep them even more organized. I label mine by size, depth, color and season. Once you have your lures out, it's time to go to work.
Spinnerbaits show their age the most. Skirts become discolored. Rubber bands holding skirts in place disintegrate and blades become tarnished. A little TarnX will put the shine back on, but be careful not to rub "gold" finishes too much, because they might rub off. If they aren't salvageable, paint the blades. I like white and chartreuse. Or you can give your spinnerbait a makeover, replacing worn blades and skirts. Read More
Maintaining Your Tackle: Fun or Frustration? By Capt. Butch Rickey
I can still remember my first spinning reels. They were an old Quick and a French-made Centura given to me by an old couple who were friends of my parents when we lived on Captiva Island . The reels were in bad need of repair. I, about age 11, set out to make them work again. Thus was born my love affair with tackle in general, and tinkering with it in particular. As it turned out, it was mostly a matter of removing sand and dirt, tightening loose parts, and lubricating moving parts. That still holds true today.
Maintaining your own tackle today can be lots of fun. But today's tackle is far advanced from the tackle of the 40's and 50's that I cut my teeth on. Spinning reels have line layering and wrapping systems on long-cast spools, velvet smooth and sophisticated drag systems, free-line systems (Bait-Runners), infinite anti-reverse systems, quick-fire bail systems, trigger bait/line release systems, inner-rotor bails, and on and on. The baitcasters of today are just as advanced with features like magnetic spool controls, variable braking systems, flipping switches, infinite anti-reverse systems, line layers level-wind systems, and bearings and shims everywhere. Read More
Winter Beware
Several hard-core anglers (like you and me) will venture onto the chilly waters over the next few months this winter to find some angling fun... here are 3 important tips to beware of while fishing this winter.
Stay away from dirty or stained water. Over my years of experience I have found that water with color in the colder months is more challenging to catch fish from. It's not that they don't live in it but I will always try to locate the cleanest water possible. I believe the activity level of the bass is the primary reason for difficult catch rates in stained or dirty water. In water color with less visibility the bass don't react to the presentation fast enough to catch the lure or find it quickly. In clearer water a bass can visually find the lure more effectively and that relates to getting more strikes. If you are left with no options except to fish stained water then move your presentations slowly and methodically so the bass has an opportunity to locate the offering. I would also suggest using lures with an attractant and internal noise makers like rattles or clackers. This will help the bass hone in on the location of the lures. Read More
Stewardship Tip
A Fish out of Water, Part 3
Air exposure does not act independently from water temperature, nor does it act independently from the stressors to which we subject fish prior to release:
Hooking location - A lip hooked fish stands a better chance of survival in comparison to fish that are deep-hooked (potentially injuring the gills or the stomach). No matter where you've hooked the fish, keep your fish in the water as you remove the hook. And, increase your chances for hooking your quarry in the lip, use single, barbless hooks.
Extensive exercise - A fish that is fought to exhaustion will have increased muscle lactate, decreased tissue energy stores, and alterations in plasma ionic status. In order to land your catch rapidly, use stout tackle. Revive your fish in the water after you've landed it.
Water temperature - As we mentioned in last week's tip, cooler water is richer in oxygen in comparison to warm water. A fish needs oxygen both during and after the fight to recover. If water temperatures are too warm, find another activity to pass the time.
Handling - When handling a fish use wet hands. When using a net, use a catch-and-release net and make sure it is wet before you land the fish. Read More
Don't Get Hosed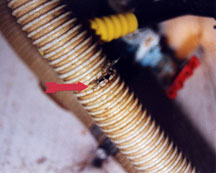 There is no such thing as an all-purpose hose on a boat. No single hose type can withstand engine exhaust, bring fresh water to the galley, safely transport gasoline to the carburetor, drain the cockpit, and flush the head. Over the winter, make it a point to take a look at any bilge pump and livewell hose to make sure it's still up to the job. You may well find corrugated (inside and out) polyethylene hose with molded cuffs, which provides excellent flexibility and chemical resistance at an affordable price. However, it is vulnerable to abrasion and the internal corrugations reduce water discharge flow by as much as 30 percent. As it ages, it tends to fail at the folds.
Bilge pump hose needs to be strong enough to resist attack from chemicals that find their way into the bilge. Hose for both bilge pumps and livewells also needs to be extremely flexible to go around tight corners, reinforced to prevent crimping or collapsing, and have smooth interior walls to allow water to flow freely. Heavy-duty multipurpose vinyl hose makes the best choice for bilge pump or livewell applications. If your hoses look anything like this, make it a winter project to replace them. You should also replace any hoses if they're more than 10 years old.
Seaworthy, the BoatUS Marine Insurance Program that helps to keep you and your boat safe on the water, is free to all BoatUS insureds. For more helpful advice, click here.
Sign up to receive FREE Boating Safety tips to your email, courtesy of the BoatUS Insurance
Program INSIDER. From our experts to your inbox!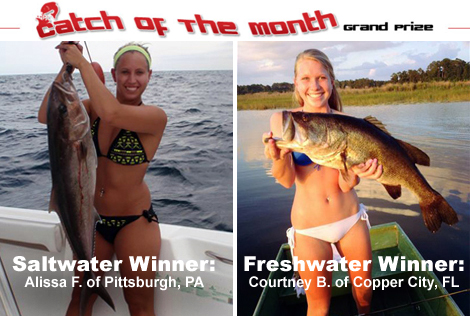 The annual "Catch of the Month" photo contest has ended, but thanks to all of our Facebook fans who voted for their favorite freshwater and saltwater photos, we have our two Grand Prize winners.
The Grand Prize includes a high-quality replica fish mount of their catch from FishReplicas.com, a $50 Gift Certificate from BoatNameGear, and an upgrade of their BoatUS ANGLER Membership to include Unlimited On Water and On Road Towing.
Be sure to take photos of your catches between now and April 1, 2014 when our next contest begins!
Purchase your Greeting Cards from BoatUS Foundation - Every Purchase Makes a Difference

Did you know by purchasing your nautical greeting cards from BoatUS it shows your love of boating and supports the BoatUS Foundation for Boating Safety and Clean Water? There's still time to order and receive them in plenty of time. There are more than 40 designs to choose from - you can even add a customized message inside for a truly personalized touch. A portion of each purchase supports the Foundation's mission to help keep boating safer and our waters cleaner.
B.A.S.S. Nation Champ Keeps Cashing-in


As if winning a national championship and a berth to the Bassmaster Classic didn't have Virginian Jeff Lugar feeling affluent enough, he now feels even richer thanks to the $1,000 check he recently received from BoatUS ANGLER's "Weigh-to-Win" program.
Lugar is not only the 2013 B.A.S.S. Nation Champion; he's also a man of good timing and intuition. Recognizing the value of a BoatUS ANGLER membership when speaking with Weigh-to-Win representatives prior to the tournament, he decided to sign-up just hours before the first victorious cast he made with a blue glimmer War Eagle spinnerbait on Lake Dardanelle.
"Membership is great because for a very reasonable cost, it gives you the comfort of knowing that on the road, and on the water, your equipment will be taken care of if any issues come up," said Lugar, a 20-year member of the B.A.S.S. Nation. Read More
Featured fishing guides and charters are selected from our online Fishing Guide & Charter Locator - each one offering a discount to BoatUS and BoatUS ANGLER Members.
Search for a guide or charter for hire in your state or region at Boatus.com/angler/locator.
Attention Fishing Guides & Charter Captains - Click Here for information on getting your business listed on BoatUS ANGLER's Guide & Charter Locator, BoatUS Guide Insurance and more.
Featured Guide - Freshwater
Guide Service Name: Git Bit Guide Service
Guide Name: Mike Hastings
Location: Texas
Waters Fished: Lake Austin, Lake Travis, Lake Bastrop, Lake Fayette
Species: Bass (Largemouth)
BoatUS Discount: 10% Discount
Full time fishing guide, Mike Hastings, draws from his extensive background as a professional angler to provide the most comprehensive guide service available. His total commitment to the sport and future of bass fishing ensures that every trip is an informative experience. Experienced anglers will appreciate his extensive knowledge of the lakes and productive fishing techniques. Beginners will enjoy learning to catch fish as Mike provides instruction in a patient and effective manner. Git Bit Guide Service will work hard to provide a memorable fishing trip tailored to your interests.
Featured Charter - Saltwater
Guide Service Name: Paradigm Shift Charters
Guide Name: Scott Leon
Location: California
Waters Fished: San Diego, Northern Mexico, Southern California, Mission Bay
Species: Bonito, Calico Bass, Dolphin, Marlin, Multi-Species, Saltwater, Skipjack, Tuna
BoatUS Discount: 10%
We are a professional full-service charter fishing operation that specializes in fly-fishing inshore, near shore and offshore. We also cater to conventional tackle anglers of all types and we even carry heavy stand-up gear - just in case. We can accommodate anglers of all skill levels and ages, whether it's your first time or you're looking for a competitive tournament crew. Our experienced crew will help you as much or as little as you would like. After all - it's your day on the water.
Click Here to Find This Guide on BoatUSAngler.com
Like us on Facebook!
Join other fans of BoatUS ANGLER today on Facebook and get updated news about BoatUS ANGLER sponsored fishing tournaments and contests, the latest BoatUS ANGLER videos, fishing news and our "Weigh-to-Win" Tournament Incentive Program. Visit us at www.Facebook.com/boatusangler