TowBoatUS Opens on Lewis Smith Lake to Assist Growing Alabama Community
When the residents of Cullman, Walker and Winston counties describe where they live, Lewis Smith Lake takes center stage, as the communities straddle the 21,000-acre lake. These boating communities are growing, so is the need for on water towing and assistance services for anglers.
BoatUS ANGLER "Catch of the Month" Contest
This summer don't forget the camera to take shots of your catch and submit them to the BoatUS ANGLER "Catch of the Month" photo contest at BoatUS.com/Angler/contest, which runs monthly through October 31, 2014. Monthly prizes awarded for "Best Freshwater Catch" & "Best Saltwater Catch", Grand Prize winners will be chosen at contest end.

For complete contest details and prizes, to view the current entries, or to submit your own photo, visit BoatUS.com/Angler/contest.
June Freshwater Winner

Andy Johnson - Menomonee Falls, WI
22" Smallmouth Bass

June Saltwater Winner

Linda Griffin - Jacksonville Beach, FL
38" & 36lbs Atlantic Red Snapper
RecycledFish Stewardship Tip:
Watching your bait buckets.

Membership News:

As a BoatUS ANGLER Member, you are probably familiar with our water and road boat towing services, but did you know that we offer numerous other time and money saving opportunities for Members? These savings opportunities include fuel, boat graphics, hotels, cell phone service, and more.

Visit the BoatUS ANGLER Member Savings and Benefits page to see all the ways that your Membership can save you time and money this summer!
Seaworthy Tip: Staying Safe In The Crowd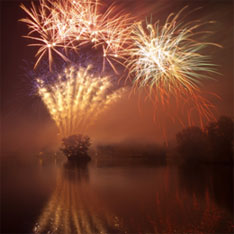 Photo credit: By William Warby (Flickr: Fireworks), via Wikimedia Commons

Summer is the time to watch fireworks from the boat, join in an on-the-water bash, or head for your favorite state park with the kids. But when it comes time to head home, overly crowded waters can become dangerous. Here are a few tips to help you end your perfect day on the water safely:


Don't overload. As a rule of thumb, on boats under 26 feet, you shouldn't have more people aboard than there are real seats, and you shouldn't have more than two people on the flybridge at a time.
Be seen. Make sure all of your navigation lights are working properly - before you find yourself unexpectedly out after dark. If you replace the bulbs on a combination red/green bow light, be sure you put the colored lenses back correctly!
Don't rush. If there's a mad stampede for the exits as there often is after fireworks and raft ups, wait. If you relax and enjoy the evening for another fifteen minutes or half an hour, you'll get back to the ramp with a lot less stress, and you won't have to wait as long once you get there.
Designate a driver. A long day on the water in bright sunshine can leave you dehydrated and tired, which will reduce the time it takes for alcohol to affect you while increasing its impact. Make sure someone aboard stays sober, and let that person take you home.
For more Damage Avoidance Tips visit BoatUS.com/Seaworthy.
Guide Spotlight: Freshwater

Guide Name: Playin' Hooky Charters
State: Ohio
Waters Fished: Lake Erie, US and Canadian Waters
Phone: 419-547-6890
Email: playinhooky30@verizon.net
Species: Bass, Perch, Walleye
BoatUS Discount: 10% Discount

Capt. Jerry Taylor will show you how to catch Walleye, Smallmouth Bass, or Perch on Lake Erie. You will be on a 30' Sportcraft hard top. This big water fishing machine offers a family friendly stand up head and the latest in sonar and navigational equipment. We furnish all fishing equipment needed, or you are welcome to bring your own.

Guide Spotlight: Saltwater

Charter Name: Get Em Sportfishing Charters
State: Florida
Waters Fished: Biscayne Bay, Offshore Of Miami, Everglades National Park, Keys
Phone: 786-436-2064
Email: shermana@bellsouth.net
Species: Multi-species, Saltwater
BoatUS Discount: 10% Discount

South Florida light tackle fishing charters. Capt. Sherman specializes in no pressure, easy, light tackle fishing for children, novice and experienced anglers. Fish from a 2008 Pathfinder 22' XL Tournament Edition Bay Boat powered by a 2010 Yamaha 250 SHO Four Stroke Outboard engine, fully equipped.
Keeping it Classic on Top:
by Steve Chaconas

BoatUS ANGLER Member and Fishing Guide, Steve Chaconas, talks topwater.

Attacking Table Rock Lake:
by Kurt Dove
BoatUS ANGLER Pro Staff Member Kurt Dove talks about the fishing and how he did during the 3rd event of the Bassmaster Elite Series at Table Rock Lake in Missouri.