Five Ways Your Boat's Insurance Policy Can Fail You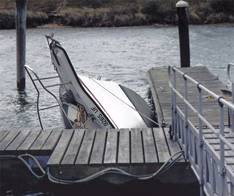 Insurance is one of those things you hope you never have to use, but if you do, you expect the policy to fix the boat or compensate you fairly. If you haven't taken a close look at your boat insurance, you could be surprised to find that you may not be entitled to a payout with some common types of claims. That's because unlike home or auto, boat insurance policies offer a wide range of coverage, from very little to a lot. BoatUS recently took a look at the most common claims over the past five years, and has these tips so you will know if your boat's insurance policy will live up to your expectations.
You Need to be Ready:
by Kurt Dove
It's that time of year, unless you have fished through the winter in the southern US you're now probably thinking about getting your boat out of storage and preparing for the fishing season. Here are a few tips to get your season and most importantly your equipment started off smoothly.

Catch More with Crankbaits:
by Steve Chaconas
Many crankbaits contain rattles. A few do not. In either case, adding more rattles will accomplish two things: more sound and weight. Adding additional rattles creates a totally different sound.
RecycledFish Stewardship Tip:
Threats to Your Fishing!
From coast to coast and border to border, aquatic invasive species are degrading fisheries and diminishing angler access as they cause tremendous damage to the nation's ecosystems and economy.

BoatUS Member News:
Our Government Affairs team works on state and federal levels to fight unfair boating taxes, fees, regulations, and make sure boating laws make sense. View the latest news, alerts, and state specific boating issues by visiting http://www.boatus.com/gov/fed/current.asp.
Seaworthy Tip: Snow Sense
With the Polar Vortex making headlines in early January, many parts of the country have seen record-low temperatures, strong winter winds, and significant accumulations of snow and ice. Whether your boat is covered or not, winter can wreak havoc. If your boat is covered, the weight of snow and ice can cause the cover to sag, allowing it to accumulate more snow, until the cover or the frame supporting it collapses. Strong winter winds can undo tie downs and turn a small tear into a large one. Take the time to check your boat and clear the cover of snow, refasten the tie downs, mend any rips with duct tape, and reset any supports so the snow load slips off the cover rather than accumulating.

If your boat is not covered, problems are more likely to develop when things begin to thaw out. The pile of snow in and on your boat will begin melting on top. If drain holes have become clogged with ice, that early melt water won't have anywhere to go and can accumulate in the boat's cockpit and refreeze when temperatures fall at night. If your drain hole got clogged with something that won't melt, like leaves or dirt, that water could do a lot of damage over a long period of time. A quick dig down to the drain hole to make sure they're clear could save you a lot of grief come spring.

For more Damage Avoidance Tips visit BoatUS.com/Seaworthy.
Guide Spotlight: Freshwater

Guide Name: Always Gone Fishing Guide Service
State: Alabama
Waters Fished: Pickwick Lake, Wilson Lake, Wheeler Lake, Lake Guntersville, TN River
Phone: 931-698-3904
Email: alwaysgonefishing@alwaysgonefishing.com
Species: Bass (Largemouth & Smallmouth)
BoatUS Discount: 10% Discount

Captain Currey Holley has 25 years experience fishing on the beautiful Tennessee River, and is a licensed US Coast Guard captain & insured. Our goal is to provide a safe and fun fishing experience on Pickwick Lake, Wilson Lake, Wheeler Lake, or Lake Guntersville in Alabama.

Guide Spotlight: Saltwater

Charter Name: Capt. Lem Watkins / Lem's Outdoor World LLC
State: Florida
Waters Fished: Gulf Coast, FL, Crystal River
Phone:404-455-0384
Email: llwinatl@gmail.com
Species: Bluefish, Cobia, Flounder, Grouper, Jack Crevalle, Multi-Species, Saltwater, Redfish, Shark, Sheepshead, Snapper, Snook, Spanish Mackerel, Tarpon, Trout
BoatUS Discount: 10% Discount

U.S. Coast Guard Licensed and Insured Guide, Capt. Lem Watkins, provides Charter Fishing in Crystal River, Florida. During your fishing charter, you have the choices to fish the many bodies of water such as Near the Coastal Flats or the Grouper and Snapper Reefs.