President's Corner - From BoatUS President, Margaret Podlich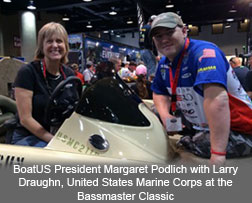 My name is Margaret Bonds Podlich, and I am the President of BoatUS. I'm a life-long boater, raised in a sailing family with a vast love for the water. My family and I currently have more than a dozen small boats including a 13' Boston Whaler and 21' center console, and our best times are in, on, and around the water.



In the coming months, you will see some small changes to your membership. Moving forward, you will receive the award-winning BoatUS Magazine in the mail 6 times a year, instead of the three issues of BoatUS ANGLER Magazine. Since a large percentage of our members fish from their boats, we are beefing up the BoatUS Magazine with more fishing information, while keeping it full of practical advice for making the most of your time on the water. You'll enjoy boat reviews, how-to's and an array of beautiful features.




Upcoming Events:

Oct 9-13: United States Sailboat Show City Dock, Annapolis, MD

Oct 10-11: 2014 Alabama Bass Trail Tournament Series Championship

Oct 16-19: United States Powerboat Show City Dock, Annapolis, MD

Oct 17 - Oct 18: IFA Kayak Championship at Houma, LA

Oct 17 - Oct 19: Bisbee's Los Cabos Offshore Tournament, Cabo San Lucas, Mexico. $750,000 in cash prizes.

Oct 21 - Oct 25: Bisbee's Black & Blue Marlin Tournament, Cabo San Lucas, Mexico. $2.5 million-plus in cash prizes.

When it comes time for your membership renewal, your Membership card will feature the BoatUS logo instead of the BoatUS ANGLER logo. We've moved the ANGLER fishing division under the BoatUS name, so we all can be one happy family of boating and fishing enthusiasts. Don't worry, your BoatUS ANGLER Membership card will remain valid if you need to use for a tow on the water or land, or a discount at a bait and tackle shop.

We appreciate the opportunity to continue to provide you with the same great insurance, water towing, and trailer assistance on the road that you have come to expect from BoatUS.

See you on the water,
Margaret
President@BoatUS.com
BoatUS ANGLER "Catch of the Month" Contest
Don't forget to take shots of your catch and submit them to the BoatUS ANGLER "Catch of the Month" photo contest at BoatUS.com/Angler/contest, which runs monthly through October 31, 2014. Monthly prizes awarded for "Best Freshwater Catch" & "Best Saltwater Catch", Grand Prize winners will be chosen at contest end.

For complete contest details and prizes, to view the current entries, or to submit your own photo, visit BoatUS.com/Angler/contest.
September Freshwater Winner
Gage Hasseltine - Jefferson, ME
Largemouth Bass

September Saltwater Winner
Dale Swartz - Pottstown, PA
9 lb. 8 oz. Flounder
RecycledFish Stewardship Tip:
Create New Fishing Spots This Fall

As with tree revetments, artificial fish structure is something that we can construct to help enhance our fisheries. As anglers, we have a unique, almost intimate, knowledge of our local lakes. We know where our fisheries need a little bit of help. Put that knowledge to use and create some artificial fish structure in your local lake.

Membership News:

Save on Car Insurance with GEICO
Contact GEICO for a free quote on auto insurance to see how much you could be saving. And don't forget to mention that you're a BoatUS Member to see if you qualify for a member discount. Already a GEICO customer? Call GEICO and ask a customer service representative if you qualify for an additional discount as a Member. Visit GEICO.com/disc/BoatUS or call 800-368-2734 for your free rate quote.
Seaworthy Tip: Fall Tire Check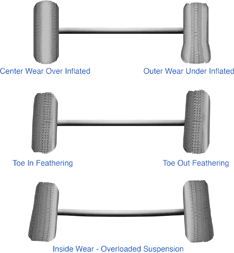 Tire problems account for more than 40 percent of calls to the BoatUS Trailer Assist program. If you're getting ready to put your trailerable boat to bed, now is a good time to inspect your tires and to address any problems so you'll be ready to roll come spring. Here's what to do depending on the wear pattern you see:
Center wear. The tires have been overinflated, creating a narrow patch in contact with the road surface. Adjust the tire pressure when it's cool using a proper pressure gauge.
Outside edge wear. Underinflated tires put more of the tread in contact with the road, increasing wear on both edges. A 12-volt air pump and a tire gauge will fix this in a few minutes.
Inside edge wear on both tires. If the wear is only on the inside edge, chances are your trailer has been overloaded. Keeping weight out of the boat while it's on the trailer or buying a trailer better suited to your load could save you a serious breakdown next year.
Feathering. If the tread shows wear on one edge that decreases as it gets to the middle of the tire, this indicates a toe-in or toe-out problem that can usually be corrected with an axle alignment.
For more Damage Avoidance Tips visit BoatUS.com/Seaworthy.
Keeping The "Pig" On The Jig & Pig: Steve Chaconas

One of the most reliable jig trailers has always been the chunk. Today a soft plastic version dominates the market and the tackle box.

High and low tides, both on & off the water: Kurt Dove
I grew up fishing tidal waters so my comfort level on the Delaware was high even with a 6 foot tidal swing... which is amazing! It had been a long time though since I needed to solve the puzzle of finding bass on these types of systems so I did research prior to the event...